Rohingya Muslims crisis: 270,000 refugees flee Burma for Bangladesh, UN says
'The vast majority are women, including mothers with newborn babies, families with children,' official says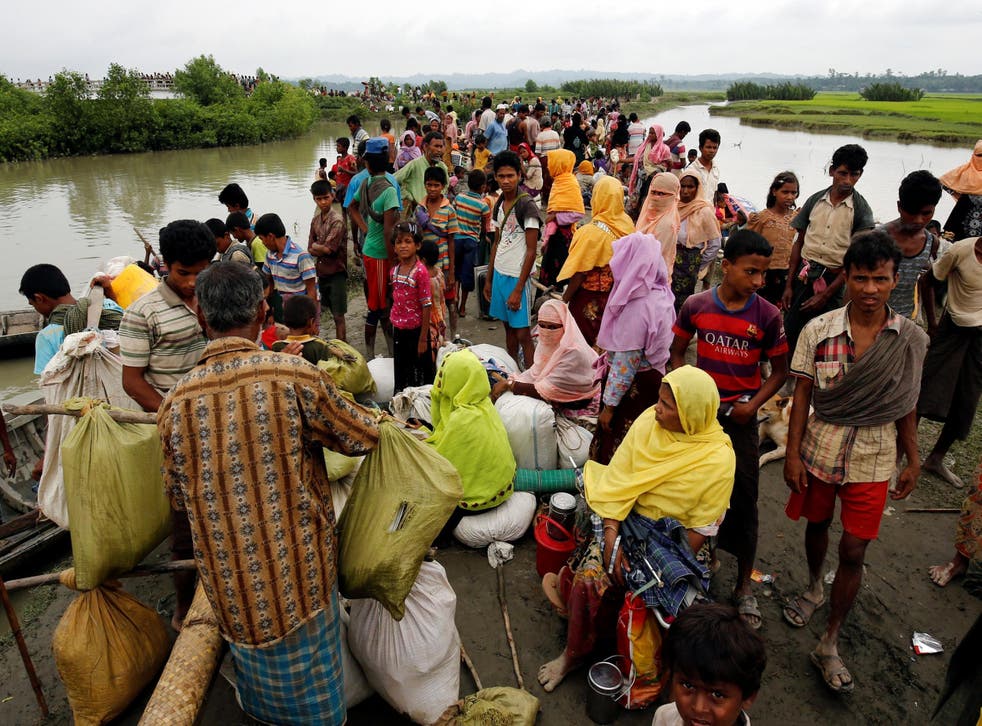 An estimated 270,000 Rohingya refugees have fled Burma in the past two weeks and sought refuge in Bangladesh, where two existing refugee camps are "bursting at the seams", the UN refugee agency UNHCR said on Friday.
The exodus of the minority Rohingya was triggered by insurgent attacks on 25 August and an army counter-offensive.
Burma says its forces are fighting a legitimate campaign against terrorists responsible for a string of attacks on the police and army since last October. Officials blame Rohingya militants for killing non-Muslims and burning their homes.
"The two refugee camps in Cox's Bazar in southeast Bangladesh home to nearly 34,000 Rohingya refugees before this influx are now bursting at the seams. The population has more than doubled in two weeks, totaling more than 70,000. There is an urgent need for more land and shelters," UNHCR said in a briefing note for reporters in Geneva.
"The vast majority are women, including mothers with newborn babies, families with children. They arrive in poor condition, exhausted, hungry and desperate for shelter."
The United Nations was expecting a total refugee influx of 300,000, up from a previous estimate of 120,000, an official told Reuters on Wednesday.
Rohingya refugees – in pictures

Show all 15
The International Organisation for Migration said the estimate of new arrivals had increased considerably partly because of an assessment on Sept. 6, when humanitarian workers visited more locations, and found 75,000 newly arrived people in nine locations.
There were 130,000 people in the registered refugee camps and three makeshift settlements, 90,000 in host communities, and "nearly 50,000 in new spontaneous settlements which are expanding quickly with people still searching for space to make temporary shelters", an IOM statement said.
"While most of Rohingya refugees arrive on foot, mostly walking through the jungle and mountains for several days, thousands are braving long and risky voyages across the rough seas of the Bay of Bengal," UNHCR said.
At least 300 boats arrived in Cox's Bazar on Wednesday, IOM said.
Reuters
Join our new commenting forum
Join thought-provoking conversations, follow other Independent readers and see their replies