Rohingya Muslims being 'ethnically cleansed', says UN official
'They took women in rooms and then locked them from inside. Up to 50 women and girls of our village were tortured and raped'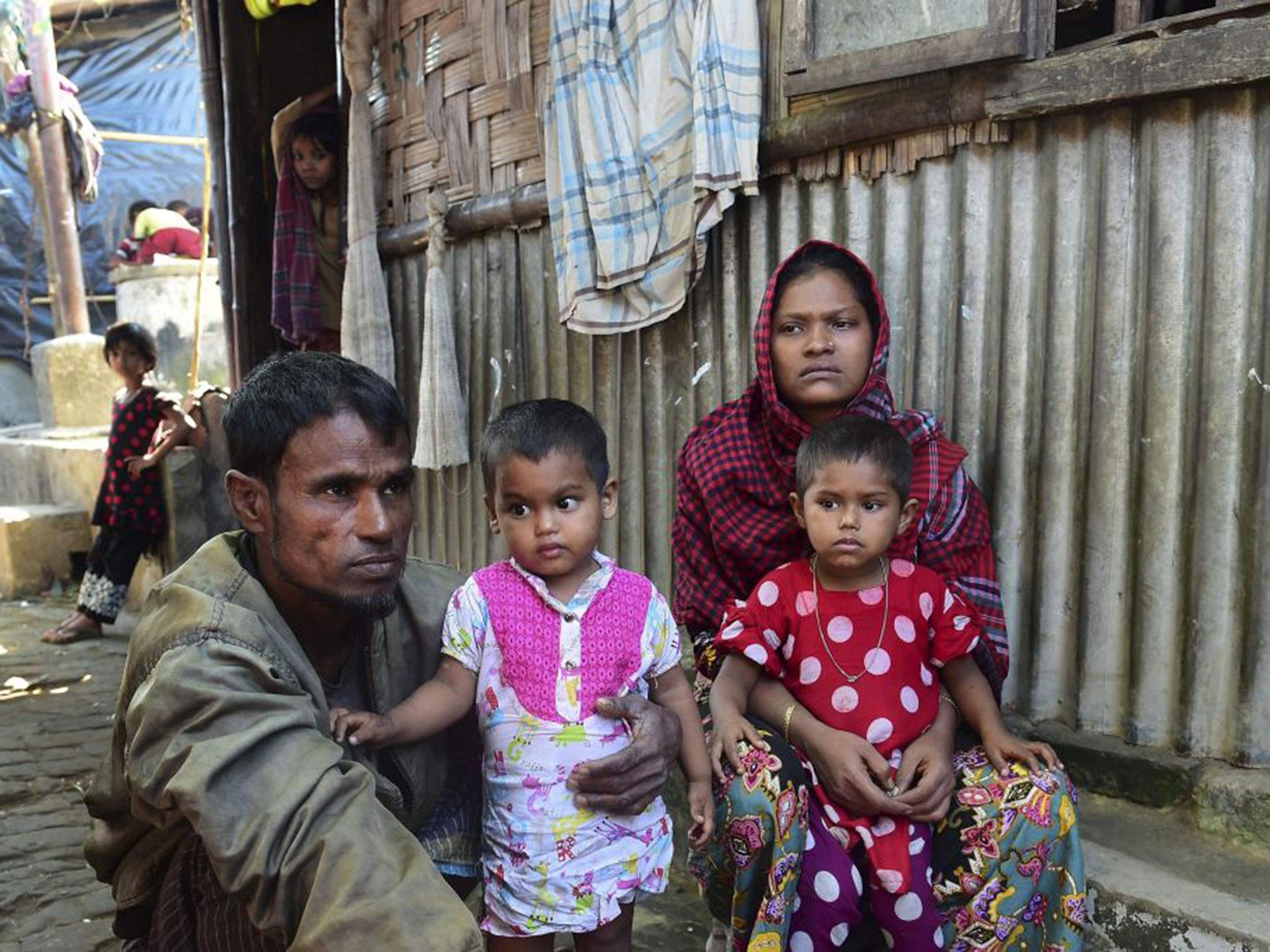 Rohingya Muslims in Burma are being ethnically cleansed, according to a UN official, and government soldiers have allegedly killed children and raped women in the northern Rakhine state.
Burmese troops have been conducting counter insurgency operations in the region against Rohingya militants, but the fallout is said to have been bloody, with numerous reports of atrocities emerging from Rohingya refugees.
But despite nature of the allegations, there has been relatively little media coverage of the violence.
Some Rohingya have fled to neighbouring Bangladesh because of the fighting – but the authorities there have now barred them from entry to the country.
Those Rohingya that managed to reach Bangladesh said Burmese troops were "killing men, shooting them, slaughtering children, raping women, burning and looting houses, forcing these people to cross the river (into Bangladesh)," according to John McKissick, head of the United Nations refugee agency in the Bangladeshi border town of Cox's Bazar.
He continued: "It's very difficult for the Bangladeshi government to say the border is open because this would further encourage the government of Myanmar to continue the atrocities and push them out until they have achieved their ultimate goal of ethnic cleansing of the Muslim minority in Myanmar."
Vivian Tan, a press officer for the UN agency, said Mr McKissick was "recounting what different sources, including new arrivals, have told him about the conditions they fled" and added the reports were "very worrying".
The government said it was "disappointed" by Mr McKissick's remarks.
But they were welcomed by Phil Robertson, Deputy Director of the Asia Division of Human Rights Watch (HRW) a monitoring group.
He told The Independent: "It's refreshing to see this senior UN official in Bangladesh speak truth to power about what is happening in Rakhine state now, even if it did spark a sadly nonsensical reply from the Myanmar government.
In pictures: Burma protests against Rohingya Muslims
Show all 5
"We've seen ethnic cleansing in Rakhine state before, when HRW documented ethnic cleansing against the Rohingya in 2012. No one was held responsible for those atrocities, everything was swept under the rug by the Myanmar government.
"No one should forget either that that the Myanmar military conducted similar security sweeps and committed atrocities against the Rohingya in 1978 and 1992, driving hundreds of thousands of Rohingya into Bangladesh in both instances."
The Rohingya people are a Muslim minority and have their own language. Despite living in Rakhine in Burma, they are much maligned within their own country and have often suffered discrimination and persecution at the hands of hard line Buddhist nationalists.
Mr Robertson continued: "It's time for the Myanmar government to urgently allow access for a new, UN assisted investigation to take place into the torching of villages and serious rights abuses now occurring in parts of Maungdaw township – and be prepared to hold the perpetrators accountable."
An attack killing nine Burmese government border guards, by suspected Rohingya militants, in October led to the "collective punishment" of the minority group, the UNHCR's Mr McKissick said.
While the Burmese authorities insist the military operation is aimed at routing out militants, Rohingya who have made it out of Rakhine into Bangladesh say government troops have been killing and burning down villages.
The Rohingya journey from Myanmar to Indonesia
One of these refugees was farmer Deen Mohammad, who told AFP: "They (Myanmar's military) took my two boys, aged nine and 12 when they entered my village. I don't know what happened to them."
"They took women in rooms and then locked them from inside. Up to 50 women and girls of our village were tortured and raped."
Access to journalists and aid workers has been blocked, preventing the outside world from knowing what is really going on in Rakhine.
However, HRW has released satellite imagery which it said showed the razing of Rohingya villages in the state. As of 21 November, 1,250 Rohingya buildings had been destroyed, the group said.
Mr Robertson said the government had been seeking to "repress and rebut negative media stories about their actions in Rakhine state from day one" of the crisis. He cited the sacking of Myanmar Times journalist Fiona MacGregor after she wrote a story in the newspaper reporting on the Rohingya's plight.
Aung San Suu Kyi, who famously led democracy efforts in the country, has been accused of failing to protect the Rohingya. Despite holding enormous influence in Burma, she has remained quiet, only saying an investigation into the reports of atrocities was underway in accordance with the law.
International criticism is growing and the UN special rapporteur on Myanmar, Yanghee Lee, has condemned the lockdown as "unacceptable".
Malaysia, which has a sizable Rohingya community, has said it will "will summon the ambassador of Myanmar to convey the government of Malaysia's concern over this issue," according to a foreign office statement.
It added: "Malaysia also calls on the government of Myanmar to take all the necessary actions to address the alleged ethnic cleansing in the northern Rakhine State."
Protests were held in Kuala Lumpur, Jakarta, Bangkok and Dhaka against the alleged ethnic cleansing.
Additional reporting by Agencies.
Join our commenting forum
Join thought-provoking conversations, follow other Independent readers and see their replies