Rohingya Muslims killed in stampede for aid packages near Bangladeshi refugee camp
Unofficial handouts cause 'chaos' as refugee camp populations swell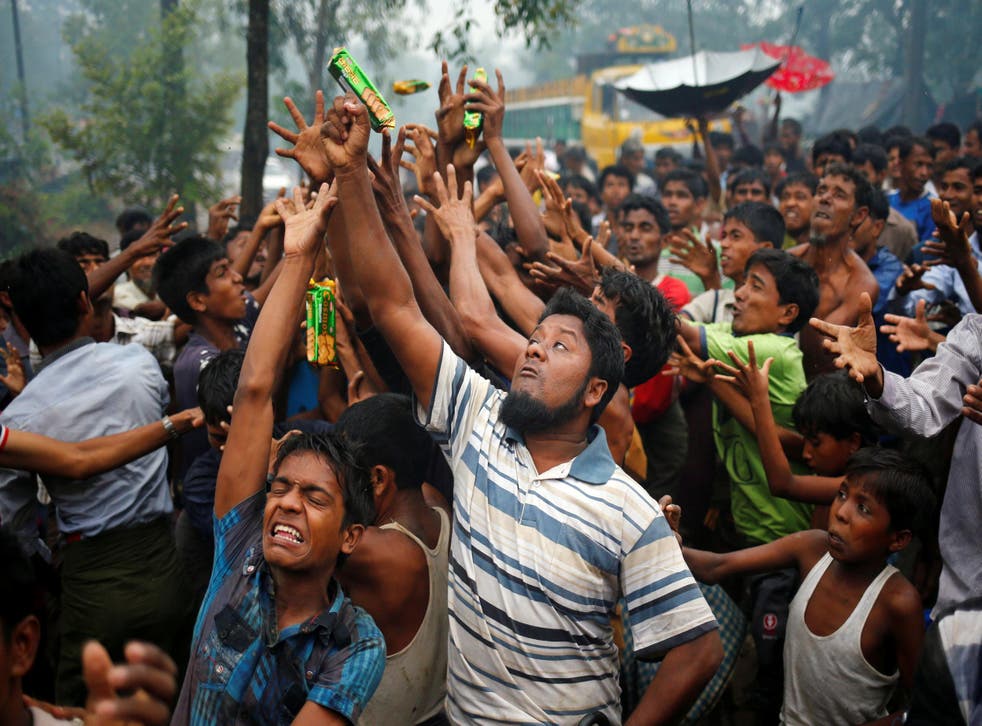 Three people have been killed during a stampede for aid outside a Rohingya refugee camp, according to agencies.
One woman and two children reportedly died as food and clothing were being thrown from relief trucks, said the Inter Sector Coordination Group in Bangladesh. The victims' names and ages have not been released.
The news from the south Bangladeshi border comes as around 409,000 migrants have arrived at the refugee camps since 25 August as Rohingya people flee persecution and violence in their home country in Burma.
Thousands more refugees are reportedly arriving every day, with no food, blankets or belongings, and they are often malnourished and dehydrated. Some people have reportedly been forced to abandon their children or elderly parents in Burma. Other refugees have died as they trekked for up to 10 days through mountainous terrain and tried to cross the Naf river along the northern part of the Rakhine state.
With refugee camps overcrowded – they have doubled in population over the last few weeks – unofficial aid deliveries from sympathetic people in Bangladesh can cause frenzied stampedes, who hope to catch some of the supplies.
AKM Iqbal Hossain, a police superintendent, said: "As many private and social organisations are coming and distributing relief, sometimes chaos breaks out."
Rohingya refugees – in pictures

Show all 15
The unofficial method of delivering aid has also been criticised by relief agencies.
While some people jump up onto the relief trucks, they are beaten down by men with sticks, and children can often be missed by truck drivers, according to Corinne Ambler, spokeswoman for the International Federation of the Red Cross, who spoke to CNN.
Rohingya Muslims flee violence in Burma
But as relief agencies are prioritising aid for pregnant women and children, which is just enough to keep people alive, others can become desperate.
The outpouring of Rohingya, a stateless Muslim minority in Burma, was sparked after Rohingya militants killed 12 security officials at a government border post and the military reacted with strong violence, reportedly attacking civilians and burning villages.
Rohingya mothers face persecution

Show all 10
The Burmese officials have even been accused of genocide and "ethnic cleansing", while the Government denied these claims and said it has been targeting terrorists.
The Burma government also said 176 out of 471 Rohingya villages have been abandoned, and has accused Muslims of "destroying their own homes".
The border camps and the Rakhine state in western Burma are heavily restricted for journalists, who are left unable to verify reports.
Many people trying to flee their villages have been targeted by Buddhist mobs and government security officials. Before the violence started, around 1 million Rohingya Muslims lived in Rakhine.
The government maintains that Rohingya have never been an ethnic group in Burma – despite generations of families in the country – and has denied them citizenship. Many communities were living off food packages from charities until deliveries were suspended after 25 August.
Agencies contributed to this report.
Register for free to continue reading
Registration is a free and easy way to support our truly independent journalism
By registering, you will also enjoy limited access to Premium articles, exclusive newsletters, commenting, and virtual events with our leading journalists
Already have an account? sign in
Register for free to continue reading
Registration is a free and easy way to support our truly independent journalism
By registering, you will also enjoy limited access to Premium articles, exclusive newsletters, commenting, and virtual events with our leading journalists
Already have an account? sign in
Join our new commenting forum
Join thought-provoking conversations, follow other Independent readers and see their replies