'It feels like home': How safe spaces are being created for traumatised women and girls in Rohingya refugee camps
On World Refugee Day, UN urges people to celebrate spirit and humanity of displaced people and do more to support them
Adam Withnall
New Delhi
Wednesday 20 June 2018 08:25 Comments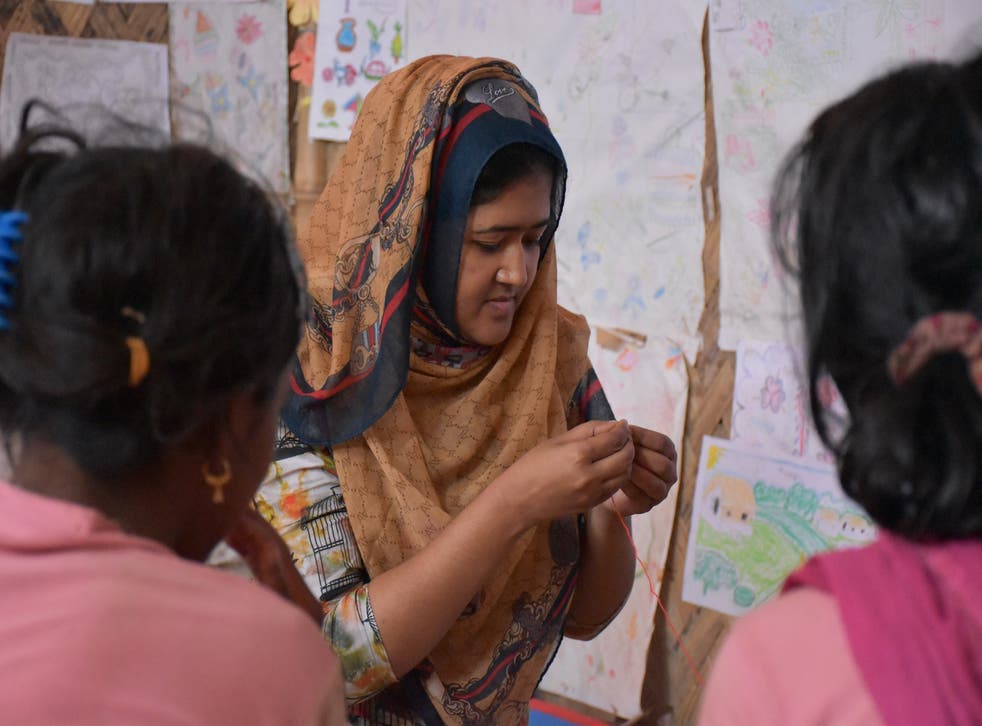 Aid workers have for months been warning of the devastation that would be caused when the monsoon rains arrive at the sprawling camps housing more than 700,000 Rohingya refugees in Bangladesh. When the downpour finally came, it was worse than anyone feared.
In just four days, Cox's Bazar received two-thirds of the average rainfall expected in the month of June. More than 100 landslides have been reported, several people have died and hundreds of families have been made homeless, forced to sleep in mosques or crowd into shelters with their relatives.
Ahead of World Refugee Day on Wednesday, the UN released a report showing that the number of displaced people in the world has risen to a new record high of 68.5 million, and highlighting the plight of the Rohingya fleeing persecution in Myanmar as one of the biggest drivers pushing up that number.
But speaking from Cox's Bazar in a break in the weather that has coincided with the end of the Ramadan fast, Caroline Gluck, a senior official with the UN's refugee agency, said their message this year was to "celebrate" World Refugee Day as a tribute to those struggling through such hardship, and the charities fighting to help them.
As is the case with the wider refugee crisis across the globe, the population of those displaced in Bangladesh is made up mostly of women and children. Aid workers have found that creating women-only centres for healthcare, counselling and childcare is having a dramatic impact on the Rohingya's quality of life.
"In any crisis, women and children are the most vulnerable," Ms Gluck told The Independent - a problem only exacerbated as flooding and landslides cripple camp infrastructure. "Night-time can be a worrying time, particularly if you have to travel to use toilets. The camp is quite sprawled, and instead of living alongside people you know, you are living with strangers."
One of the charities providing women-only centres is the International Rescue Committee (IRC). Dalia Al-Awqati, IRC's emergency director in Bangladesh, said up to 80 per cent of the refugees are women and children and in need of "specialised support".
"Many Rohingya women and girls have been raped, seen their husbands and children killed before their eyes and lots of them are facing raising their children alone," she told The Independent. "They live in a situation that is exacerbated by the presence of stigma and discrimination."
For 12-year-old Azara, the centre is an oasis of normalcy in a situation that is anything but, and a welcome break from the boredom that comes with living in a refugee camp.
She said she came to the centre every day, finding a safe space where she can make friends, play games and engage in her favourite pastime - henna.
"It feels like home," she said. "We come straight after we have been to school. Every week there is at least one day for sewing. Every week we learn something new. We love to learn."
Ms Gluck said centres like those run by the IRC were vital to encourage women "carrying the burden" of what happened to them in Myanmar to come forward and seek counselling and support, in what is traditionally a very culturally conservative society.
Media reports have previously highlighted a spike in births nine months after the alleged brutal crackdown by Myanmar's army in Rakhine state that forced the Rohingya to flee. The danger, Ms Gluck said, is that all pregnancies in the camp become stigmatised as potentially being the result of rape.
And one of the biggest positives to come out of the creation of the centres has been the number of female volunteers working to foster new communities in their makeshift home.
A lot of women are taking on jobs as safety volunteers or in counselling their fellow refugees directly, having received training from NGOs. "It has helped women to develop roles that they didn't have back home," Ms Gluck said.
Senwara, a 35-year-old mother of four, is a volunteer who helps spread word about the centre to other refugees. She became the only female "Majhi" or community leader in her area of the camp after helping distribute food aid, and sees promoting the centre as part of her responsibility.
"Women come here to this centre because there are no men," she said. "If there were men, families would not let teenagers or women giving birth come here because they would feel shy. They are serious about this matter."
Ms Gluck said the few days of good weather, plus celebrations around Eid, had brought "joy to many faces" in the camps. There is an upbeat mood also to coincide with World Refugee Day, with singing, volleyball and other competitions put on to showcase the best of life in the camps.
Rohingya crisis in photos

Show all 15
The rain will return, though, and the welfare centres will become all the more important as a safe haven as the three-month-long monsoon progresses.
"There will be more displacements, and families will need continued support to rebuild shelters washed away by landslides," she said. "We really are at the mercy of what the weather will bring."
Register for free to continue reading
Registration is a free and easy way to support our truly independent journalism
By registering, you will also enjoy limited access to Premium articles, exclusive newsletters, commenting, and virtual events with our leading journalists
Already have an account? sign in
Register for free to continue reading
Registration is a free and easy way to support our truly independent journalism
By registering, you will also enjoy limited access to Premium articles, exclusive newsletters, commenting, and virtual events with our leading journalists
Already have an account? sign in
Join our new commenting forum
Join thought-provoking conversations, follow other Independent readers and see their replies