Russian cargo ship with 'drunk' captain on board smashes into bridge
Russian cargo ship with 'drunk' captain on board crashes into motorway bridge, tearing huge hole
Captain was over legal alcohol limit but it is not clear if he was steering vessel, says coastguard
A Russian cargo ship with a "drunk" captain on board smashed into a motorway bridge in South Korea as cars drove along it.
Video footage caught the moment the 6,000-ton vessel Seagrand crashed into the side of Gwangan Bridge in the port of Busan at about 4.20pm local time on Thursday.
The ship, which authorities say should have been heading in the opposite direction to the bridge, then turned around and sailed off the other way, according to Korea Coast Guard (KCG).
A gaping five-metre wide hole was torn into the lower part of the bi-level bridge, according to Russian news website RBC, but there were no injuries reported.
The KCG questioned the crew on board and discovered the ship's Russian captain was allegedly over the legal alcohol limit for driving the vessel.
Protests break out after Russia seize Ukraine warships in 2018

Show all 32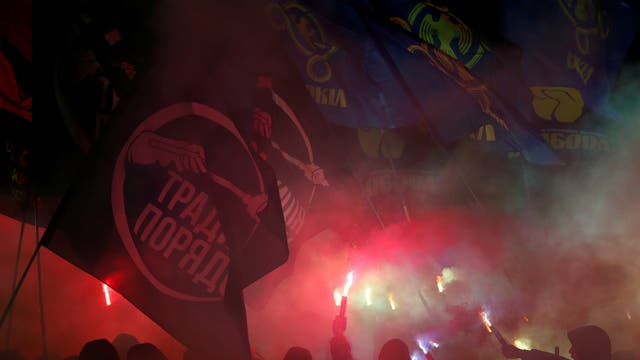 It is not illegal for a person to consume alcohol on board a ship but they cannot steer it while over the limit.
The coastguard said it was not yet clear whether the captain had been at the helm at the time of the crash.
The ship is believed to have arrived in Busan, South Korea's largest port, at about 9am on Wednesday where it unloaded 1,495 tons of iron pipes.
It then set out for Vladivostok, in Russia, on Thursday with a load of steel coils.
According to Yonhap News Agency, authorities reported the Seagrand had also hit a cruise ship moored at the same port about 40 minutes before bumping into the bridge.
Join our new commenting forum
Join thought-provoking conversations, follow other Independent readers and see their replies