Russian tycoon 'forced sailors into sea' in Cambodia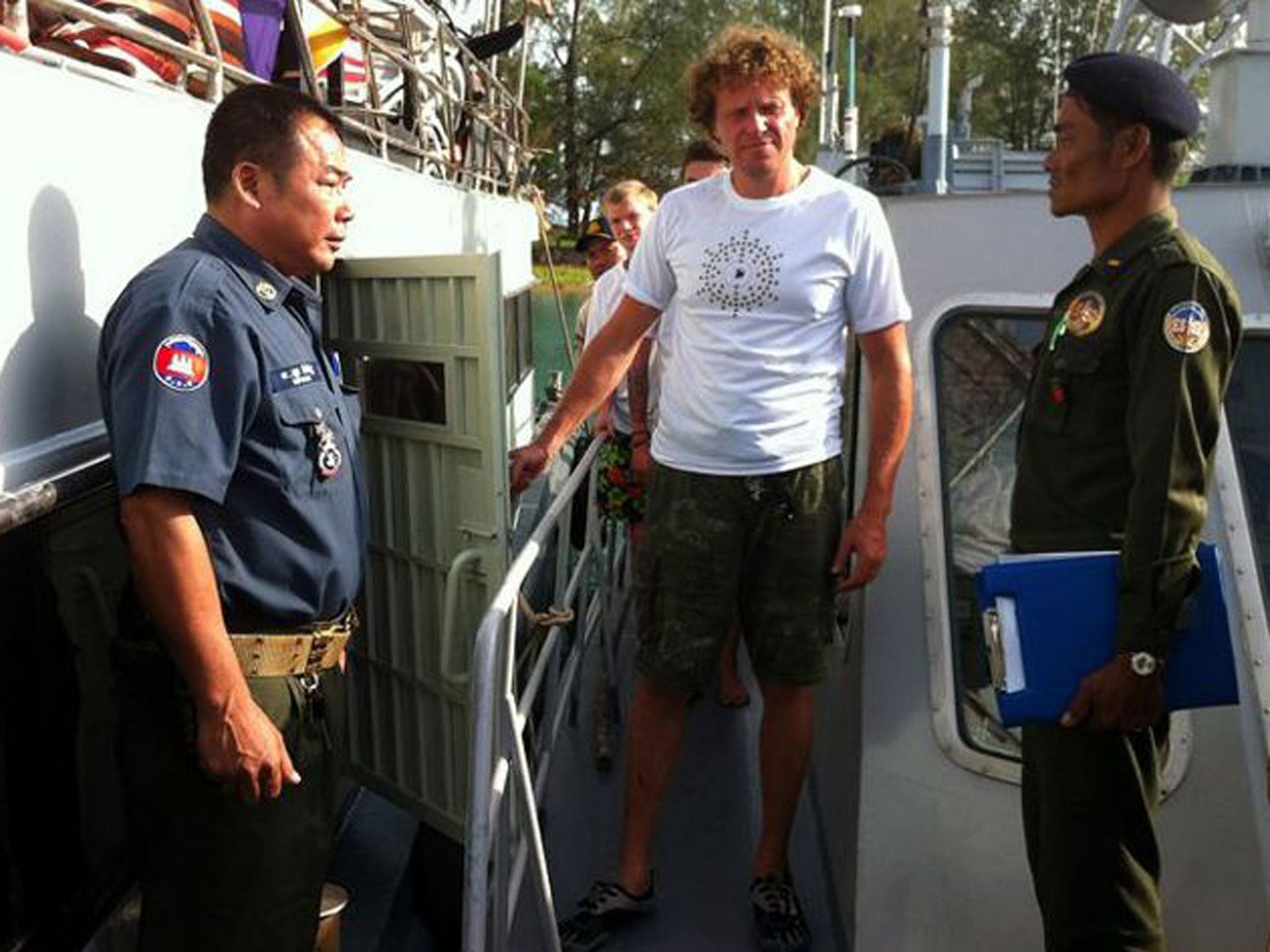 A controversial Russian property tycoon has been arrested in Cambodia after an incident in which he and friends apparently imprisoned several local sailors and then forced them to jump into the sea at knifepoint.
The former billionaire developer Sergei Polonsky, 40, was arrested on Monday along with two other Russians in the town of Sihanoukville, according to Cambodian military police. Prosecutor Huot Vicheth told the Sihanoukville court that the men had been charged with intentional violence and illegal detention.
Mr Polonsky is a divisive character renowned for his abrasive style and brash behaviour. He was punched during a 2011 television broadcast by Alexander Lebedev, a fellow Russian businessman who is also The Independent's financial backer. The two men were taking part in a talk show and Mr Lebedev said he acted in "self defence" after constant hectoring and threats from Mr Polonsky.
The property developer was spending New Year's Eve with friends on an uninhabited Cambodian island when the latest incident occurred, although the details are murky. Military police in Cambodia say six victims, local sailors, were threatened with a knife by the Russian trio and then imprisoned in a cabin on the boat, before later being forced to jump into the sea.
The businessman, who is believed to have financial interests in Cambodia, posted a statement detailing a very different version of events on his blog yesterday, claiming that he and friends had been celebrating the new year with fireworks, which attracted the attention of a nearby naval base. A military boat arrived to check their documents and the men were arrested for not having any identification with them.
According to the statement, officials refused an offer from Mr Polonsky to travel to a different island to collect his identification and conducted themselves in a rude and aggressive way. "This behaviour provoked a strong reaction from an emotional Sergei Polonsky," says the businessman's blog. Cambodian authorities said the boat was not a military vessel but was a local sailing boat hired by the Russians to ferry them between islands.
Mr Polonsky is no stranger to controversy. He was famous in Moscow business circles for his declaration that "anyone who does not have a billion can go to hell" and had grand plans to build the Federation Tower in Moscow, which would have become the tallest building in Europe. But the financial crisis hit in 2008 and his business was destroyed. Last September, Mr Lebedev was charged by Russian authorities with hooliganism over his 2011 run-in with Mr Polonsky, which could carry up to five years in prison, charges that he claims are politically motivated.
According to Mr Polonsky's blog, Cambodian police have released him on bail.
Join our commenting forum
Join thought-provoking conversations, follow other Independent readers and see their replies