Russian tycoon Sergei Polonsky deported by Cambodia to face embezzlement charges
Polonsky is accused of keeping buyers' down-payments for a Moscow luxury residential complex that was never built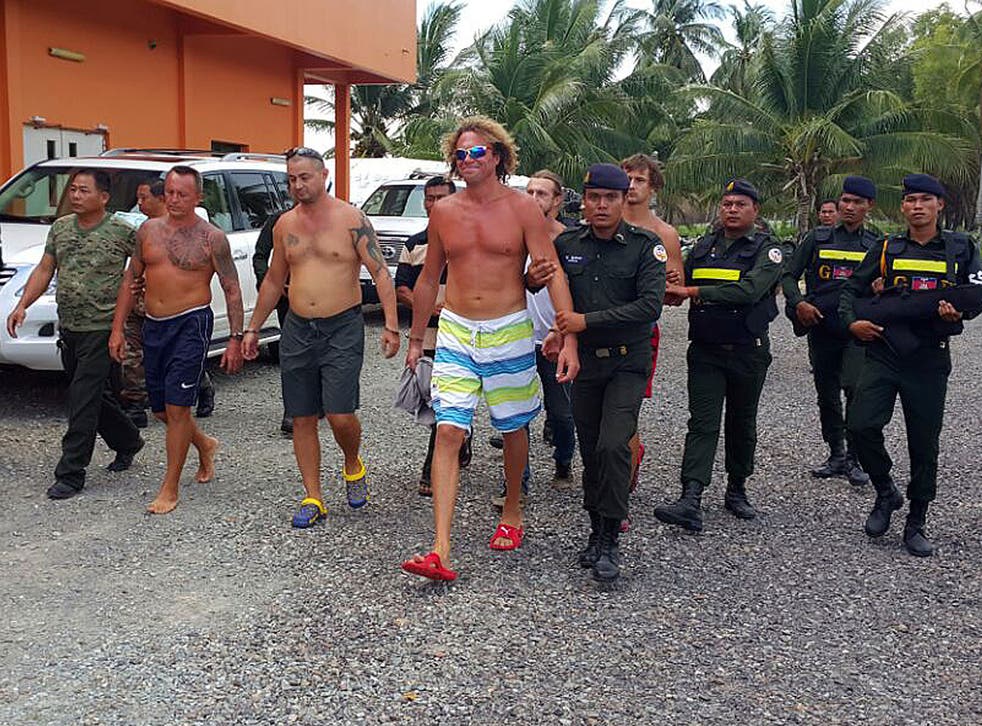 By the time Sergei Polonsky was deported, the man once ranked among Russia's wealthiest tycoons had at least managed to put some clothes on.
The fugitive real estate magnate had been marched – shirtless, tanned and apparently unconcerned – before cameras after being arrested in the Cambodian coastal town of Sihanoukville on Friday afternoon. Accused by Russian authorities of embezzling almost six billion roubles (£77.5m) from 80 property investors, Mr Polonsky was deported from Cambodia at around 7.20am on Sunday, bound for Moscow via Vietnam. Officially, the reason for his departure was overstaying his visa.
The 42-year-old former billionaire had been sought by Russian prosecutors to stand trial on embezzlement charges. Mr Polonsky – who denies the Russian accusations – contested extradition proceedings. He is accused of keeping buyers' down payments for a Moscow luxury residential complex that was never built. "The staff of the Russian Internal Affairs Ministry are deporting Mr Polonsky to the territory of the Russian Federation and he will be prosecuted in accordance to the Russian law," a ministry official, Elena Alekseyeva, said.
Tensions between Russia and the Western world

Show all 8
Slavik Brsoyan, Mr Polonsky's lawyer, confirmed that his client was being transported to Russia.
Uk Heisela, the director of the Cambodian General Department of Immigration investigations department, said Mr Polonsky arrived in Ho Chi Minh City yesterday morning. "We sent him alone," he told the Phnom Pehn Post.
"Other Russians are having their documents verified and are still being held, but they will also be deported later."
Local reports said Cambodian security forces had searched Mr Polonsky's property and detained staff on his private island.
"There is a child among the 15 foreigners, and one of them [a Russian national] has a forged passport, so we are keeping him in detention," police chief Choun Narin was quoted as saying.
Mr Polonsky was famously on the receiving end of a punch from Alexander Lebedev, whose son Evgeny owns The Independent, during a Russian television broadcast.
Cambodian police had first arrested Mr Polonsky, who is said to fear for his safety in Russia, in November 2013 after he was added to Interpol's "red list" of top fugitives. However, they released him on bail a few months later based on a preliminary ruling against his extradition.
Register for free to continue reading
Registration is a free and easy way to support our truly independent journalism
By registering, you will also enjoy limited access to Premium articles, exclusive newsletters, commenting, and virtual events with our leading journalists
Already have an account? sign in
Register for free to continue reading
Registration is a free and easy way to support our truly independent journalism
By registering, you will also enjoy limited access to Premium articles, exclusive newsletters, commenting, and virtual events with our leading journalists
Already have an account? sign in
Join our new commenting forum
Join thought-provoking conversations, follow other Independent readers and see their replies