Second Taliban bomb in two days kills at least 13 at Rawalpindi army base
The suicide bomb comes after a blast killed 20 troops on Sunday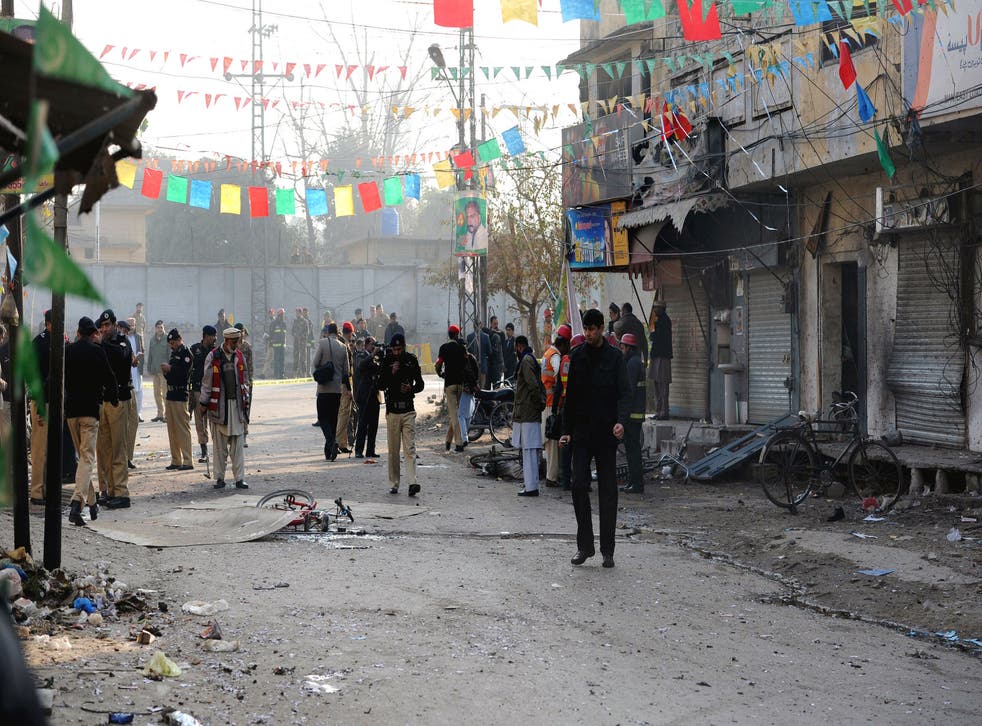 At least 13 people have died after a Taliban suicide bomb exploded near Pakistan's main military headquarters in the city of Rawalpindi, early on Monday morning.
Police officer Sardar Zulfiqar said a suicide bomber struck just outside the main military headquarters in the city next to the capital of Islamabad.
A retired officer and five soldiers were among those who were killed, while 18 people were injured, according to police officer Haroon Joiya. 
The suicide bomber was riding a bicycle and detonated his explosives when he approached a military checkpoint, said Mr Joiya.
Monday's blast occurred after a Taliban suicide bomber struck inside an army compound in the north-west of the country on Sunday, killing 20 troops and wounding 30. 
Sunday's bomb targeted a vehicle in a convoy that was about to leave a military base in the town of Bannu and drive west to the North Waziristan tribal area, police official Inyat Ali Khan said.
Read more:
Military officials said the blast came from an explosive planted in the vehicle, hired by the paramilitary Frontier Corps. While the army has its own transport vehicles, the paramilitary forces often hire vehicles when they need to move troops in large numbers.
A spokesman for the Pakistani Taliban, Shahidullah Shahid, said that the attack on Sunday had been carried out to avenge the death of Waliur Rehmanthe group's former second in command who was killed last year in a US drone strike. The army was the target of Monday's bomb, he said.
He added the group will "avenge the killing of every one of our fellows through such attacks."
North Waziristan is considered a safe haven for al Qaida-linked militants and Pakistani troop convoys in the region are often hit by roadside bombs, though attacks inside military compounds are rare.
Last December, a suicide bomber killed four Pakistani soldiers when he rammed an explosive-laden car into a checkpoint outside an army camp in North Waziristan.
The Pakistani army has fought for years in tribal areas against militants who want to overthrow the Government and establish a hard-line Islamic state.
In a statement, the Taliban said they would be open to talks with the Government - but only if the Government could prove it is sincere and had enough "power," a reference to the perception that the army wields the real power in Pakistan.
Additional reporting by Associated Press
Register for free to continue reading
Registration is a free and easy way to support our truly independent journalism
By registering, you will also enjoy limited access to Premium articles, exclusive newsletters, commenting, and virtual events with our leading journalists
Already have an account? sign in
Register for free to continue reading
Registration is a free and easy way to support our truly independent journalism
By registering, you will also enjoy limited access to Premium articles, exclusive newsletters, commenting, and virtual events with our leading journalists
Already have an account? sign in
Join our new commenting forum
Join thought-provoking conversations, follow other Independent readers and see their replies