Security guard graduates from school he has watched over for nearly 20 years
Erwin Macua juggled his job as a guard at a college in the Philippines with studying and being a father of three to get his degree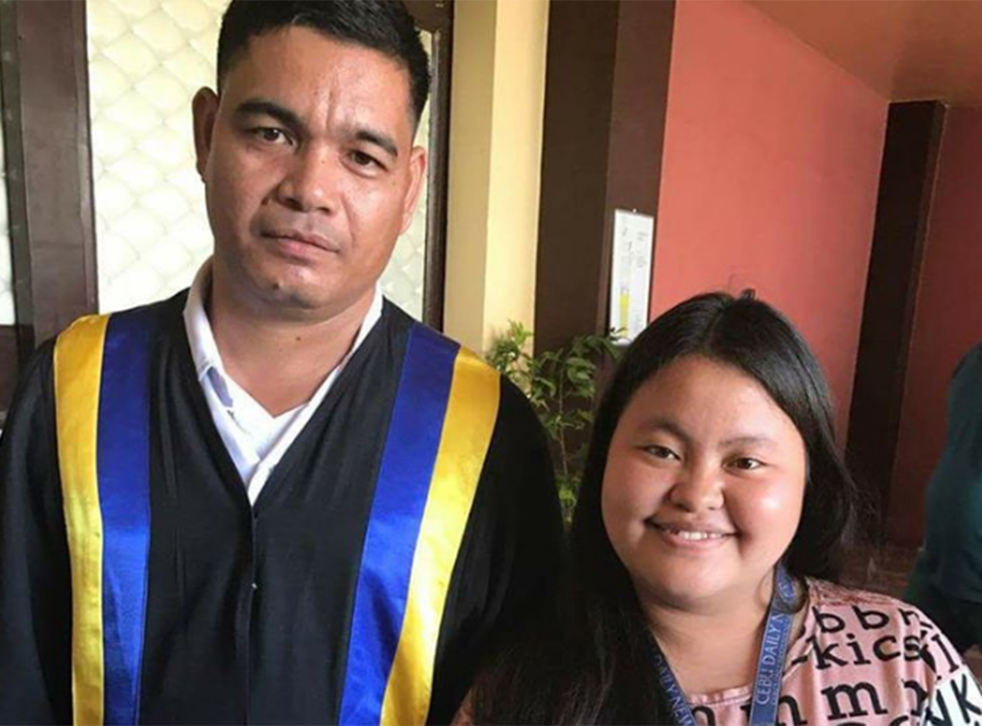 A security guard who has spent nearly two decades keeping watch over students at a college in the Philippines was able to join their ranks today – as a scholar celebrating his own graduation.
Erwin Macua spent four years juggling his job as a guard at St Theresa's College in Cebu City with studying and being a father of three children.
And today, the 38-year-old's efforts were rewarded, as he graduated cum laude with a Bachelor of Elementary Education degree.
"Age is not a hindrance, poverty is not a hindrance," the scholar told ABS-CBN news.
"Just pursue your dream with the formula: hard work plus determination plus prayer and you will reach your aspirations in life."
Despite working a long overnight shift from 7pm to 7am, Mr Macua maintained a full course load, attending classes from 7:30am to 4pm, Cebu Daily News reports.
The security guard's name has also been on the college's Dean's list since his first year as a student in 2013.
Mr Macua told ABS-CBN it had always been his dream to complete his studies – and that he wanted to be a teacher because of his love of working with children.
"Education is a good course to deal with students and you can really change their lives," he told the broadcaster.
The father used his own savings to fund his first year in college, but he says he was sponsored by an anonymous donor for the remainder of his school years.
Mr Macua has said he plans to continue his work watching over students at St Theresa's as he prepares for exams to earn a teaching licence.
Register for free to continue reading
Registration is a free and easy way to support our truly independent journalism
By registering, you will also enjoy limited access to Premium articles, exclusive newsletters, commenting, and virtual events with our leading journalists
Already have an account? sign in
Register for free to continue reading
Registration is a free and easy way to support our truly independent journalism
By registering, you will also enjoy limited access to Premium articles, exclusive newsletters, commenting, and virtual events with our leading journalists
Already have an account? sign in
Join our new commenting forum
Join thought-provoking conversations, follow other Independent readers and see their replies