Shahid Khaqan Abbasi elected as Pakistan's new prime minister
Shahid Khaqan Abbasi receives 221 out of 343 votes in the National Assembly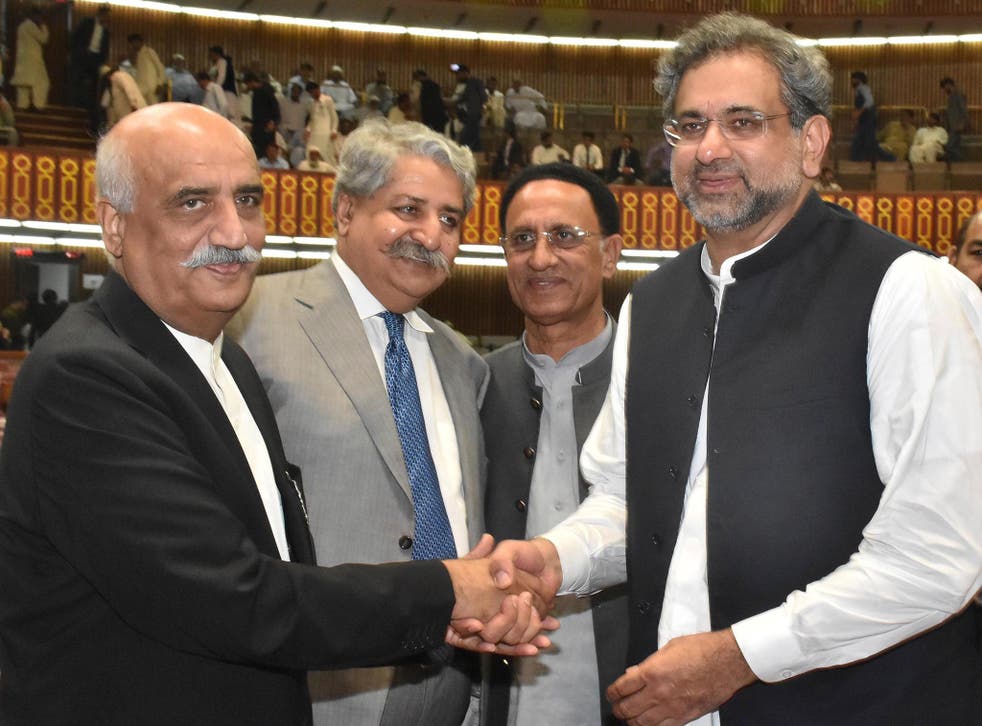 A loyal supporter of Pakistan's outgoing Prime Minister Nawaz Sharif, who was ousted after allegedly concealing assets, has been elected as his successor by the country's lower house of parliament.
A member of the ruling Pakistan Muslim League party, Shahid Khaqan Abbasi received 221 votes in the 343-member National Assembly.
His closest rival, Syeed Naveed Qamar, from the opposition party, secured 47 votes.
Mr Sharif, who was disqualified as premier by the Supreme Court for concealing assets, specifically that his son's Dubai-based company listed a monthly salary for him. Mr Sharif claimed he never received any of the money.
Mr Abbasi was sworn in to his office at the presidency palace in the capital Islamabad but his party only wants him to serve as an interim premier for 45 days or until Mr Sharif's younger brother, Shahbaz Sharif, the chief minister of Punjab province, wins a National Assembly seat in a by-election.
The opposition has criticised this plan as dynastic and undemocratic, something Mr Abbasi has rejected.
"I may be here for 45 hours or 45 days. I am the prime minister and I am not here to keep the seat warm, I will do the work of 45 months in 45 days, if I remain here," he said in his speech.
The new Prime Minister dismissed the corruption allegations against the former leader and said he hoped the deposed prime minister would return to parliament soon.
World news in pictures

Show all 50
He said the people of Pakistan did not accept Mr Sharif's disqualification and vowed to continue his predecessor's work.
Mr Abbasi was jailed by the former military dictator Pervez Musharraf for not testifying against Mr Sharif following a 1999 bloodless coup in which Mr Sharif's elected government was overthrown.
Mr Sharif and his family were subsequently exiled to Saudi Arabia.
Agencies contributed to this report
Join our new commenting forum
Join thought-provoking conversations, follow other Independent readers and see their replies