Shanghai bites back against dog attacks with one-pet policy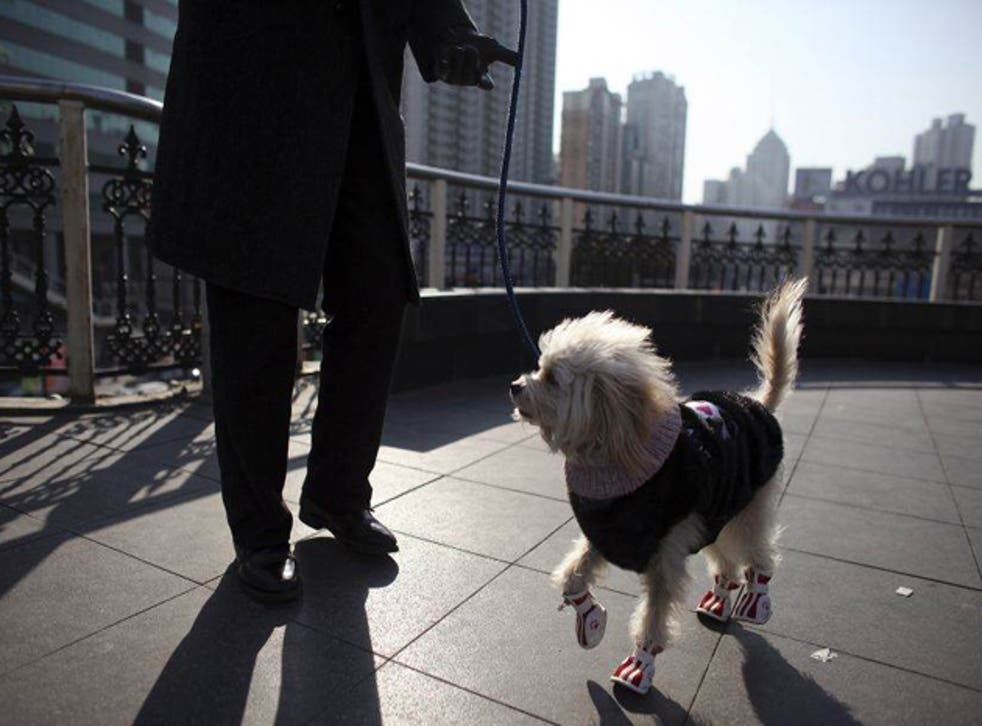 Chinese ruling: what's good enough for the human is good enough for the dog. Shanghai is to extend the one-child policy to man's best friend after tens of thousands of people complained of being bitten last year – and to prevent dog mess spoiling the country's showcase business city.
The rule has already been imposed in several other Chinese cities, but Shanghai's size – it has a population of more than 20 million – has made the presence of thousands of dogs more problematic. Dogs bigger than 3ft will be banned from the centre of the city and so-called "attack dogs", including bulldogs, will be banned completely.
The ruling is the latest instance of uneasy relationships between man's best friend and the Chinese authorities. During the Communist era of Mao Zedong, pets were frowned upon as a middle-class affectation and government opponents were condemned as capitalist running dogs. But China's growing openness, combined with its rising affluence, means that pets are making a comeback, and there are around 100 million pet dogs in China. However, from May, a one-dog policy will be introduced in Shanghai and more than 600,000 unlicensed dogs will be declared illegal – and killed because of fears of rabies.
Last year, more than 140,000 people told police they had been bitten by dogs. Each year, there are people dying from rabies after being attacked by unlicensed dogs, according to the municipal public security bureau.
However, the new regulation has been the subject of long and heated debate among the city's law makers. Shanghai suffers from high population density and increasingly cramped living conditions, which means that pets must pay their way through dog licences. And the authorities want a bit less barking. Not everyone agrees.
"If you can't find any adopters and the shelters are full, where would the puppies go?" one elderly woman surnamed Huang, who has been raising a dog for six years, told the China Daily. Another dog lover, surnamed Wang, said: "The government should improve public knowledge about how to raise a dog and how to prevent them from attacking people and littering instead of forcing us to raise one dog only."
The draft legislation requires dog owners to give away any puppies or send them to government-approved adoption agencies by the time they are three months old to abide by the one-dog policy. The alternative is for owners to perform sterilisation surgery on their dogs.
The regulation is in line with the one-child policy for humans, imposed in 1979 as a way of reining in population growth already running at dangerously high levels in the world's most populous nation. In the early 1980s, there was widespread sterilisation, especially among women in the countryside.
The National Population and Family Planning Commission believes that some 400 million human births have been prevented by the policy.
Worst in show?
Denpasar, Bali
Half a million stray dogs roam this Indonesian island, and its main hospital treats around 300 dog bites a day. Since 2008, 65 bite victims have died after contracting rabies.
Srinagar, India
More than 100,000 dogs live on Srinagar's streets. Residents oppose a cull, so authorities have pinned their hopes on a pest expert who has promised to remove the strays without harming them.
Paris, France
The French capital declared it was no longer "the dog mess capital of the world" in 2009 after a successful re-education programme taught dog owners to pick up after their pets.
Register for free to continue reading
Registration is a free and easy way to support our truly independent journalism
By registering, you will also enjoy limited access to Premium articles, exclusive newsletters, commenting, and virtual events with our leading journalists
Already have an account? sign in
Register for free to continue reading
Registration is a free and easy way to support our truly independent journalism
By registering, you will also enjoy limited access to Premium articles, exclusive newsletters, commenting, and virtual events with our leading journalists
Already have an account? sign in
Join our new commenting forum
Join thought-provoking conversations, follow other Independent readers and see their replies