Man arrested over arson attack at Japanese animation studio that killed 36
'Our fellow workers whose lives were lost will never come back and the wounds of our colleagues will never be healed,' says company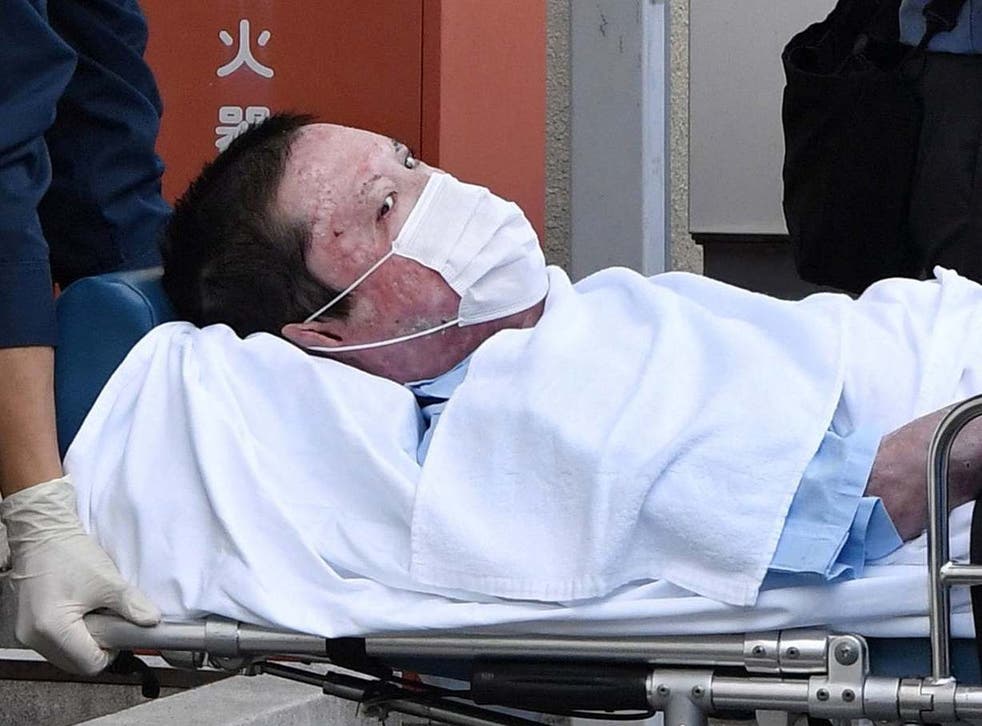 Police have arrested a man on suspicion of starting a fire that killed 36 people in an animation studio last year.
Shinji Aoba, 42, was detained on allegations of murder and arson 10 months after officers had obtained a warrant for his arrest. Police had to wait for him to recover from injuries sustained in the fire he allegedly started.
The attack on Kyoto Animation anime studio in July 2019 was Japan's deadliest violent crime in decades and sent shockwaves through society.
Mr Aoba allegedly "scattered gasoline on the ground floor [and] set fire to it" after he broke into the building, thereby killing 14 men and 22 women, a police spokesperson said on Wednesday.
He was hospitalised immediately after being detained, having suffered serious burns in the attack which also injured dozens more.
He sustained severe burns to his face, torso and limbs, and was unconscious for several weeks. After being treated and undergoing multiple skin grafts at a hospital in Osaka, Mr Aoba was sent to a hospital in Kyoto in November to continue his recovery.
Local television footage showed Mr Aoba with burn scars on his face, strapped to a stretcher as he was carried into a police station.
According to the Japan Times, Mr Aoba admitted to attacking the studio and was quoted by police as saying there was "no mistake" in the allegations against him.
Kyoto Animation said in response to his arrest: "We have nothing to say to the suspect. Our fellow workers whose lives were lost will never come back and the wounds of our colleagues will never be healed."
The studio said it expected Mr Aoba to face "maximum criminal responsibility" for his alleged actions in a statement issued through its legal representative.
Police have said Mr Aoba told them he committed arson because he thought the studio "stole novels".
Kyoto Animation previously held public contests in which it accepted draft novels from people and chose a winner to be made into anime. The company has said it received a draft from someone with the same name as Mr Aoba but denied basing any of its productions on the work.
World news in pictures

Show all 50
Police investigator Toshiyuki Kawase told reporters: "We will now focus on the suspect's interrogation and pursue our investigation in order to fully examine the crime."
Prosecutors are expected to seek formal criminal charges against him in a few weeks.
Additional reporting by agencies
Register for free to continue reading
Registration is a free and easy way to support our truly independent journalism
By registering, you will also enjoy limited access to Premium articles, exclusive newsletters, commenting, and virtual events with our leading journalists
Already have an account? sign in
Register for free to continue reading
Registration is a free and easy way to support our truly independent journalism
By registering, you will also enjoy limited access to Premium articles, exclusive newsletters, commenting, and virtual events with our leading journalists
Already have an account? sign in
Join our new commenting forum
Join thought-provoking conversations, follow other Independent readers and see their replies