Japanese PM Shinzo Abe and his wife accused of secret donations to far-right school
The growing scandal has already seen Ms Abe resign as honorary principal of a new school planned by right-wing group Moritomo Gakuen
Harry Cockburn
Thursday 23 March 2017 14:10 Comments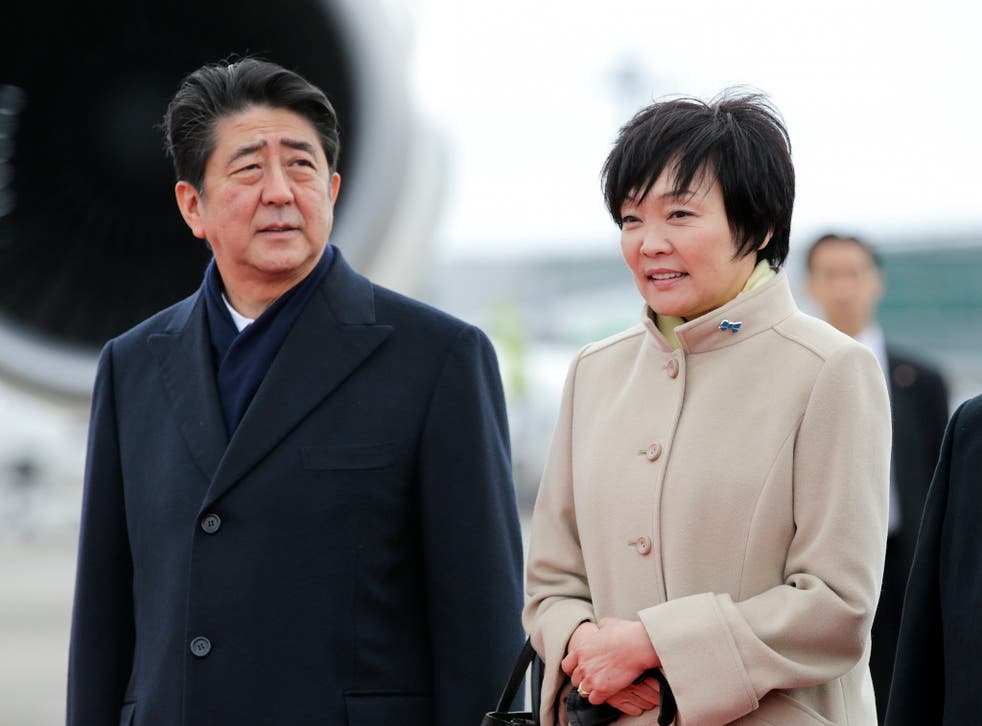 Japanese Prime Minister Shinzo Abe and his wife Akie have been dragged into the heart of a political scandal involving a far-right school, after the school's head teacher testified that he received a secret donation of 1m yen (£7,200) from the couple.
The growing scandal has already seen Ms Abe resign as honorary principal of another school which was planned by Moritomo Gakuen, a right wing group in Osaka.
The organisation's schools require pupils to bow before portraits of the imperial family, to sing the national anthem daily and promotes Japan's pre-war imperialist school curriculum, which promotes sacrifice for the state and teaches children to be subjects, not citizens.
The scandal initially focused on a deal in which the new school was offered land from the government at just one-seventh of its market value.
Mr Abe has denied any connection to the land deal, and has promised to resign if he was found to have been personally involved.
But now, Yasunori Kagoike, the president of the Moritomo Gakuen group, has claimed under oath that the prime minister and his wife made a secret donation to the school.
Mr Kagoike claimed Akie Abe gave him an envelope containing cash after she made a speech at one of the group's schools in 2015.
At a parliamentary committee on Thursday he said: "She said, 'please, this is from Shinzo Abe,' and gave me an envelope with 1m yen in it."
He added: "Abe's wife apparently says she doesn't remember this at all, but since this was a matter of honour to us, I remember it quite vividly."
The prime minister flatly denied any claims of donations, and his office described the allegations as an "insult".
However, Mr Kagoike's statement may sway public opinion after he repeated the allegations under oath in parliament, where it was broadcast on six national television networks.
The connection between the prime minister and the schools' head is also in the spotlight as a result of the scandal. Both men are members of Nippon Kaigi, a nationalist lobby group that promotes patriotism and recognition of Japan's imperial past.
The scandal has already impacted Mr Abe's popularity, with opinion polls indicating a fall in the cabinet's approval ratings of between three and 10 points. Nonetheless, the administration's popularity remains at about 50 per cent.
World news in pictures

Show all 50
Japan is due an election in late 2018.
Register for free to continue reading
Registration is a free and easy way to support our truly independent journalism
By registering, you will also enjoy limited access to Premium articles, exclusive newsletters, commenting, and virtual events with our leading journalists
Already have an account? sign in
Join our new commenting forum
Join thought-provoking conversations, follow other Independent readers and see their replies