'Gas chamber' Delhi declares public health emergency and shuts schools over toxic smog
City authorities take steps including 'odd-even' traffic days, but scientists say it may already be too late to prevent a winter-long smog crisis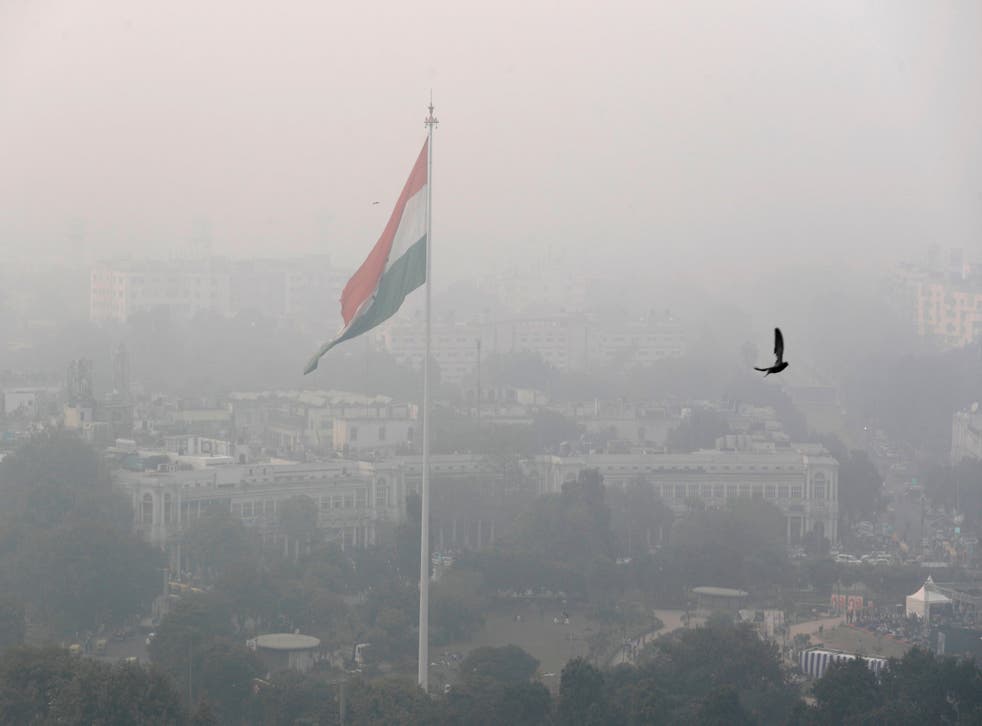 A public health emergency has been declared in Delhi as exceptionally high levels of air pollution choked the city for a third consecutive day, leading authorities to close all schools until 5 November.
A Supreme Court-appointed panel said the smog was likely to have "adverse health impacts on all, particularly our children", and as well as calling an emergency it temporarily banned all construction activity in the wider Delhi region.
The city's chief minister Arvind Kejriwal had already announced plans to halve the number of private vehicles on the roads by imposing "odd-even" traffic days from 4 November.
But he has been forced into early action as the air quality index (AQI) in the city topped out at 500 in some places yet again on Friday. An AQI score between 0-50 is considered "good", 401-500 is deemed "severe" and anything above 500 is termed a "severe-plus emergency" by the Indian government.
Schools were ordered to suspend classes, as well as stopping any planned outdoors activities or sports matches.
Earlier in the day, Mr Kejriwal began the process of handing out 5 million free anti-pollution face masks at an event with schoolchildren, while blaming the crisis on the burning of agricultural waste in neighbouring states.
"Delhi has turned into a gas chamber due to smoke from crop-burning in neighbouring states. It is very [important] that we protect ourselves from this toxic air," he tweeted.
Many media reports also blamed the smog on the lighting of fireworks for Diwali, the Hindu festival of lights, which was celebrated on Sunday.
But factories, power stations and other major industrial processes also play a big part in contributing to the toxic air mix, and one which is rarely addressed by politicians.
Scientists at the Indian Institute of Technology Kanpur said the overwhelming majority of Delhi's pollutants come from within a 75km radius of the capital, and suggested that measures like Mr Kejriwal's "odd-even" traffic scheme were being implemented too late.
In a report, they said that the "most critical window" to tackle pollution started on 29 October, and that efforts to retroactively bring down the smog levels later on would be "nearly futile".
New Delhi toxic smog pushes air pollution to peak levels

Show all 14
Once Delhi's air pollution sets in, cold weather and lack of wind during the winter mean the smog is generally there to stay for the next three months, with a further spike expected around 30 December until 5 January, according to meteorologists analysing the last three years' data.
Unlike in other major Asian metropolises, Delhi's citizens have been generally slow to adopt the use of face masks, even on busy streets during days of severe air pollution.
India is host to a number of the most polluted cities in the world, and the issue can prove embarrassing for the country on the world stage.
Bangladesh's national cricket team were seen wearing face masks as they trained in thick haze on Thursday ahead of a T20 international in Delhi on Sunday.
Sourav Ganguly, head of the national governing body for cricket in India (BCCI), said the BCCI would consider whether it could be a "bit more practical" in future when it came to scheduling winter fixtures in northern India.
Join our new commenting forum
Join thought-provoking conversations, follow other Independent readers and see their replies