South and North Korea exchange artillery fire as tensions rise with US Marines' exercise
South Korea said it was responding to North Korean shells landing on its territory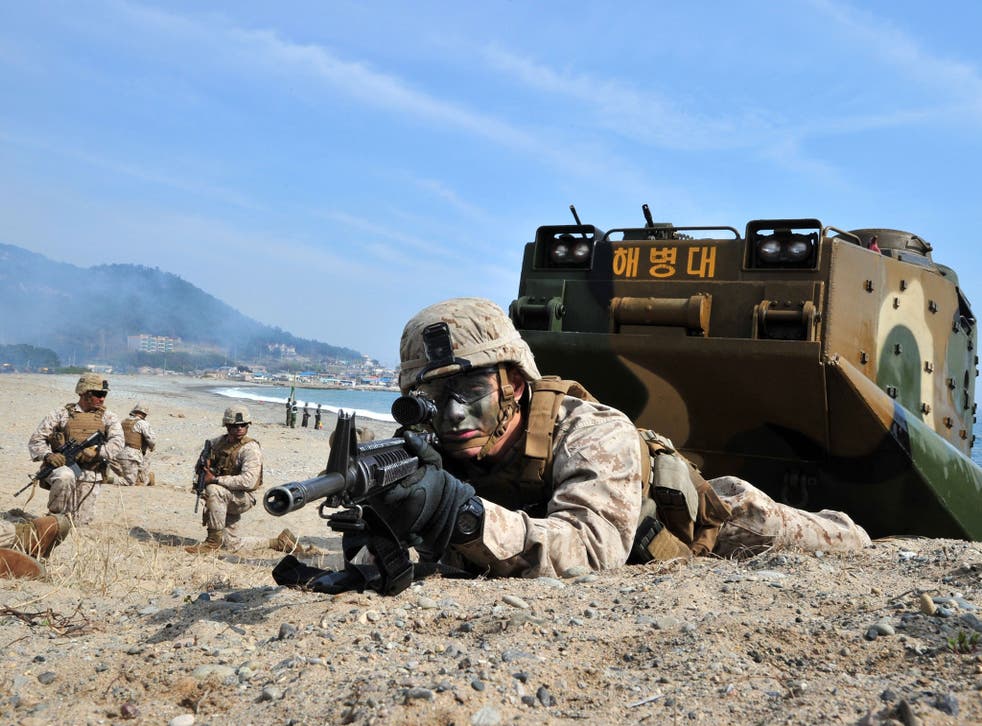 North and South Korea fired artillery shells into each other's waters on Monday, forcing people on five South Korean islands on the frontline to evacuate their homes.
Early on Monday, North Korea announced that it would conduct live-fire drills in seven areas north of the Yellow Sea boundary between the nations.
South Korea responded by returning fire after North Korean shells landed in its territorial waters.
North Korea fired 500 rounds of artillery shells over more than three hours, around 100 of which fell south of the sea boundary, South Korean Defence Ministry spokesman Kim Min-seok said.
South Korea responded by firing 300 shells into North Korean waters, he said.
No shells from either side were fired at any land or military installations, but Kim called the North's artillery firing a provocation aimed at testing Seoul's security posture. There was no immediate comment from North Korea.
In pictures: South and North Korea exchange fire as tensions rise with US Marines' exercise

Show all 12
The South Korean Defence Ministry said in a statement its military "fired back north of the border in line with ordinary protocol."
The disputed western sea boundary has been the scene of several bloody naval skirmishes between the nations in recent years, including the 2010 artillery attack on Yeonpyeong by the North.
Pyongyang said at the time that it was responding to earlier South Korean drills in disputed waters.
While North Korea routinely test-fires artillery and missiles into the area, it is rare for it to disclose training plans in advance.
The announcement has been interpreted as an expression of Pyongyang's frustration at making little progress in its recent push to secure international aid.
In recent weeks, the North has increased threatening rhetoric and conducted a series of rocket and ballistic missile launches that are considered acts of protest against routine springtime military exercises by Seoul and Washington.
The North has accused the annual South Korea-US drills a rehearsal for invasion, but the allies maintain that they are defensive.
Despite the incident being comparatively mild in comparison to the long history of tension and violence between the countries, officials in the South Korean capital of Seoul are concerned that North Korean dissatisfaction could spark a repeat of the weeks-long barrage of near-daily war rhetoric last spring.
Last year's posturing saw Pyongyang threaten nuclear strikes on Washington and Seoul in response to condemnation of its third nuclear test.
On Sunday, Pyongyang also threatened to conduct a fourth nuclear test, but Seoul says there are no signs of an imminent detonation.
Recent threats are an expression of anger and frustration over what the North sees as little improvement in progress in its ties with South Korea and the US, said Lim Eul Chul, a North Korea expert at South Korea's Kyungnam University.
Lim said the North might conduct a fourth nuclear test and launch other provocations to try to wrest the outside concessions it wants.
The Korean Peninsula remains in a technical state of war because the 1950-53 Korean War ended with an armistice, not a peace treaty.
About 28,500 American troops are deployed in South Korea to deter potential aggression from North Korea.
Additional reporting by AP
Register for free to continue reading
Registration is a free and easy way to support our truly independent journalism
By registering, you will also enjoy limited access to Premium articles, exclusive newsletters, commenting, and virtual events with our leading journalists
Already have an account? sign in
Register for free to continue reading
Registration is a free and easy way to support our truly independent journalism
By registering, you will also enjoy limited access to Premium articles, exclusive newsletters, commenting, and virtual events with our leading journalists
Already have an account? sign in
Join our new commenting forum
Join thought-provoking conversations, follow other Independent readers and see their replies