South Korea overturns abortion ban in 'major step forward' for women's rights
Constitutional court says ban infringes a woman's 'right of self-determination'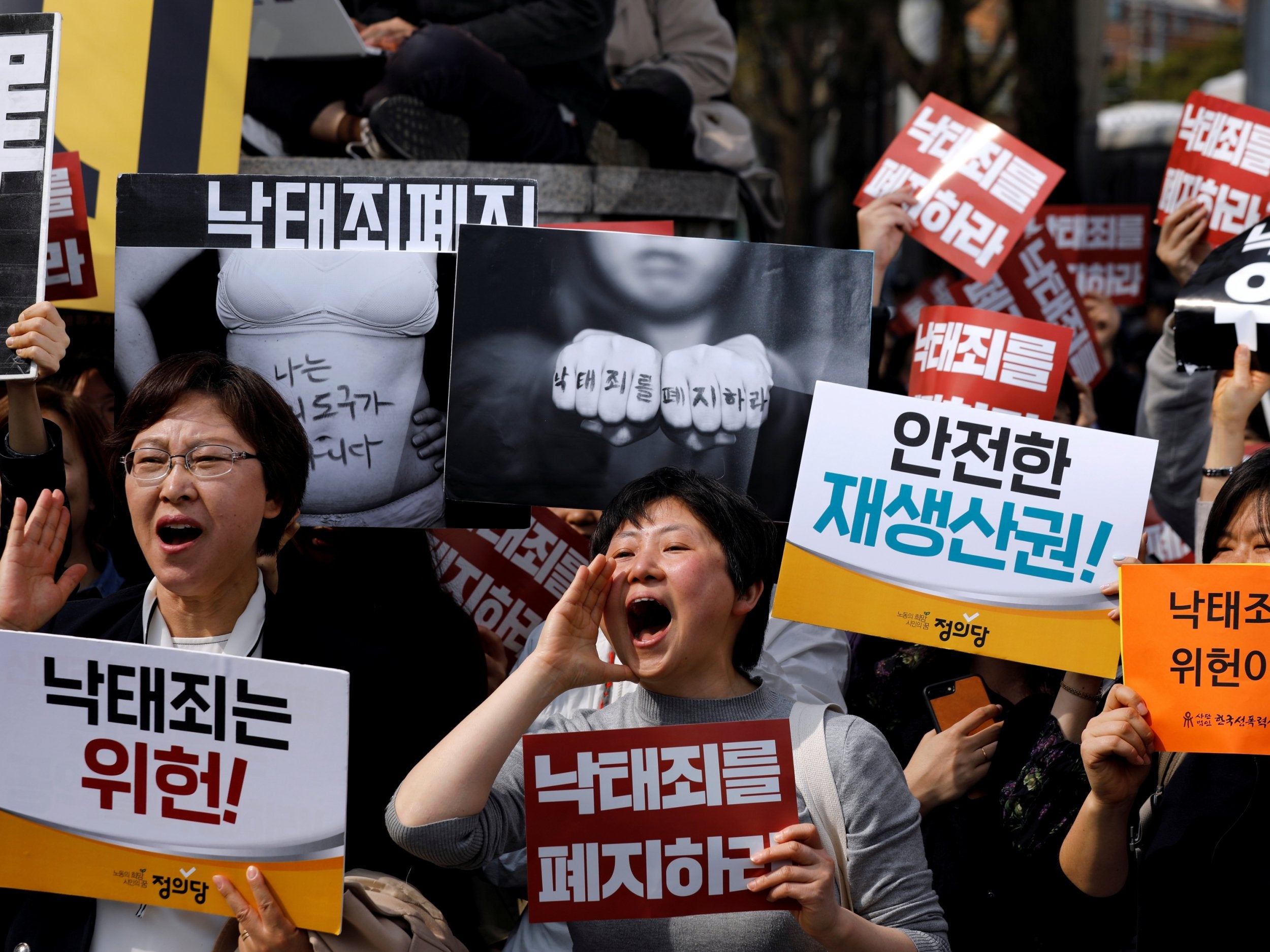 South Korea's decades-long ban on abortion is unconstitutional, the country's highest court has ruled, in a landmark decision that paves the way for anti-abortion regulations to be scrapped.
The ban infringed a woman's "right of self-determination", the constitutional court said in its ruling, ordering the government to draw up legislation to ease the rules by the end of 2020.
If the government fails to agree new regulations, the abortion ban will automatically lapse at that time, the nine-judge panel said.
Abortion has been illegal in South Korea since 1953 except for a few exceptions, such as when a woman is raped or if her health is in danger. In these limited instances, abortions also must be carried out within the first 24 weeks of pregnancy and are subject to spousal consent.
While women who terminate a pregnancy can face fines of up to 2m won (£1,340) or one year in prison, medical professionals who help with abortions can face prison terms of up to two years.
World news in pictures
Show all 50
Both the abortions ban, and a separate law that made doctors who conduct them liable to criminal charges, were deemed unconstitutional.
"The law criminalising a woman who undergoes abortion of her own will goes beyond the minimum needed to achieve the legislative purpose and limits the right of self-determination of the woman who has become pregnant," the court said in its ruling.
The law was reassessed after a challenge from a female doctor who was prosecuted for carrying out almost 70 abortions.
Roseann Rife, Amnesty International's east Asia research director, said the decision marked a "major step forward" for the human rights of women and girls in South Korea.
"The country's draconian laws have resulted in discrimination and stigmatisation for generations of women and girls by forcing them to undergo clandestine and unsafe abortions," she added. "The constitutional court has sent a clear message this must change, and in future the human rights of women and girls must be fully protected and respected."
She said Amnesty urged the South Korean government to swiftly reform the Criminal Act and ensure access to safe and legal abortion services.
"The highly restrictive and punitive laws must change so that the health of women, girls and others who can become pregnant is no longer put at risk for fear they or the medical professionals that help them could be punished," Ms Rife said.
"Abortions will always happen, regardless of the law. This judgment means that they should be carried out safely and legally, and that women and girls are treated with compassion and respect for their human rights and their reproductive autonomy. Their dignity must be front and centre in any new legal framework on abortion."
The court had previously upheld the ban in 2012 in a close decision that evenly split what was then an eight-judge panel.
The court's ruling reflects moves towards decriminalising abortion, as the number of cases where abortion was criminally punished had been falling.
Only eight new cases of illegal abortion were prosecuted in 2017, down from 24 in 2016, according to South Korean judicial data.
The number of abortions taking place has also been dropping in South Korea – where patriarchal values are profoundly ingrained – due to the increased use of birth control and a fall in the total number of women aged 15-44.
Additional reporting by agencies
Join our commenting forum
Join thought-provoking conversations, follow other Independent readers and see their replies