South Korea's largest dog meat slaughterhouse closed ahead of conversion to public park
Campaigners rejoice at destruction of complex described as 'stain on the city of Seongnam'
Chiara Giordano
Friday 23 November 2018 18:52 Comments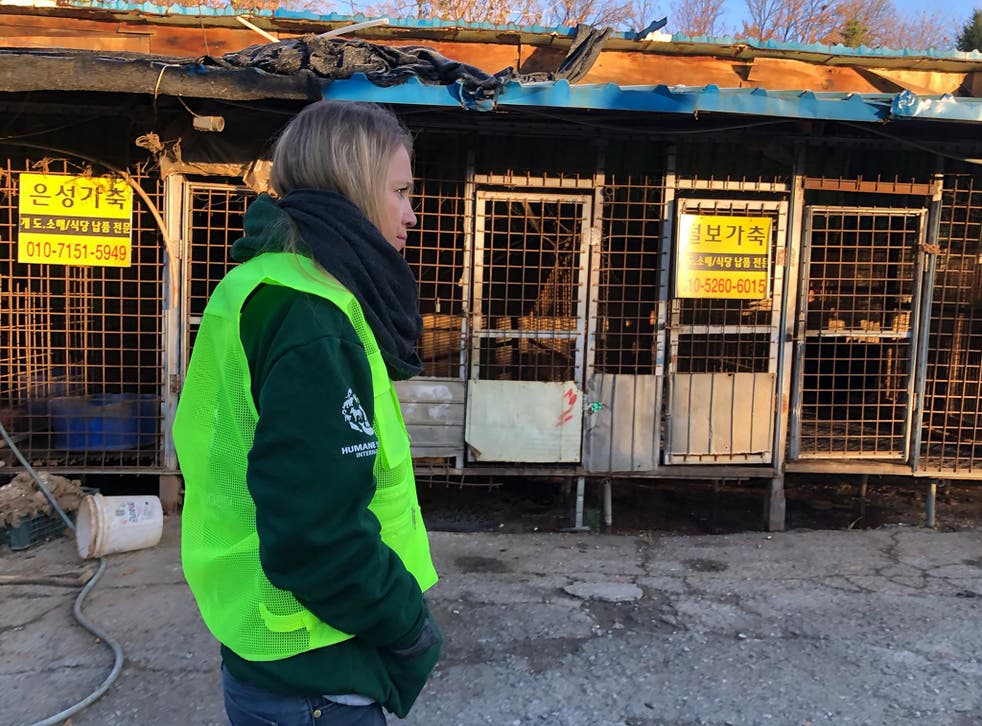 South Korea has shut down its largest dog meat slaughterhouse in what animal rights campaigners have hailed as a landmark moment.
Local authorities began dismantling the Taepyeong complex, in Seongnam city, south of Seoul, in a two-day operation on Thursday.
Taepyeong was home to six individual slaughterhouses, and could hold hundreds of dogs at any time.
Five of the slaughterhouses were expected to be bulldozed immediately, while equipment and cages from the sixth building were removed and destroyed so that it was no longer operational.
Seongnam City Council says it now plans to build a community park on the land.
Humane Society International (HSI) campaigners, who were at the scene as the complex was destroyed, said the conditions inside the slaughterhouse were "horrifying".
They reported finding a large number of empty wire pens that would have at one time held hundreds of dogs, as well as electrocution equipment, knives, and a de-hairing machine.
They also described seeing a pile of dead dogs abandoned on the floor.
HSI campaigner Nara Kim said: "Both as a Korean citizen and an animal campaigner, it was incredibly moving for me to a part of the historic closure of this notorious dog slaughterhouse.
"I shudder to think how many millions of beautiful dogs will have met their horrific fate at this place over the years.
"It was a stain on the city of Seongnam and we are so pleased to see it bulldozed.
"This really feels like a landmark moment in the demise of the dog meat industry in South Korea, and sends the clear message that the dog meat industry is increasingly unwelcome in Korean society."
Hyunji Kim of Korea Animal Rights Advocates, a partner group of HSI, added: "Its closure is an historical event, and hopefully may trigger the closure of other illegal dog slaughterhouses throughout the country.
"Until we achieve this, we really appreciate the support of both Korean people and global citizens who love animals for helping our campaigns to completely end dog meat in Korea."
Dog meat consumption is said to be rapidly declining in South Korea.
A survey carried out by Gallup Korea in June this year revealed 70 per cent of South Koreans said they would not eat dog meat in the future.
Register for free to continue reading
Registration is a free and easy way to support our truly independent journalism
By registering, you will also enjoy limited access to Premium articles, exclusive newsletters, commenting, and virtual events with our leading journalists
Already have an account? sign in
Join our new commenting forum
Join thought-provoking conversations, follow other Independent readers and see their replies