South Korea breathes sigh of relief as Donald Trump and Kim Jong-un agree to historic meeting
Big questions still remain: What does it all mean, what will come out of a Trump-Kim summit and can they possibly come to terms?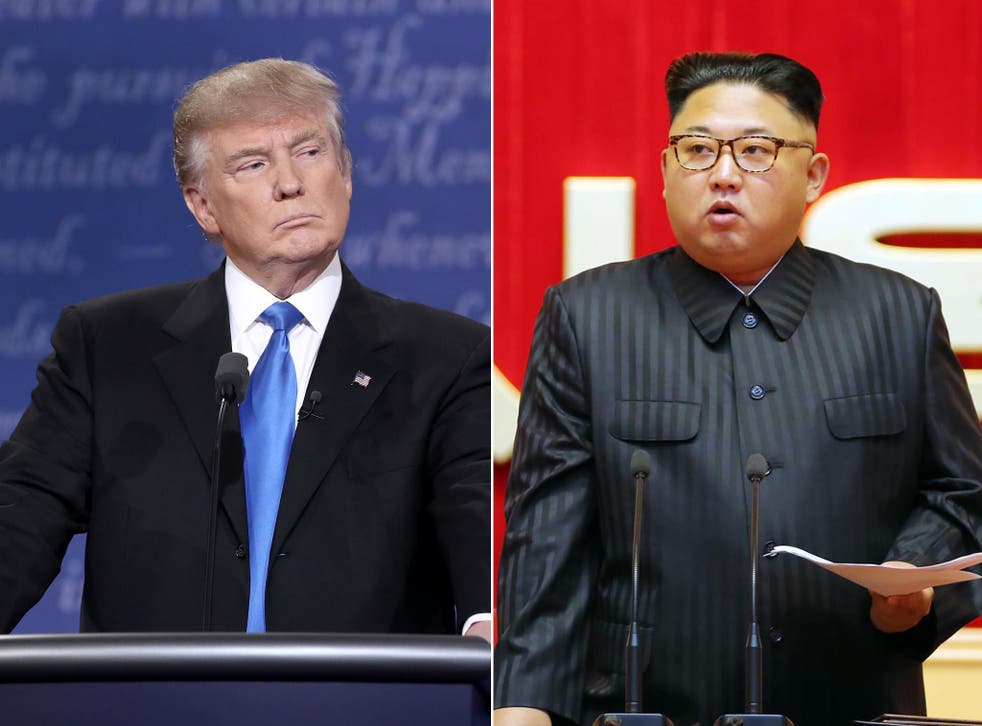 President Donald Trump and North Korea's leader Kim Jong-un shocked Americans and Koreans alike on Thursday with their agreement to meet at a summit and discuss the denuclearisation of North Korea.
Nobody, here or in Washington, had expected the revelation from South Korea's national security adviser Chung Eui-yong, who is in the US capital to brief the White House on his own visit to Pyongyang on Monday, when he was hosted to dinner by Mr Kim.
The drama of a previous announcement – that Mr Kim would meet his South Korean counterpart in late April for only the third-ever inter-Korean peace summit – was trumped by Mr Chung's news and subsequent White House confirmation of a US-North Korea summit later in May.
News of the impending summit reverberated through Korea in a surge of optimism and relief after months of non-stop escalation in threats, tests and sabre-rattling rhetoric. It raises the prospect of Mr Trump meeting a leader who he has scoffed at as "little rocket man" and whose country he has threatened to obliterate with "fire and fury". North Korea has blasted Mr Trump as a "dotard" – that is, an old man losing his faculties – while calling the US an "evil aggressor".
"It's exciting, big progress," said Chang Sung-eun, an office worker in Seoul. "Congratulations to Mr Moon!"
"We did not expect anything like this so soon," said Park Sung-un, a "salaryman" in a large company here. "We cannot expect all problems to be solved in one talk, but this is progress."
Analysts are still sceptical though as to whether the current wave of post-Olympic diplomacy will lead to any kind of permanent solution. US and South Korean military officers pointed out that North Korean physicists and engineers are nearing the point at which they can attach a small warhead to the tip of a long-range ballistic missile and even launch a nuclear-tipped missile from a submarine hidden beneath the surface of the ocean not far from the US west coast.
"We have lots of threats, lots of things to get over," Kae Tae-woo, a military expert formerly with the Korea Institute of Defense Analyses, told The Independent. "There are two scenarios – North Korea decides to give up its nukes, or there is dialogue but simultaneously they continue [developing] nuclear weapons."
Some analysts now fear that President Moon, when he meets Mr Kim before the Trump-Kim summit, may be reluctant to make specific demands that might upset the North and throw off further dialogue. Mr Moon has nonetheless already passed on word to Mr Kim that he will not call off US-South Korean military exercises, postponed until after the Paralympics in Pyeongchang, and will insist that sanctions against North Korea remain in effect until the North actually goes through with denuclearisation.
A spokesman for the American embassy also cautioned that Mr Trump had simply accepted Kim Jong-un's "invitation" but that there was no agenda for negotiations. The implication was that Mr Trump and Mr Kim needed to decide first just what they will talk about – and how far they would go beyond pleasantries and formalities.
​Choi Jin-wook, a North Korea specialist formerly with the Korea Institute of National Unification, said he believed the two would "discuss something very important" reflecting regional rivalries. North Korea, he said, may want to cosy up to Washington as a foil against China, a country it has relied on for almost all its oil and much of its food while suffering under sanctions.
The million dollar question is whether North Korea is really willing to denuclearize, and to what degree. Mr Kim has already said he will freeze missile and nuclear tests at least until meeting first Mr Moon and then Mr Trump, and that he will also not object too strongly to this spring's military exercises. He is not expected, however, simply to agree to close down the Yongbyon complex where the five-megawatt plutonium reactor is reported to be in operation. Nor will he dispose of the warheads that have already been produced there or are being produced with highly enriched uranium at other locations, some of which the Americans still have not discovered, even with the most advanced satellite technology.
Christopher Hill, the US diplomat who spent years negotiating with the North Koreans in a fruitless effort to reach a viable deal, warned Mr Trump should not go into talks without some prior assurances. Hill raised two key questions: "Will North Korea agree to denuclearisation," or if not, to "monitoring" of its nuclear facilities by the International Atomic Energy Agency? The US is unlikely to accept any long-term settlement that does not involve one or the other.
Register for free to continue reading
Registration is a free and easy way to support our truly independent journalism
By registering, you will also enjoy limited access to Premium articles, exclusive newsletters, commenting, and virtual events with our leading journalists
Already have an account? sign in
Register for free to continue reading
Registration is a free and easy way to support our truly independent journalism
By registering, you will also enjoy limited access to Premium articles, exclusive newsletters, commenting, and virtual events with our leading journalists
Already have an account? sign in
Join our new commenting forum
Join thought-provoking conversations, follow other Independent readers and see their replies