South Korea earthquake: Tremors that rocked Pohang were second-strongest on record
No casualties from seismic shock but southern port city sustains significant infrastructure damage as dozens injured
Thursday 16 November 2017 11:07
comments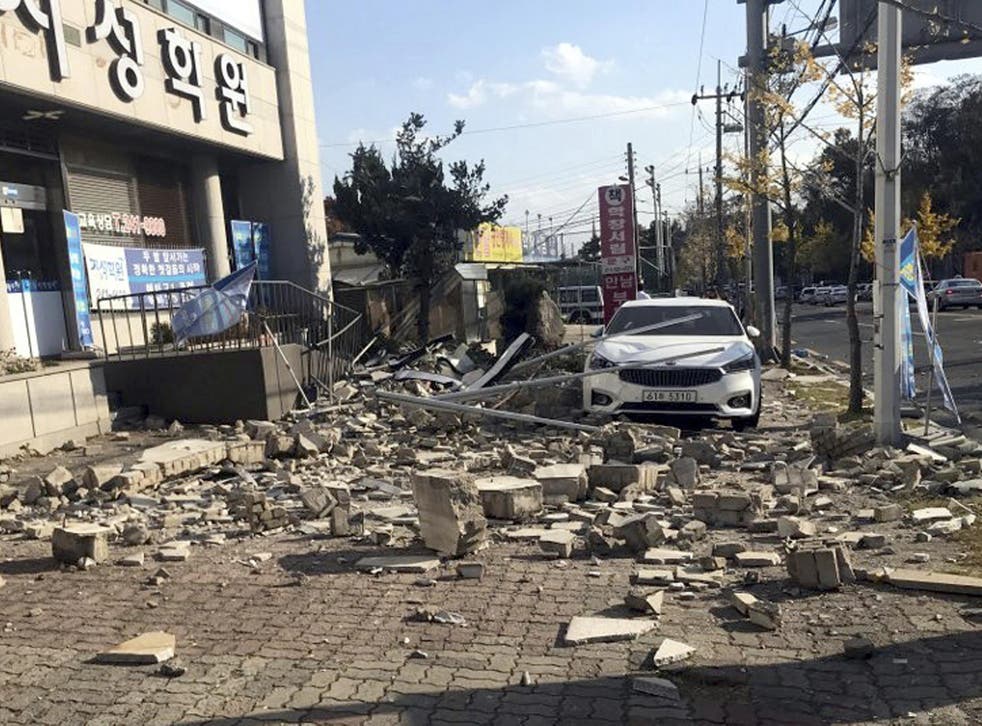 A 5.4 magnitude earthquake that was South Korea's second-strongest in decades damaged infrastructure, injured dozens of people and left about 1,500 homeless, officials said on Thursday.
No deaths have been reported since the quake rattled the southeastern coastal region around the port city of Pohang on Wednesday afternoon.
As of Thursday morning, 1,536 people had been forced to evacuate their homes and 57 people were injured, the Ministry of the Interior and Safety said in a statement.
More than 1,000 houses and dozens of other buildings and cars were damaged or destroyed, and cracks and other damage were found in military facilities, bridges, port facilities and water supply facilities. Media images showed crumbled walls piled on damaged cars, broken windows and cracks in buildings.
The quake also forced the education ministry to put off the university entrance exam for one week because some buildings chosen as test venues had cracks and students in the southeastern region were displaced from their homes and complained of anxieties. The annual test administered by the government is a huge national event in South Korea, where diplomas from top colleges often guarantee better jobs and spouses.
It's the second-strongest quake in South Korea since the country officially began monitoring them in 1978. The biggest quake occurred in September 2016, when a 5.8 magnitude occurred near the ancient city of Gyeongju, which is close to Pohang. That quake also caused injuries but no deaths.
World news in pictures

Show all 50
South Korea's state-run Korea Meteorological Administration said the epicentre of Wednesday's quake was inside Pohang while the US Geological Survey said it was centred about 9.3 kilometres (5.8 miles) northwest of the port city. The shaking was felt in Seoul, more than 300 kilometres (186 miles) away.
South Korea has relatively little seismic activity, unlike neighbouring Japan.
AP
Join our new commenting forum
Join thought-provoking conversations, follow other Independent readers and see their replies