South Korea: What Moon Jae-in's election win means for North Korea crisis and US relations
Slim majority means Korean president-elect will need to forge consensus to pass legislation while playing pivotal role in shaping Washington's relationship with Pyongyang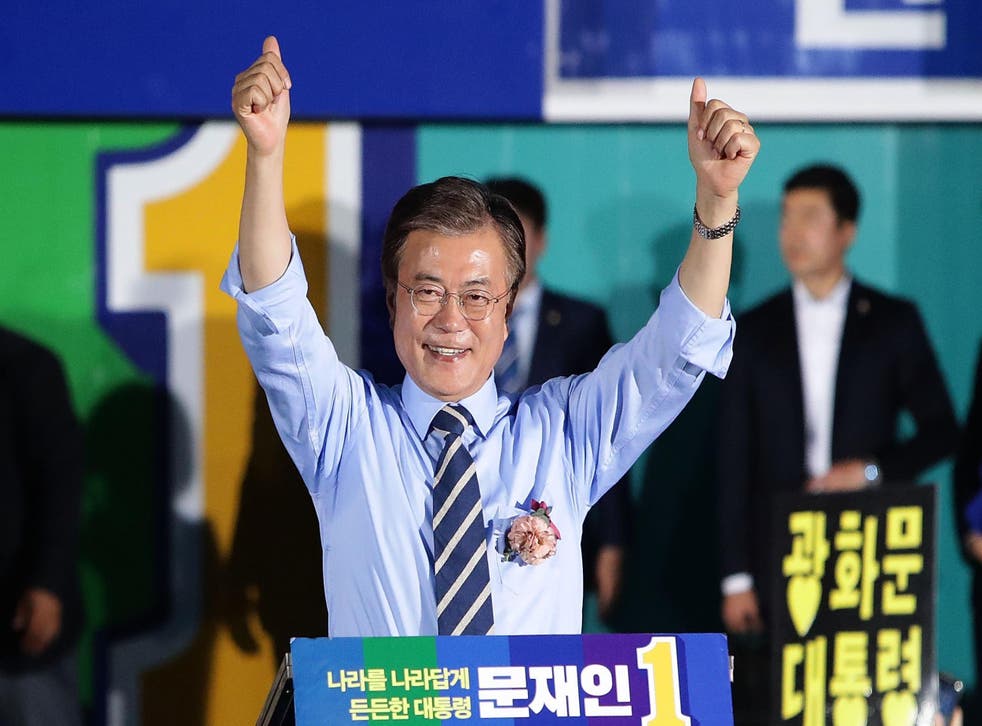 Moon Jae-in is set to become the next president of South Korea, amid escalating tensions over North Korea's nuclear programme across the world – with the incoming leader aiming for a shift in relations both with its neighbour and the US.
Mr Moon received more than 40 per cent of the vote according to exit polls from broadcasters in the country and Mr Moon was quick to claim victory.
Nearly 80 per cent of South Koreans voted in the election, the highest number in 20 years, and while full results are yet to be released, the other top candidates Hong Jun-pyo and Ahn Cheol-soo appear to have conceded.
Speaking after the exit poll results were announced, Mr Moon said his expected "landslide victory" comes at a time when the Korean people are "desperate" for a change in government.
Previous president Park Geun-hye, a conservative, was impeached over a corruption scandal, which left a sour taste for many voters on her conservative party.
Ms Park's party has a more historical view of the US alliance, many older supporters of the party lived through the Korean War and remember the US military support and economic aid provided by Americans during their time of need. There are still 28,000 US military personnel stationed in South Korea as well.
Her administration recently allowed the US military to instal the Terminal High Altitude Area Defence (THAAD) missile system to become operational, a point Mr Moon argued should have been the decision of the incoming president not the outgoing administration.
Jonathan Pollack of the Centre for East Asia Policy Studies at the Brookings Institution think-tank said that "China would be cheering from the sidelines" should Mr Moon successfully "restrict missile development in Korea".
China has opposed the THAAD missile system for fear it would be used by the US to spy on them.
Mr Moon has advocated for a less hardline "sunshine policy" of engagement with Pyonyang, pledging to ease tension and work to denuclearize the Korean Peninsula by reviving six-party talks involving the two Koreas, China, the US, Russia and Japan.
The issue is a personal one for many South Koreans, but especially so for Mr Moon whose parents actually fled their homes in the north during the Korean War.
Moon has criticised the two previous conservative governments for failing to stop North Korea's weapons development. He advocates a two-track policy of seeking dialogue with the North while maintaining pressure and sanctions to encourage change.
He also aims to expand economic and social exchange between the two Koreas by reopening industrial parks on the shared border.
His victory was bolstered by strong support from younger people, according to the exit polls. Many of his supporters participated in big, peaceful weekend rallies over the last few months of 2016 and early this year, demanding Ms Park step down.
Only 22 to 25 per cent of people in their 60s and 70s voted for Mr Moon, exit polls showed, underscoring a longstanding generation gap. Many older people are wary of Mr Moon's less confrontational stance on North Korea.
Mr Moon has said he would meet North Korean leader Kim Jong-un if a summit could help ease tension.
US/South Korea joint exercise Operation Pacific Reach

Show all 10
Lisa Collins, a fellow with the Korea Chair at the Centre for Strategic and International Studies, told The Independent that what will be key for Mr Moon going forward is his relationship with Donald Trump given that there is no current US ambassador in Seoul.
Mr Pollack said that Mr Trump and Mr Moon will have to have a "very frank" personal relationship for anything to change with North Korea because at this time both sides seem to have opposite views on the situation.
Mr Moon, whose campaign promises include a "National Interest First" policy, has struck a chord with people who want the country to stand up to powerful allies and neighbours.
He wrote in a book published in January that South Korea should learn to say "no" to America.
Mr Moon said in a YouTube live stream on Tuesday that South Korea should take on a more active diplomatic role to curb North Korea's nuclear threat and not watch idly as the US and China talk to each other.
Echoing Ms Collins' statement, Mr Pollack explained that that an early face-to-face meeting between Mr Moon and Mr Trump will be crucial, adding that Mr Trump does like dealing with leaders on a more personal basis.
Though Mr Trump's tweets about the Korean-US trade agreement and the escalating tensions with Pyongyang are troubling to many conservative Koreans, there is reason for some hope for an "effective working relationship" between the two presidents, said Mr Pollack.
"Koreans understandably don't want to be instructed on how they're supposed to think and what they're supposed to do," Mr Pollack said, adding that the US "needs to be very attentive to the views that emanate" from South Korea.
Ms Collins does not feel that Mr Trump would oppose "inter-Korean meetings" but any moves by Mr Moon would have to be "timed well," meaning done in coordination with Mr Trump's military policy in the region which has involved sending an aircraft carrier fleet to the Sea of Japan.
The White House was quick to congratulate Mr Moon, with a statement from Press Secretary Sean Spicer saying: "We look forward to working with President-elect Moon to continue to strengthen the alliance between the United States and the Republic of Korea and to deepen the enduring friendship and partnership between our two countries."
Another challenge Mr Moon faces in changing the North Korean relationship is the set of domestic problems he will inherit as well as his party's seats in the National Assembly.
Mr Moon ran on a platform of reducing the income gap and expanding public sector employment, among other issues.
Reform may be tough though given that Mr Moon's party does not have the majority in the National Assembly, which requires a 60 per cent majority vote to pass big legislation, Mr Pollack explained. His Democratic Party holds 40 per cent of the single-chamber, 299-seat assembly, which will means he will have to build coalitions to pass legislation.
The next National Assembly election will not be held until 2020.
Mr Moon is set to be sworn in on Wednesday, and has pledged to start work straightaway.
Join our new commenting forum
Join thought-provoking conversations, follow other Independent readers and see their replies