South Korea ferry disaster boss Yoo Byung-eun found dead in plum orchard
Donald Kirk
Tuesday 22 July 2014 18:37 Comments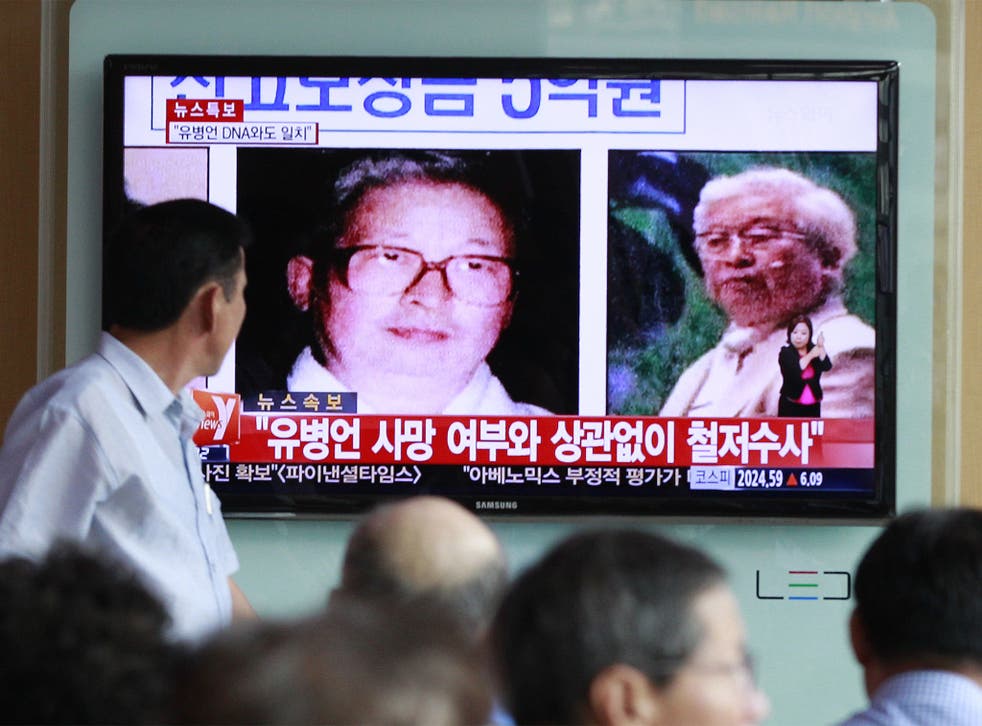 The body of South Korea's most wanted man was identified today almost six weeks after police first stumbled on the remains near where his overloaded ferry sank in April, taking more than 300 passengers to their deaths.
The question, after police claimed to have conclusively identified 73-year-old Yoo Byung-eun from one grisly fingerprint and DNA matching that of his older brother, was why they had taken so long to find out who he was. Beside him was a book that he had written, "Greater Love Has No Man Than This", a religious treatise reflecting the controversial evangelical cult that authorities say had been illegally draining money from his shipping company for years.
Beside Yoo's body, found in a plum orchard in the historic town of Suncheon, renowned for its wetlands and wildlife, was a bottle of shark liver oil, a health product manufactured by one of his companies, and three empty bottles of soju, a rice wine. Police were still not certain whether he took his life, was murdered, or had had far too much to drink while eluding a nationwide manhunt.
The local police chief, Woo Hyung-ho, said his men were not aware when they inspected the book that Yoo was the author. In a news conference, Woo acknowledged "we were not perfect" – after which his superiors at the national police agency relieved him of his post.
South Korea ferry: Powerful images show dramatic rescue operation

Show all 15
Woo said the body was decomposed when discovered on 12 June after authorities had offered a bounty of nearly $500,000 to anyone leading them to where he was. Members of his Evangelical Baptist Church, which he founded and tightly controlled, refused to cooperate, blocking police from entering their compound near Seoul.
Yoo became the central figure in the tragedy that cost 304 lives, most of them school students on a cruise from the west coast port of Incheon to the scenic island of Jeju off the Korean south coast. The 6,800-ton vessel, the Sewol, sank after turning sharply in turbulent waters as cargo, including more than 100 vehicles, suddenly shifted.
Authorities believe Yoo and his managers, most of them members of his church, deliberately overlooked safety requirements, authorising several times the maximum capacity on voyages down the Korean west coast. Yoo's brother is on trial for embezzlement, his wife also faces charges, and their two sons are still missing. The captain of the ship and 14 crew members are on trial for manslaughter and negligence for abandoning the ship. They were winched off by helicopter while passengers were told to wait below decks for rescue that never came. Korean coast guard officers and crew members also face charges for botching the rescue in which only 172 of 476 passengers survived.
French authorities arrested Yoo's oldest daughter, Som-na, in Paris, where she was living near the Champs-Elysee while running an elite interior decorating firm. Prosecutors say funds from church donations and Yoo's many businesses were transferred through the firm while he displayed his naturistic photographs under the pseudonym, Ahae, an old Korean word for "child," around the world.
Befitting his cosmopolitan lifestyle, Yoo was wearing an Italian jacket and custom-made shoes when his body was found. The remains were flown to the national police headquarters in Seoul for scrutiny by experts. The hunt for Yoo embarrassed the country's highest leaders. and threatened to plunge the conservative government into a crisis ripe for exploitation by its leftist foes. South Korea's President Park Geun-hye said that Yoo was "ridiculing the law" and "causing indignation among the people".
Register for free to continue reading
Registration is a free and easy way to support our truly independent journalism
By registering, you will also enjoy limited access to Premium articles, exclusive newsletters, commenting, and virtual events with our leading journalists
Already have an account? sign in
Join our new commenting forum
Join thought-provoking conversations, follow other Independent readers and see their replies