South Korea stops broadcasting propaganda over border with North Korea ahead of summit between leaders
Huge loudspeakers which blast out K-pop and criticism of Pyongyang fall silent for first time in more than two years
Chris Baynes
Monday 23 April 2018 16:06 Comments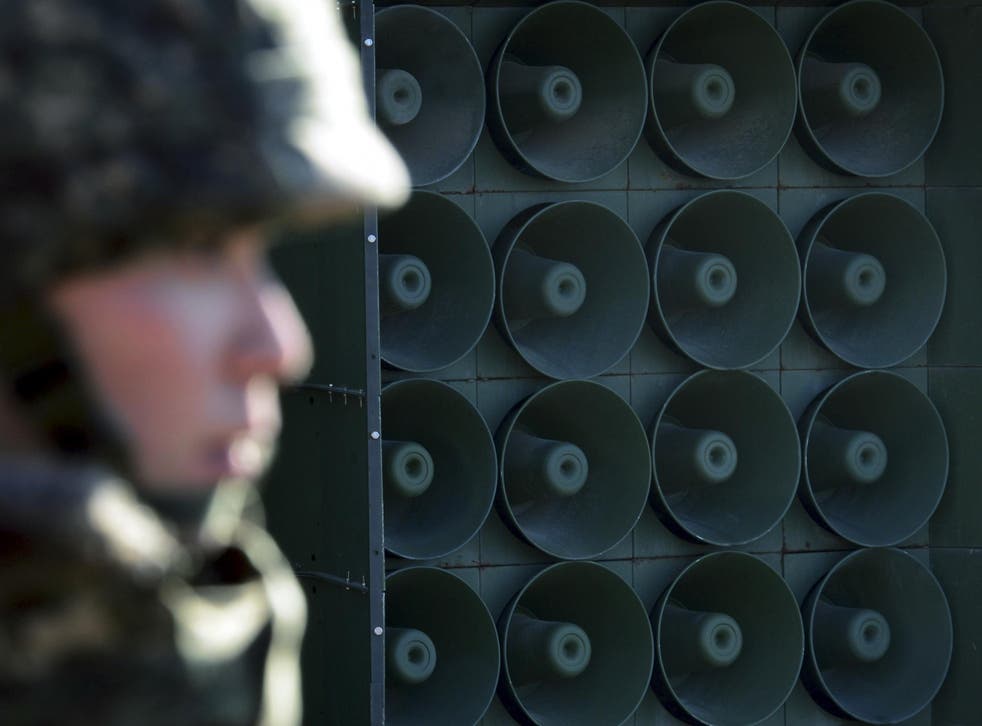 South Korea has stopped broadcasting propaganda across its border with North Korea, in a gesture of goodwill ahead of historic talks between the two countries' leaders this week.
Dozens of huge loudspeakers, which blast out K-pop music, discussions of democracy, and criticism of Pyongyang's regime, fell silent at midnight on Sunday for the first time in more than two years.
The move comes with North Korean leader Kim Jong-un and South Korean president Moon Jae-in due to meet at 'truce village' Panmunjom in the demilitarised zone straddling the two countries.
It is not yet clear if Pyongyang, which itself broadcasts praise for its leader and patriotic songs across the border, will reciprocate by silencing its speakers.
"We hope this decision will lead both Koreas to stop mutual criticism and propaganda against each other and also contribute in creating peace and a new beginning," Seoul's defence ministry said.
The move followed North Korea's surprise announcement that it would halt nuclear tests and missile launch trials. Pyongyang also said it was closing down a nuclear test site and would instead pursue economic growth and peace.
The decision has been welcomed by world leaders, including US president Donald Trump, who is set to meeting Mr Kim next month.
Mr Moon said: "North Korea's decision to freeze its nuclear programme is a significant decision for the complete denuclearisation of the Korean peninsula. It is a green light that raises the chances of positive outcomes at the North's summits with South Korea and the United States.
He added that if North Korea goes the path of complete denuclearisation, "a bright future" for the secretive communist state can be guaranteed.
North Korea – South Korea relations: in pictures

Show all 21
South Korea's defence ministry did not say if the propaganda broadcasts would resume following this week's summit.
The transmissions, designed to sow doubt about Pyongyang's official message among North Korean troops and citizens near the border, have long been a source of tension between the two nations.
Both countries have employed the tactic intermittently since the end of the Korean War in 1953.
The speakers have been in regular usage since the North's nuclear test in January 2016, which began a prolonged period of escalating global tensions over Pyongyang's weapons programme.
This week's talks and the planned meeting between Mr Kim and Mr Trump have raised hopes of an easing in those tensions, which reached a crescendo last year amid a flurry of North Korean missile launches and its largest nuclear test.
The American leader hailed Pyongyang's announcement that it was freezing its nuclear programme as "very good news for North Korea and the World".
He added: "Big progress! Look forward to our Summit."
However, he sounded a more cautious note, writing on Twitter: "We are a long way from conclusion on North Korea, maybe things will work out, and maybe they won't – only time will tell."
The US president had earlier claimed in a tweet that North Korea "agreed to denuclearisation".
In fact, Pyongyang stopped short of suggesting it would give up its existing nuclear weapons or scale back production of missiles and their related component parts.
"As the weaponisation of nuclear weapons has been verified, it is not necessary for us to conduct any more nuclear tests or test launches of mid- and long-range missiles or ICBMs," Mr Kim said, according to North Korean news agency KCNA. "The northern nuclear test site has completed its mission."
He added: "The whole party and the whole nation should now focus on the development of the socialist economy. This is the party's new strategic policy line."
Register for free to continue reading
Registration is a free and easy way to support our truly independent journalism
By registering, you will also enjoy limited access to Premium articles, exclusive newsletters, commenting, and virtual events with our leading journalists
Already have an account? sign in
Join our new commenting forum
Join thought-provoking conversations, follow other Independent readers and see their replies