South Koreans stage mass protest calling on embattled President Park Geun-hye to resign
The protests follow one of the most explosive political scandals the country has ever seen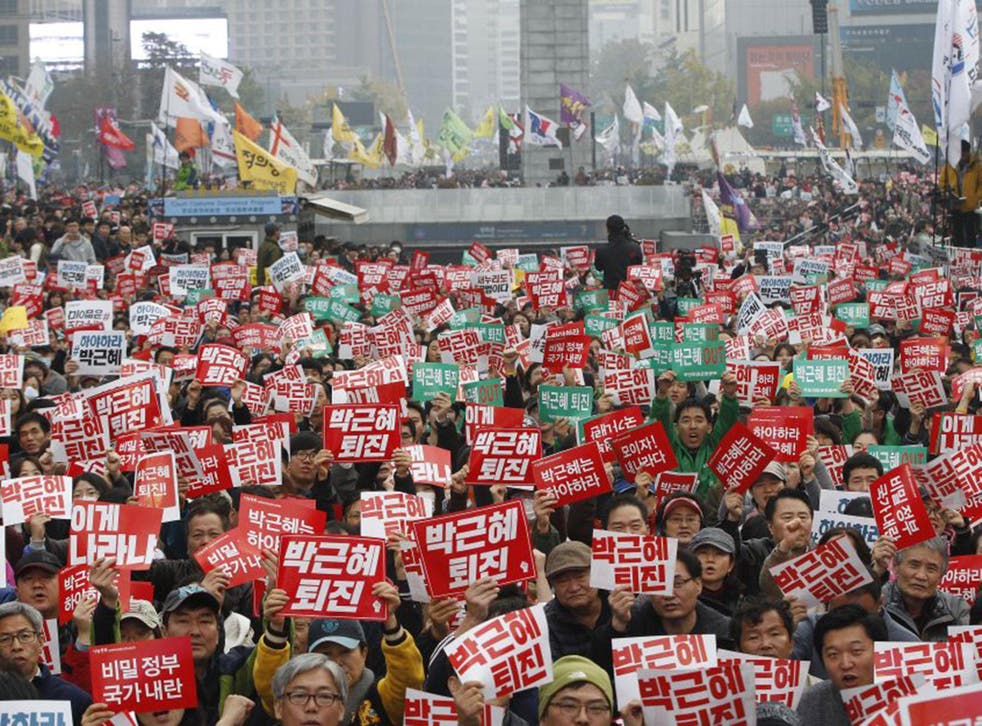 Tens of thousands of South Koreans have protested in Seoul against their country's president, calling on her to resign amid claims she allowed an unelected companion to become extensively involved in government affairs.
The scandal which has engulfed President Park Geun-hye over last few weeks has already seen numerous opposition politicians call for her to step down and her approval ratings slump to just five per cent.
The state prosecutor has launched an investigation into allegations of corruption and Ms Park has pledged to cooperate.
South Koreans staged the country's biggest protest in years on Saturday, packing out the streets in the centre of the capital city as 17,600 police officers watched over them, some in full riot gear. However, the event passed off without significant incident.
Chants of "Arrest Park Geun-hye" and "We can't take this any longer" were heard as demonstrators marched around City Hall.
"Park should squarely face the prosecution's investigation and step down herself. If she doesn't, politicians should move to impeach her," said Kim Seo-yeon, one of the many college students who participated in the protest.
"She absolutely lost all authority as President over the past few weeks," he said.
Earlier in the week, prosecutors arrested Choi Soon-sil, the daughter of a late cult leader and a longtime friend of Ms Park, and detained two former presidential aides over allegations that they pressured businesses into giving $70 million (£55m) to two foundations Ms Choi controlled.
There are also allegations that Ms Choi, despite having no government job, regularly received classified information and meddled in various state affairs, including the appointment of ministers and policy decisions.
Another demonstrator, Choi Kyung-ha, said: "I came out today because this is not the country I want to pass on to my children. My kids have asked me who Choi Soon-sil was and whether she's the real president, and I couldn't provide an answer."
The accusations levelled against Ms Choi – who was arrested earlier in the week – include controlling government budgets, having access to secret documents, appointing ministers, editing presidential speeches and making policy decisions.
Ms Park has apologised on national television, commenting on the corruption allegations surrounding Ms Choi and her former aides and voeing to accept a direct investigation into her actions - but avoided questions regarding Ms Choi's alleged interference with government business.
She has also reshuffled her inner circle, sacking eight aides and nominating three new top cabinet officials, including the prime minister, but these measures have been described as a diversionary tactic.
Some opposition parties have threatened to push for her removal if she doesn't distance herself from domestic affairs and transfer the duties to a prime minister chosen by parliament. There have also been calls for a separate investigation into the scandal led by a special prosecutor.
"How many more astonishing things must happen before this country changes for the better?" said Park Won-soon, the opposition mayor of Seoul and a potential presidential candidate, vowing to push for the president's resignation.
The president has 15 months left in her term. If she resigns before the end of it, South Korean laws require the country to hold an election to pick a new president within 60 days.
Additional reporting by agencies
Register for free to continue reading
Registration is a free and easy way to support our truly independent journalism
By registering, you will also enjoy limited access to Premium articles, exclusive newsletters, commenting, and virtual events with our leading journalists
Already have an account? sign in
Register for free to continue reading
Registration is a free and easy way to support our truly independent journalism
By registering, you will also enjoy limited access to Premium articles, exclusive newsletters, commenting, and virtual events with our leading journalists
Already have an account? sign in
Join our new commenting forum
Join thought-provoking conversations, follow other Independent readers and see their replies