South Korean K-pop barrage rattles uneasy peace with its northern neighbour
North Korea's claim of a fourth nuclear test last week angered both the US and China, which was not given prior notice
James Pearson
Seoul
,
Ju-Min Park
Sunday 10 January 2016 00:18 Comments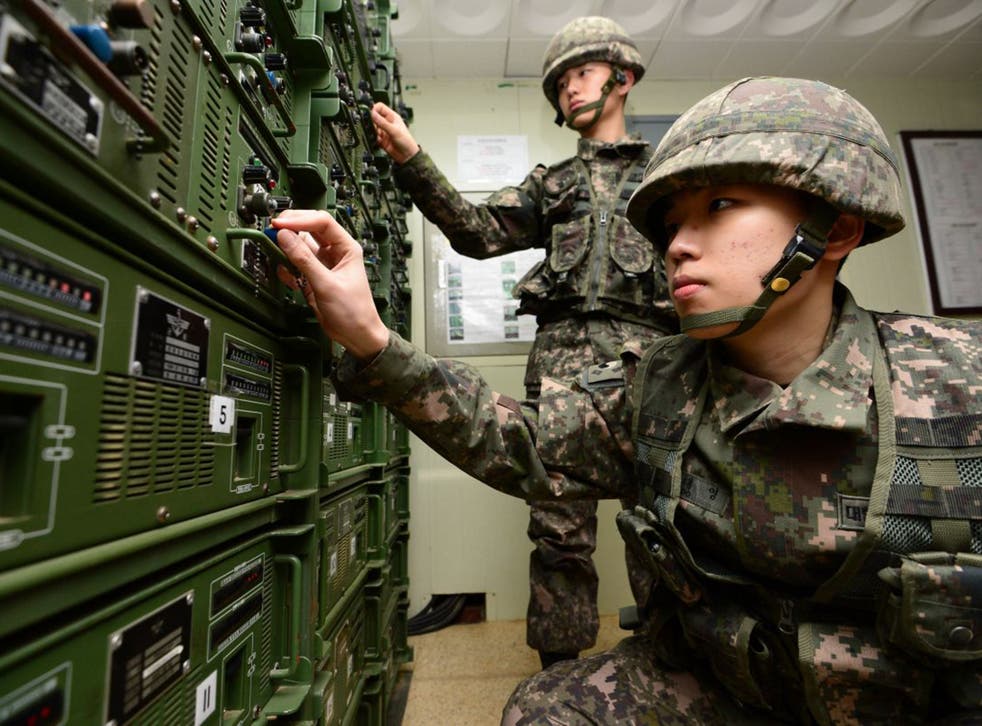 South Korea's loudspeaker broadcasts aimed at North Korea have pushed the rivals to the "brink of war", a North Korean official told a propaganda rally, in the country's first official response to the sonic barrage across its border.
North Korea's claim of a fourth nuclear test last week angered both the US and China, which was not given prior notice, although the American government and weapons experts doubt the claim that the device was a hydrogen bomb.
In retaliation for the test, South Korea unleashed a ear-splitting propaganda barrage. The last time it deployed the loudspeakers, in August 2015, it triggered an exchange of artillery fire. "Jealous of the successful test of our first H-bomb, the US and its followers are driving the situation to the brink of war, by saying they have resumed psychological broadcasts and brought in strategic bombers," Kim Ki-nam, head of the ruling Workers' Party propaganda department, said at the rally, which was supposed to have occurred late on 8 January
State media published images of the rally, which appeared to be in central Pyongyang. Mr Kim's comments, which are in line with routine propaganda rhetoric, were the North's first official response to the South's broadcasts of criticism and "K-pop" music, from walls of loudspeakers at 11 sites along the heavily militarised border.
Officials say the broadcasts can travel about 10 km (6 miles) during the day and 24km at night, and reach the huge force of North Korean soldiers stationed near the border, as well as residents in border towns such as Kaesong.
South Korea's Yonhap news agency, citing an anonymous military source, has reported that the North had started its own broadcasts, presumably to keep its soldiers from hearing South Korea's.
In the wake of the bomb test, John Kerry, the US Secretary of State, urged China, the North's only major ally and biggest aid provider, to end its "business as usual" interactions. Diplomats at the United Nations Security Council also pledged to pursue new sanctions.
The South Korean and US militaries have discussed the deployment of American "strategic assets", Seoul's defence ministry said. Officials refused to elaborate, but the assets would be likely to include B-52 bombers, F-22 stealth fighters and nuclear-powered submarines.
South Korea's nuclear safety agency said in recent days that it had found a minuscule amount of xenon gas in a sample from off its east coast, but needed more analysis and samples to tell if the trace came from a nuclear test.
South Korea also said TV footage released by the North on 8 January, of what appeared to be a submarine launch of a ballistic missile, was probably manipulated. The images showed Kim Jong-un on the deck of a vessel watching a missile emerge from the water, in a short and heavily edited clip.
Reuters
Register for free to continue reading
Registration is a free and easy way to support our truly independent journalism
By registering, you will also enjoy limited access to Premium articles, exclusive newsletters, commenting, and virtual events with our leading journalists
Already have an account? sign in
Join our new commenting forum
Join thought-provoking conversations, follow other Independent readers and see their replies