Sri Lanka attacks: Fear of retaliation against Muslims grows as MP calls for burqa ban
'Muslims are afraid ... there is a black mark against us,' says one market trader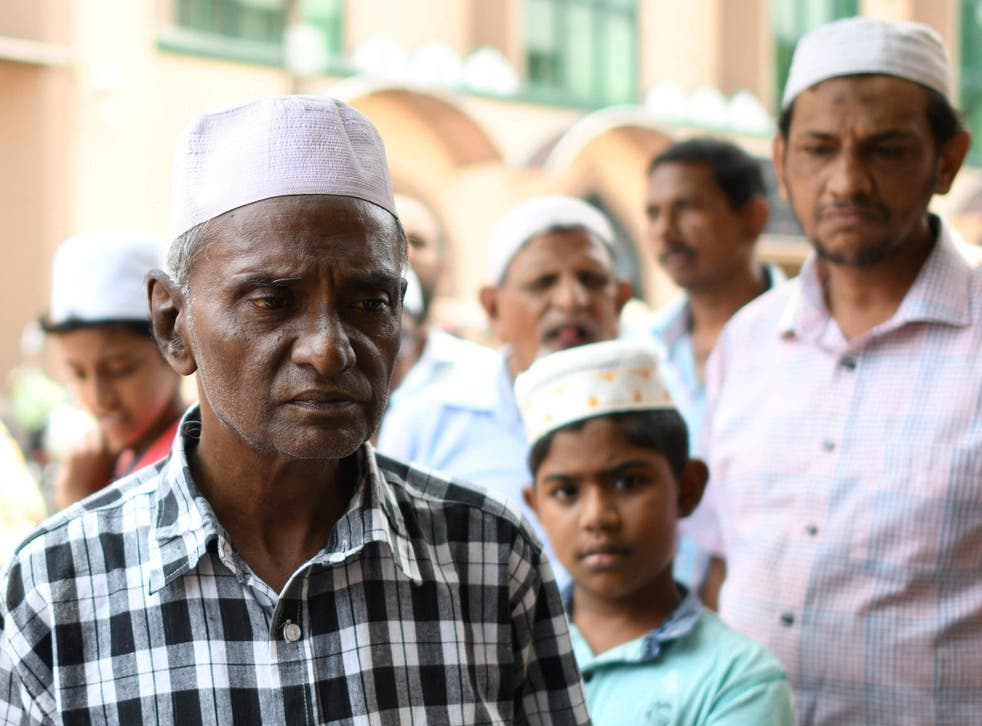 Four days after suicide bombers killed over 300 people in Sri Lanka tensions are running high, with fears of further attacks as well as retaliation against Muslims.
The country remained on high alert on Wednesday when bomb-disposal squads carried out a controlled explosion on two suspicious motorbikes and a parcel left unattended in different locations in central Colombo. A police spokesperson said that there were no explosives found.
Despite a government ban on social media, videos and messages alerting people about more attacks and alleged arrests of further suicide bombers targeting public places fuelled further panic.
A synchronised attack targeting churches and hotels on Easter Sunday killed at least 349 people, leaving another 500 injured.
On Wednesday the police spokesperson said that the attacks were carried out by eight suicide bombers, while one woman, the wife of one of the bombers, detonated herself when the police raided the residence. Officials said they believe the attackers had links with the international Isis terrorist organisation.
Sri Lanka: Scene of the bomb attacks and aftermath

Show all 38
The heart of Colombo's trading hub, the Pettah market, came to standstill on Wednesday, with most of the Muslim shops, which make up about 50 per cent of the businesses, closed by afternoon.
Banks and the Colombo municipality in the area also closed three hours ahead. Commuters were stranded as most of the private buses, the most common mode of transport, had stopped operating since Sunday's attack. The streets of Colombo were empty long before the 10pm curfew was imposed.
The eerily quiet Pettah market, usually a hub of activity, marked the tension that has gripped Sri Lanka since the attacks. Owners of the few businesses that were open said that business was down by 75 to 85 per cent since Sunday's attacks. A long-term impact, they say, could cripple the country's economy.
"Everybody is feeling fear all the time," said Deen Thahir, 58, an industrial hardware trader at the market for more than 30 years. "They are afraid to stay open late as there could be (more) attacks.
"Muslims are afraid," said Mr Thahir. "Look – I have a beard, so when I go out on the road I get stopped immediately by the police. It was never like this before. Now there is a black mark against us, and you cannot easily erase that. It could take years, even decades."
Similar sentiments are echoed by other traders in the market. "Like everyone else, we Muslims are scared to come out of our houses. We don't feel comfortable – how could we? These were terrorists but it comes under the name of Muslims," said 33-year-old Rimzi, a bathroom supplies trader.
Rizmi said his family members, especially the women, are afraid to go out. "Some of my sisters cover [their faces], but if it is a matter of security then they would take it off. But they would rather just stay at home than go out and risk trouble," he said.
The Muslim community remains worried that although relations between religious communities have been peaceful, they might become targets.
Azwer Mohideen, a steel trader, said that some of the Muslim businesses decided to close early "out of solidarity, as the entire country is mourning".
He also stated that there is a "general state of panic" in the country. "We keep hearing stories of lorries, trucks, motorbikes, roaming the city with explosives. Registration numbers to watch out for are being circulated on radio and social media. With these kinds of messages, how could people not be scared?" asked Mr Mohideen.
The community also remains shocked with emerging details of the suicide bombers – western-educated, wealthy young men from prominent trading families.
"I have been speaking to the spice traders' community, they cannot believe these two brothers got involved," said Mr Mohideen, referring to the wealthy Ibraheem brothers who were two of the suicide bombers and sons of a spice trader.
While the Muslim community called political and religious leaders to join hands, to come out and educate the public, a Sri Lankan parliamentarian has proposed a ban on women wearing the burqa in the wake of the bombings.
Sri Lanka minister claims church bombings were 'retaliation for Christchurch mosque shootings'
Ashu Marasinghe submitted a private member's motion to parliament stating that the garment, which covers the whole body and the face, was "not a traditional Muslim attire" and should be outlawed on security grounds.
Although the suicide bombers of Sunday's attack were all men, there have been reports of women in burqa not being allowed into some shops and supermarkets the past two days.
The Islamic affairs minister called a ban on burqas "a sensitive issue" and one that needed to be handled "carefully".
"But right now our nation's security is of utmost importance, as a community we must be mindful of and support the security forces in every way possible," the minister, Mohammed Hashim Abdul Haleem, told The Independent.
However, the minister said that the government needs to be cautious "not to isolate a segment of the Muslim community, cornering them into extremism".
The call for a burqa ban, said the minister, should not create "a breeding ground for further terrorism".
The minister also cited the country's past failure "in bringing normal civilians onto our side".
"We created more terrorists," he said, referring to the country's bloody past where thousands of Tamil men and women joined the Tamil Tiger rebels and waged a terrorist war that lasted three decades and cost 100,000 lives.
Mr Haleem said that as a government organisation, the Muslim Affairs Ministry cannot issue regulations to keep or take the burqa off. "But it is our responsibility to coordinate with the Muslim leaders and the community and come to a consensus with security of the entire nation as our top priority," he said. "The time is ripe to have a dialogue on the matter of the burqa."
Sri Lanka bombings: CCTV shows suspect moments before church blast
Mufti MIM Rizwe, the president of the All Ceylon Jamiyyathul Ulama, a body which in past years has condemned previous bans on burqa in Sri Lanka, said that the country has "more urgent matters to attend to than the burqa".
"We need to ban terror groups first," said Mr Rizwe. "Members of this terror group who commit atrocities in the name of God and the Quran should be apprehended and punished mercilessly according to law. That should be our priority," he said, adding that choice of clothing is an individual's "right".
Other Muslim societies, including the Sri Lanka Thauheedh Jamath (SLTJ), which denies any links with the National Thauheedh Jamath group the suicide bombers belonged to, said that they stand with the call for the burqa ban.
"Nowhere does it say in Islam to cover a woman's face. There's no proof in it," said SLTJ secretary Mohamed Faseeh.
"There is fear. People will look upon us as terrorists now. There is national security to consider. Just take the burqa off."
Register for free to continue reading
Registration is a free and easy way to support our truly independent journalism
By registering, you will also enjoy limited access to Premium articles, exclusive newsletters, commenting, and virtual events with our leading journalists
Already have an account? sign in
Register for free to continue reading
Registration is a free and easy way to support our truly independent journalism
By registering, you will also enjoy limited access to Premium articles, exclusive newsletters, commenting, and virtual events with our leading journalists
Already have an account? sign in
Join our new commenting forum
Join thought-provoking conversations, follow other Independent readers and see their replies