Sri Lanka crisis deepens as former minister's bodyguard opens fire at crowd, killing one person
Attack comes after president Maithripala Sirisena sacks cabinet and suspends parliament over alleged assassination plot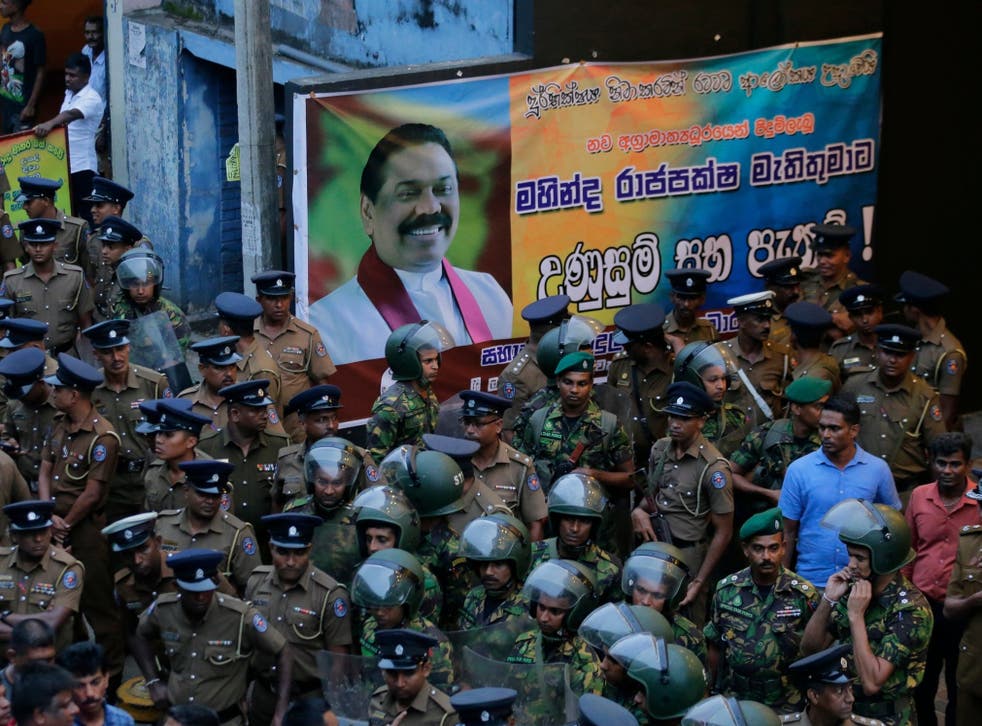 At least one person has been killed in Sri Lanka and two wounded after the bodyguard of a sacked minister fired at a crowd, as fears grow about an escalating political crisis.
The former petroleum minister, Arjuna Ranatunga, was a member of the cabinet that president Maithripala Sirisena dissolved on Saturday, one day after ousting Ranil Wickremesinghe as prime minister and swearing in former strongman Mahinda Rajapaksa.
Many lawmakers and government ministers have denounced the move as unconstitutional, and mobs have attacked government officials, deepening concerns that Sri Lanka is headed for more turmoil.
The gunfire broke out when Mr Ranatunga tried to enter his office at the state-run Ceylon Petroleum Corporation and was confronted by a group of workers loyal to the president.
The guard opened fire, a police spokesperson, Ruwan Gunasekera, said, killing one person and injuring two others, one critically. The guard was arrested.
Sri Lanka only emerged in 2009 from a civil war, and the man who was named the new prime minister, Mr Rajapaksa, is a former president who waged a counterinsurgency campaign that killed thousands of civilians.
On Sunday night, anxiety gripped the capital, Colombo. Word quickly spread of the gunfire at a government ministry, and police trucks prowled the streets.
World news in pictures

Show all 50
Tensions have been building between Mr Sirisena and Mr Wickremesinghe, and the president broke his silence on Sunday, accusing Mr Wickremesinghe of being arrogant, stubborn and inflexible and calling his administration corrupt and fraudulent.
He said he had no choice but to appoint Mr Rajapaksa as prime minister and that Mr Wickremesinghe must take the blame for the current political crisis.
Mr Sirisena suspended parliament in an apparent move to give Mr Rajapaksa time to try to muster enough support to survive any no-confidence vote.
In his first statement since being sworn in as prime minister, Mr Rajapaksa said on Sunday Mr Sirisena had invited him to accept the position during a "moment of national peril".
Mr Rajapaksa, who is not yet certain of a parliamentary majority, urged all political parties to join together during "this very necessary political exercise", and vowed to hold parliamentary elections soon.
Mr Rajapaksa is a popular and divisive figure, a colourful politician who has cosied up to China and entered into many deals that backfired.
His costliest mistake was taking billions of dollars in loans from China to build a port at Sri Lanka's southern tip that stands virtually deserted and now essentially belongs to China because Sri Lanka cannot repay the debt.
Union workers from the party loyal to Mr Sirisena and Mr Rajapaksa confronted Mr Ranatunga as he tried to enter the government building on Sunday night.
Hundreds of Mr Wickremesinghe's supporters gathered outside the prime minister's official residence Sunday for the second consecutive day, waving party flags and denouncing Mr Sirisena and Mr Rajapaksa. Buddhist monks performed religious rites to invoke blessings on Mr Wickremesinghe.
The speaker of Sri Lanka's parliament urged the president to safeguard Mr Wickremesinghe's rights on Sunday. Speaker Karu Jayasuriya said in a letter to Mr Sirisena that any continued suspension of parliament would have "serious and undesirable consequences".
Support free-thinking journalism and attend Independent events
Constantino Xavier, a fellow at Brookings India, said Sri Lanka's president and prime minister had not been getting along and that it was only a matter of time before the coalition government they had formed collapsed.
"The ruling coalition has been fragmenting persistently," Mr Xavier said. "This current government had promised to focus on human rights, justice, accountability and corruption; it didn't deliver at all."
But few expected the president to summarily dismiss the prime minister, which Mr Xavier said was "extremely dubious if not illegal".
He said the violence could increase, and if demonstrators poured into the streets, "the security forces will side with the president".
New York Times
Join our new commenting forum
Join thought-provoking conversations, follow other Independent readers and see their replies