'He is an unforgiving, ruthless man': Sri Lanka minorities fear election of new president
Muslims and Tamils say memories of Rajapaksa family's rule, coupled with his latest comments, are 'chilling'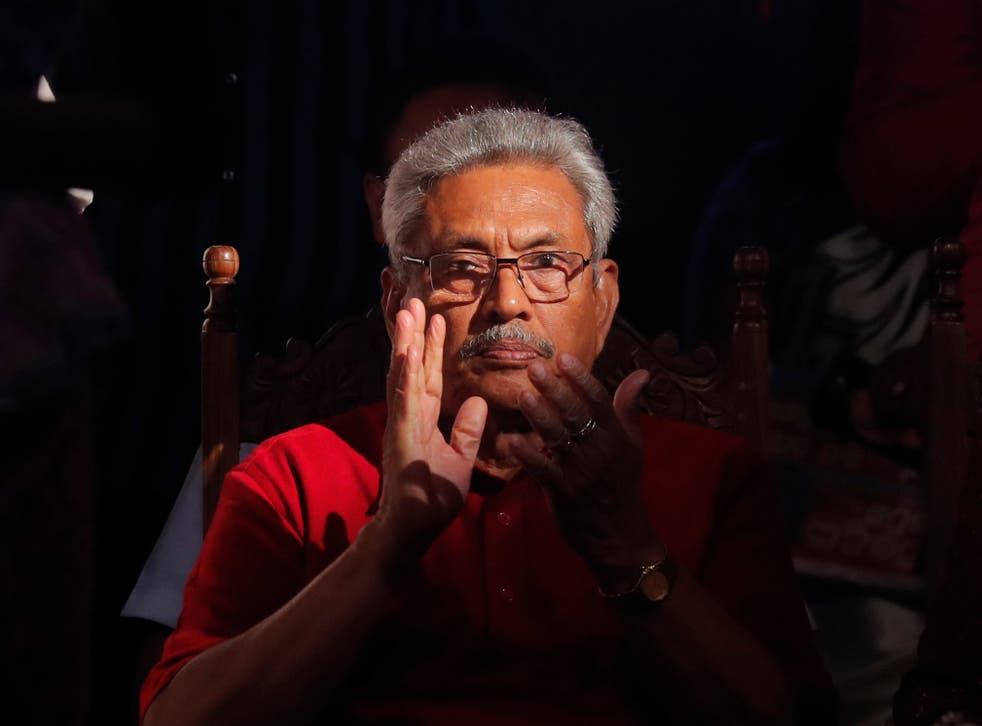 As thousands of majority Sinhalese throng the ancient kingdom of Anuradhapura, a Buddhist capital during the reign of kings, celebrating the victory of Gotabhaya Rajapaksa as the new president, the minority communities of Sri Lanka who voted against him watch with apprehension.
Mr Rajapaksa, who faces several war crimes accusations from the international community, including the United Nations Human Rights Council, for actions against the Tamil Tigers during the three-decade-long civil war, was voted in on Saturday.
As the ex-military chief, who was defence secretary between 2005 and 2015, addresses the nation as president for the first time, Mr Rajapaksa, leans heavily towards his nationalist campaign rhetoric.
"We knew right from the beginning that the majority Sinhala will be behind my victory. Although I knew I would be voted in by the majority Sinhala, I expected the Tamils and Muslims to also be part of my victory.
"But my expectations were not met. Yet, as your new president I request you again to join hands with me for the future development of this country," he says to cheering crowds.
Mr Rajapaksa's recent victory has raised fears among the minority Tamils and Muslims of the island who are already weighed down by apprehension of a return to anti-minority attacks by Buddhist extremists, which were rampant during the Rajapaksa regime.
After the bombings: what Sri Lanka's terror victims left behind

Show all 10
"I found our new president's opening remarks chilling," says MZA Ahmed, a social worker in the Muslim-majority eastern province of Sri Lanka, who did not want to give his full name for fear of reprisals. "The minority communities in the east – Muslims as well as the Tamils and Christians – voted against the return of the Rajapaksas. Now we wonder, will we be punished for it?"
For nearly a decade, the Rajapaksa dynasty – then-president Mahinda, his brothers and a band of family members – had burrowed into the heart of politics, wielding wide powers.
Mahinda Rajapaksa installed his younger brother Gotabhaya as secretary to the ministry of defence and urban affairs; his older brother Chamal as the speaker of the parliament; and another younger brother Basil as economic development minister. A host of other nephews and cousins were posted in important government roles including chief ministers, ambassadors and as chair of the national airlines.
More than 85 per cent of the Tamils and Muslims voted for Mr Rajapaksa's rival, Sajith Premadasa, the son of a former prime minister who was assassinated by a Tamil Tiger suicide bomber in 1993. Most Tamils voted against the Rajapaksas' return to power, rather than for Mr Premadasa, also a Sinhalese. The former president and Gotabhaya's brother, Mahinda, will return to power as prime minister under the new government. The latter part of Mahinda Rajapaksas' 10-year regime was mired in alleged human rights abuse and corruption scandals.
The constitution was changed during that time, allowing Mahinda to serve a third term. With the three brothers placed in such key posts, there were accusations that many development projects funds were going directly into the Rajapaksa family purse.
They were also accused of being behind high-profile murders and disappearances of journalists critical of the then government – claims the family has denied.
Some of these cases include the murder of a leading newspaper editor, Lasantha Wickrematunge, in 2009. Wickramathunge's editorial, which was published posthumously, blamed the Rajapaksas for his death.
The overwhelming Tamil and Muslim votes against President Rajapaksa were based on the family's apparent blind eye to repeated attacks on minorities by Buddhist extremists during their decade-long rule.
The Bodu Bala Sena, or the BBS, a Buddhist extremist force responsible for several anti-Christian and anti-Muslim riots that went unchecked, is alleged to have the protection of the Rajapaksas.
"One of the main reasons why the Muslims shied away from voting for Mr Rajapaksa is because of the extremists gathered around him," says Hilmy Ahamed, vice president of the Muslim Council of Sri Lanka.
"Every single racist in the country was with him, so they feared if elected the racists will have complete control over the next government. Now it is up to President Rajapaksa to reach out to the minorities and work towards a more united Sri Lanka," he says.
Mr Rajapaksa defeated Mr Premadasa in a close-fought battle and secured a victory with 52.25 per cent predominantly Sinhalese votes.
The devastating Easter terror attack last year by a homegrown Islamist terror group, which killed 258 people, including eight British nationals, provided the platform for the ex-military man's entry into the presidential elections.
He led a strong Sinhala-Buddhist nationalist campaign, promising to provide better national security and crush terrorism. But since the beginning of his campaign, the schism between the minority communities and majority Sinhalese has further deepened, with mistrust brewing.
Nadan, a 22-year-old university student from northern Jaffna, says Tamils' fears are heightened, even more so after the swearing-in ceremony of the president on Monday.
"I un-friended contacts on my Facebook page who had congratulated Gota today," he says. "I am so afraid. I don't trust them anymore. We have lived through this once, our parents have suffered, we don't want to be abducted and killed again."
Similar sentiments run through the people of northern Sri Lanka, the former home of the Tamil Tigers which Mr Rajapaksa helped crush in 2009. He and his brother still face war crimes allegations for abduction, torture and extrajudicial killings of rebels and civilians including journalists, rights activists and people who spoke out against their government. The Rajapaksas have denied all allegations.
In Kilinochchi, the former de facto capital of the Tamil Tiger rebels, Tamils fear the new president's nationalistic policies could mean renewed abuse of minorities.
"I hope it's not a return to the past," says Anula, a 42-year-old home-maker who lived through the war, ultimately losing her husband to the conflict.
"We have known Gotabhaya as an unforgiving, ruthless man, surrounded by Buddhist extremists who have fanned hatred and killing of minority communities – Tamils, Christians and Muslims. I am very uncertain of our future," she says. More than 87 per cent of the votes in Kilinochchi went to Mr Premadasa.
The Tamil votes around the country went almost exclusively to Mr Premadasa, especially after the Tamil National Alliance (TNA), the main Tamil political party, decided to back him a week before elections.
"People who have not voted for Mr Rajapaksa are continuing to be apprehensive because a rather racist line is being pursued by the media and others who supported him. The celebrations too have a racist element to them," MA Sumanthiran, the TNA spokesperson, tells The Independent.
Following Mr Rajapaksa's victory, social media was flooded with posts accusing the Tamils of casting "racist votes" by voting for Mr Premadasa, causing a further rift between the Tamils and Sinhalese.
"The concern is that Mr Rajapaksa has won. We don't have reason to change our minds about his conduct given his track record, and this election doesn't tell us there is any change," says Mr Sumanthiran.
UPDATE: A previous version of this article reported that Mr. Rajapaksa had claimed that "Sinhala Buddhists" were behind his victory. We would like to clarify that, in fact, the President referred in his victory speech to "Bhaudhara Sinhala" which means majority Sinhala. We apologise for this error.
Register for free to continue reading
Registration is a free and easy way to support our truly independent journalism
By registering, you will also enjoy limited access to Premium articles, exclusive newsletters, commenting, and virtual events with our leading journalists
Already have an account? sign in
Register for free to continue reading
Registration is a free and easy way to support our truly independent journalism
By registering, you will also enjoy limited access to Premium articles, exclusive newsletters, commenting, and virtual events with our leading journalists
Already have an account? sign in
Join our new commenting forum
Join thought-provoking conversations, follow other Independent readers and see their replies