Sri Lanka crisis: Parliament votes to reject new prime minister installed by president
Sri Lanka has been in turmoil since President Sirisena fired prime minister and replaced him with former rival last month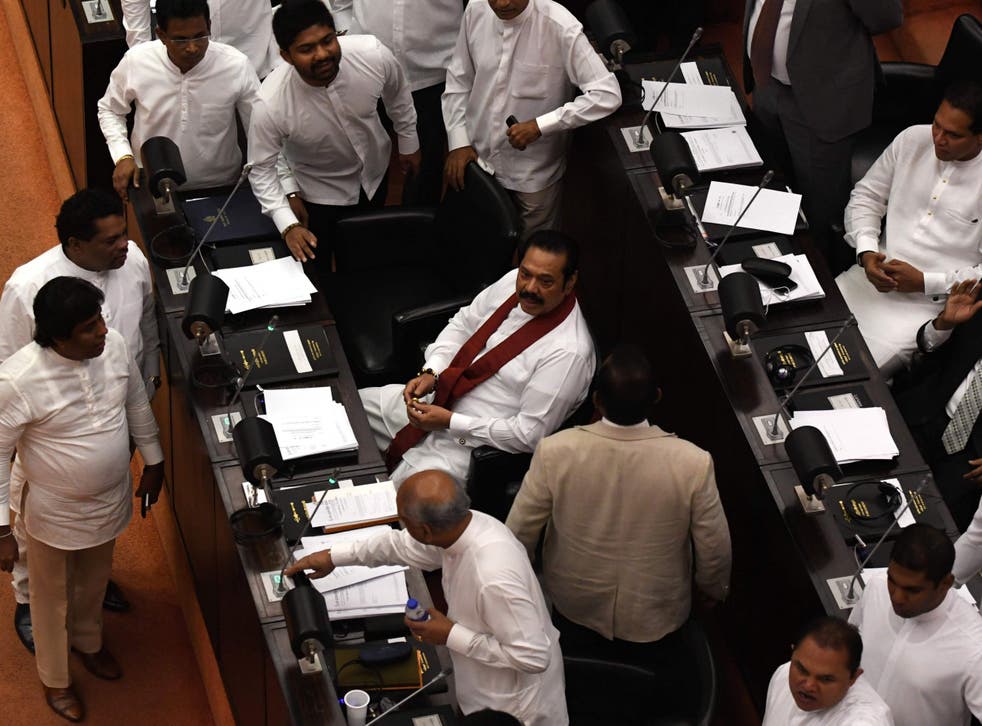 Sri Lanka's parliament has passed a vote of no-confidence against the newly-appointed prime minister, according to opposition leaders, deepening the country's fraught political crisis.
It was the first time parliament had sat since it was suspended by the president, Maithripala Sirisena, on 27 October. Sirisena fired the sitting prime minister and cabinet in a power struggle, installing the former strongman leader of the country, Mahinda Rajapaksa, in his stead.
Mr Sirisena dissolved parliament last week in a bid to build support for Mr Rajapaksa but the Supreme Court ordered the legislature to keep working until next month.
Opposition members said the no-confidence motion, brought on Wednesday morning, could mean Mr Rajapaksa is forced to resign his post.
But the new prime minister's allies raucously opposed the vote during the parliament session, shouting "this is illegal" and saying they would not accept the result.
As Speaker of Parliament Karu Jayasuriya prepared to let the no-confidence motion be debated, the chamber descended into chaos, with politicians supporting Mr Rajapaksa filing into the centre of the room shouting political slogans and accusing Mr Jayasuriya of betraying the people's mandate.
Mr Jayasuriya then said he had no choice but to bypass the debate and take an oral vote, with those in favour clearly voicing more support for the motion than those against it.
Before the results were announced, Mr Rajapaksa walked out of the chamber.
Support free-thinking journalism and attend Independent events
Sri Lanka has been in turmoil since President Sirisena fired the serving prime minister and a former ally, Ranil Wickremesinghe, last month.
Mr Sirisena replaced him with Mr Rajapaksa, a pro-China authoritarian who led the country as prime minister and then president from 2004 to 2015, before losing the 2015 presidential election - to Mr Sirisena.
The twists and turns in the island nation's leadership have shaken confidence in its economy, which was already expanding at its lowest rate for more than a decade.
Join our new commenting forum
Join thought-provoking conversations, follow other Independent readers and see their replies