Taiwan asks Google to blur out images of military buildings on contested South China Sea island
Coastguard says function of buildings is 'classified military information'
Gabriel Samuels
Wednesday 21 September 2016 20:22 Comments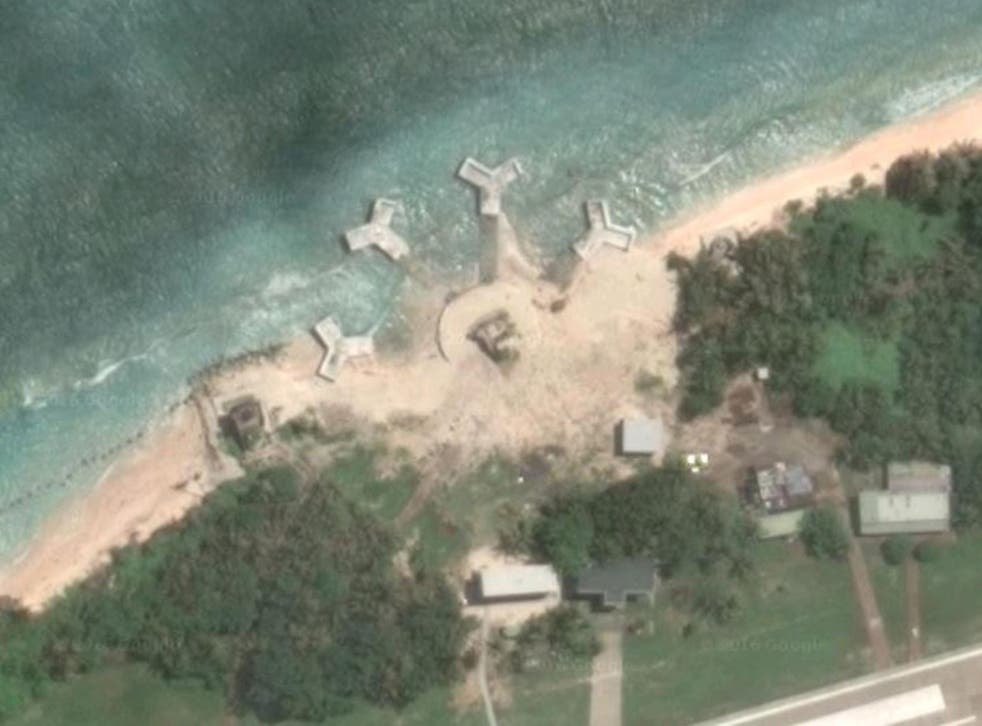 Taiwan has asked Google to blur out images of military buildings on the disputed Spratly Islands in the South China Sea, amid mounting tensions over China's territorial claims to the region.
The Coast Guard Administration in Tapei confirmed it had asked the technology giant to erase details of four large structures on the northern shore of Taiping Island from its Maps and Earth services, as the function of the buildings counted as "classified military information".
The structures were recently discovered on the map service and raised suspicions that Taiwan is attempting to increase its military presence in the region.
Coastguard Director General Lee Chung-wei confirmed Google had been notified about concealing the structures, but they currently remain visible on Google Earth pending a review by the tech giant.
"It is inconvenient for us to reveal any military facilities we are installing on Taiping island, and what their purposes are, as they are all considered secret," Taiwan's defence minister Feng Shih-kuan said, according to the Guardian.
Military experts have said the four-storey buildings are likely to be used for detection and surveillance rather than to launch missiles from, despite initial speculation that they were anti-aircraft towers.
Imagery that reveals major infrastructure or engineering projects is frequently blurred by Google Earth at the request of governments worldwide.
World news in pictures

Show all 50
The Spratly Islands are situated in the middle of several important sea trade routes and are the subject of an ongoing historical dispute between China, the Philippines, and Vietnam over their ownership.
Taiwan is planning to contest a ruling by the Court of Arbitration in The Hague in July, which stated that the so-called "islands" in the Spratly archipelago should be considered as "large rocks".
The Taiwanese said they were not consulted throughout the arbitration process, which was initiated by the Philippines against China.
Register for free to continue reading
Registration is a free and easy way to support our truly independent journalism
By registering, you will also enjoy limited access to Premium articles, exclusive newsletters, commenting, and virtual events with our leading journalists
Already have an account? sign in
Join our new commenting forum
Join thought-provoking conversations, follow other Independent readers and see their replies