Taiwan election: Tsai Ing-wen wins second term as president as voters back tough China stance
Beijing's crackdown on Hong Kong seen as boosting re-election campaign of pro-independence incumbent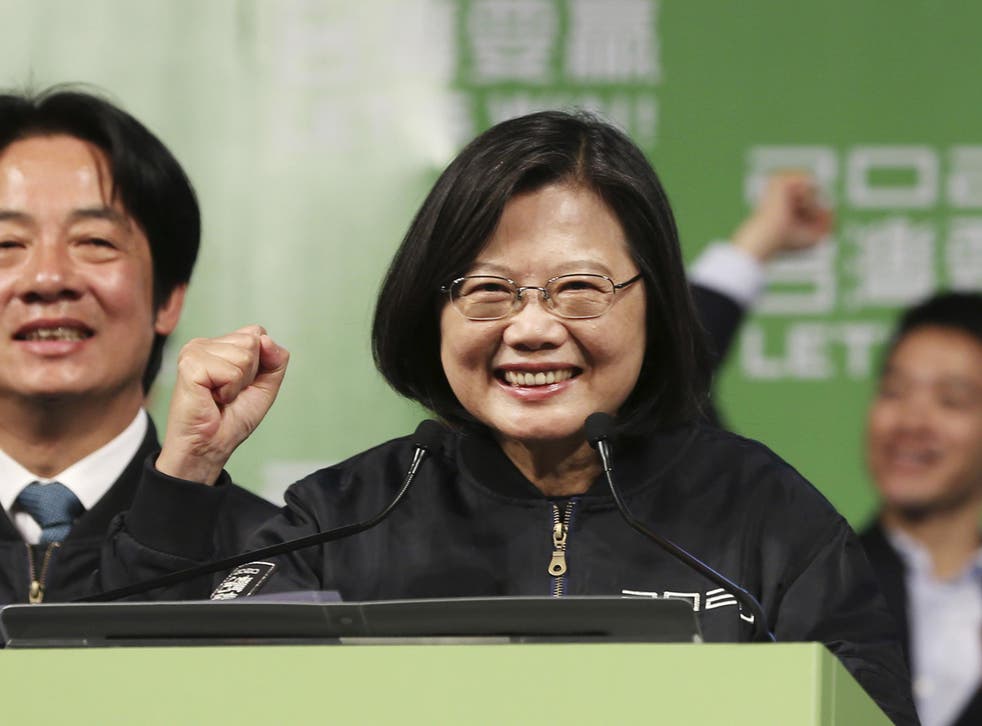 Taiwan's president has won a second term in office as voters endorsed her tougher stance with China in a landslide.
Before all the votes had yet been counted, Tsai Ing-wen's main challenger Han Kuo-yu conceded defeat as it became clear the incumbent leader was racking up an insurmountable lead.
With 99.75 per cent of the ballots counted, Ms Tsai, of the Democratic Progressive Party (DPP), won 57.2 per cent of the vote to Mr Han's 38.6 per cent.
In her victory speech, she said every election in Taiwan was a vote of confidence in its democratic way of life, a coded rebuke to those who would seek closer ties with the one-party state of China.
"I would like to thank everyone who voted today regardless of how you voted," she said.
World news in pictures

Show all 50
"With each presidential election I want to show the world how much we value our democratic way of life and how much we value our nation, the democratic republic of Taiwan."
She later spoke directly to the Chinese government across the Taiwan Strait: "Today I want to once again remind the Beijing authorities that peace, parity, democracy and dialogue are the keys to stability.
"I want the Beijing authorities to know that democratic Taiwan and our democratically elected government will never concede to threats. I hope that Beijing will show its good will."
Ms Tsai became Taiwan's first female president when she won power in 2016. Her initial victory was in part a repudiation of the then-governing Kuomintang (KMT) party's fostering of better links across the Taiwan Strait with China.
China still considers the island a breakaway province of its own territory and the former president Ma Ying-jeou had spent years trying to breathe life back into Taiwan's ailing economy by bolstering links with the Chinese authorities and increasing cross-border trade.
The DPP suffered major electoral setbacks in local elections only 14 months ago, but Ms Tsai's more pro-independence platform has been boosted, experts say, by the crackdown in Hong Kong throughout 2019.
The violent response to anti-government protests in that semi-autonomous part of China may have convinced many voters that Taiwan's future cannot lie in being reabsorbed into China in any way.
Mr Han and the KMT have argued that Taiwan, which has been ruled independently of Beijing since the Communist takeover in 1949 but has never formally declared its own sovereignty, should be open to some form of "one country, two systems" which is the declared system in Hong Kong.
Although Taiwan is a de facto sovereign state which issues its own passports, rules its own affairs and trades freely with the rest of the world, it has not been recognised as a nation by any major power or the UN.
"We will work even harder to build on our achievements of the past four years," Ms Tsai said after the result had become clear.
"We will constantly remind ourselves our administration must be clean, confident and efficient. Of course we will work to keep our country safe and defend our sovereignty."
Register for free to continue reading
Registration is a free and easy way to support our truly independent journalism
By registering, you will also enjoy limited access to Premium articles, exclusive newsletters, commenting, and virtual events with our leading journalists
Already have an account? sign in
Join our new commenting forum
Join thought-provoking conversations, follow other Independent readers and see their replies