Taiwan election: Tsai Ing-wen to become first female president as ruling KMT party concedes defeat
Result raises the prospect of a new era of uncertainty in ties with China
Simon Denyer
Taipei
Saturday 16 January 2016 13:38 Comments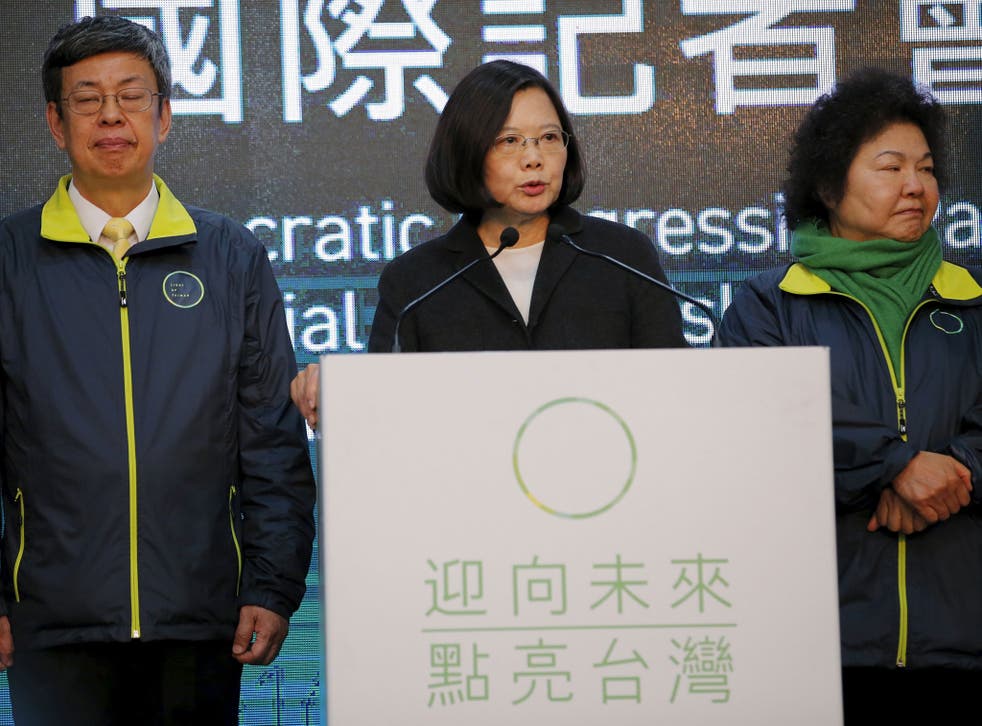 Taiwan's ruling party has conceded defeat in the island's presidential elections, meaning opposition leader Tsai Ing-wen will become the island's first woman president.
By 7 pm local time (11am GMT), Ms Tsai, head of the opposition Democratic Progressive Party (DPP), had recorded more than 4,655,000 votes, far ahead of Eric Chu of the ruling Nationalists or Kuomintang (KMT) with some 2,614,000 votes.
The KMT's eight years in power have seen warming ties with China but a slowing economy, and the result raises the prospect of a new era of uncertainty in ties with China.
Chu announced his resignation as KMT chairman.
Even before polls closed, China reaffirmed its opposition to independence for the island that it still regards as a renegade province. Incredibly, Ms Tsai's name was blocked on
"We won't interfere in Taiwan's elections. What we are concerned about is the cross-strait relationship," a spokesman for China's Taiwan Affairs Office said, according to Chinese state media.
On the surface, this is an election all about current President Ma Ying-Jeou's failure to breathe life back into one of Asia's former economic tigers. But dig a little deeper, and this is a vote that sees Taiwan finding its feet after two decades as a democracy, and reimagining itself as a nation quite separate from its communist big brother across the Taiwan Strait.
For eight years, Mr Ma and the KMT had promised that improved ties with China would help to rescue Taiwan's ailing economy but has failed to deliver on that promise: Closer integration has indeed helped trade and tourism to boom, but Mr Ma's "open door" policy has benefitted business tycoons more than ordinary people. The economy as a whole is thought to have barely expanded by 1 per cent last year.
"Wealth inequality increased while the KMT was in office," 38-year-old engineer Wang Wei-min said after voting, his eight-month-old daughter sleeping in a baby carrier on his chest and his wife at his side. "I want my daughter to grow up in a society of freedom and opportunity, where resources are not cornered by the wealthy."
With Mr Ma constitutionally barred from standing again, the KMT is fielding its 54-year-old US-educated chairman Eric Chu, but is sticking to a broadly similar script.
Ms Tsai, by contrast, focused her campaign resolutely on domestic concerns, employment and housing, modernizing the economy, and forming a government that is closer to the people.
World news in pictures

Show all 50
"This election is not about beating anyone, it is about beating the difficulties this country is facing," Ms Tsai told thousands of cheering, flag-waving supporters at her final campaign rally on Friday night. "We are only one step away from a new era."
"If I'm elected president, I'll make people's voice the foundation of policymaking," she added. "Democracy is not just an election, it is our daily life."
Yet even if Tsai did not mention China in her closing speech, Taiwan's powerful neighbour still looms like a shadow over this election.
Beijing still views Taiwan as part of its territory and threatens to use force if it ever declares independence. It has found a degree of accommodation with the KMT after both sides agreed, in 1992, on the idea that there was "one China," even though they disagree on who the nation's rightful rulers are. That is known as the 1992 consensus.
Today, the Chinese official said the 1992 consensus and opposition to independence formed the basis for peaceful development. "That foundation should be safeguarded and valued," he said.
Ms Tsai insists she wants good relations with China, and stresses the need for communication. However, she wants to maintain the status quo of de facto independence, and has refused to endorse the "one China" principle — because that would mean renouncing any possibility of eventual, formal independence.
How Beijing would react to a Tsai presidency is one of the big unanswered questions going into Saturday's vote, and it is question the KMT has tried to ruthlessly exploit, warning of "chaos" and "catastrophe," of economic fallout and security risks if Tsai should win.
The KMT's Mr Chu made a last appeal Friday for voters to make a "wise" decision. "I believe that both sides of the Taiwan Strait, the United States and the whole world are looking for a peaceful relationship between Taiwan and China. My election can give everyone confidence."
Voting at a polling booth set up beside of a Catholic Church on Saturday, 48-year-old baker James Chu agreed. "Tsai hasn't explained how she'll deal with the question of Taiwan's independence," he said. "If Taiwan wants development, it must cooperate with China, but that conflicts with her party's principles."
Yet most other voters don't seem swayed by that argument. That's partly because many had grown uncomfortable with Taiwan's growing dependence on China under Ma, partly because they trust Tsai to handle cross-strait relations sensibly, but also because her likely victory would reflect a fundamental shift in the way Taiwanese people think of themselves, experts say.
"I care more about domestic affairs than I do about cross-strait relations," said engineer Wang. "I believe Tsai can do a better job for Taiwan's domestic affairs."
More and more, the people of this island think of themselves not as Chinese people, nor even so much as both Taiwanese and Chinese, but as exclusively Taiwanese, polls show.
It is a process that really got underway after Taiwan became a democracy, and that has accelerated as ties with China have blossomed under Mr Ma's presidency.
"The more contact people have had with China, the more they feel: 'China's great, but it's just not us,' " said Nathan Batto, an assistant research fellow at Academia Sinica in Taipei.
At the root of this shift lies the two nations' very different histories in the 20th century, their different cultures and fundamentally different political systems, Batto said.
"Democracy is a core part of Taiwan's political identity now," he said.
At Ms Tsai's rally, some openly declared their desire for an independent homeland, like 40-year-old white-collar worker Celine Chen. "I want the whole world to know that we are Taiwan, we are not China," she said.
Yet others prefer the middle ground that Ms Tsai has so far chalked out.
"Tsai is an intelligent woman," said Gine Shuen, a 37-year-old teacher. "Although she is the leader of the DPP, she doesn't insist on separating Taiwan from China, nor on making Taiwan too close to China. She keeps an open mind, wants communication and has a tolerant attitude, which is the best way to deal with the cross-strait relationship."
Register for free to continue reading
Registration is a free and easy way to support our truly independent journalism
By registering, you will also enjoy limited access to Premium articles, exclusive newsletters, commenting, and virtual events with our leading journalists
Already have an account? sign in
Join our new commenting forum
Join thought-provoking conversations, follow other Independent readers and see their replies