China enraged as Taiwan president's US visit shows growing support in Congress
United States has not officially recognised Taiwan since 1979 but relations between Washington and Taipei appear to be strengthening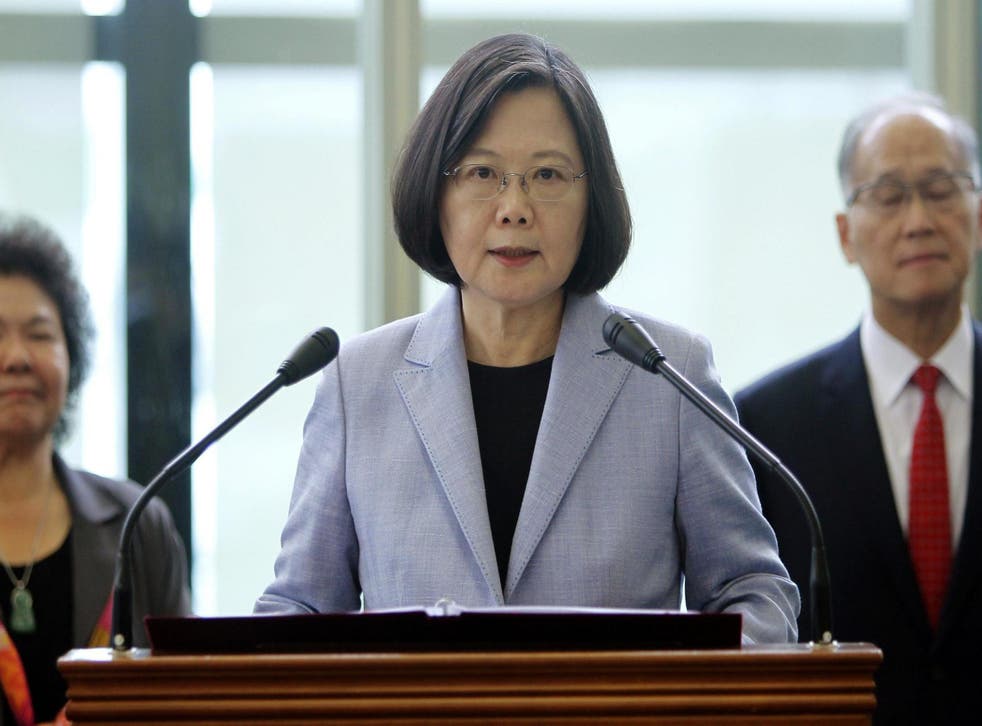 President Tsai Ing-wen of Taiwan visited Houston over the weekend, her second brief stop in the United States in one week, a sign of efforts to deepen relations between Washington and Taipei despite vehement opposition from China.
Ms Tsai stopped in Los Angeles last Monday, on her way to Paraguay and Belize, and then in Houston on Saturday on her way back home. During the earlier stop, she met with three California lawmakers, including one, Rep. Brad Sherman, a Democrat, who called on the United States to formally invite her to Washington, which would break with decades of American practice.
The United States has not officially recognised Taiwan since 1979, when it shifted to recognising China's communist government. China hopes to absorb the self-governed, democratic island, which it has never controlled, and has campaigned to erase any recognition by other countries or corporations of Taiwan's sovereignty.
The visits to Houston and Los Angeles are considered "transit stops" rather than official visits, part of a long-standing restriction imposed by the United States to maintain better relations with China. But Beijing has objected even to such brief stop-overs, and the most recent ones came after President Donald Trump demonstrated willingness to provoke China's anger.
Mr Trump has imposed heavy tariffs on Chinese goods, touching off a trade war, and in March he signed the Taiwan Travel Act, which encourages the kind of high-level, official visits the United States and Taiwan have not had in many years. Ms Tsai's most recent transit stops were her first since Mr Trump signed the act into law.
While there were no expectations that Mr Trump would meet his Taiwanese counterpart, there were small indications that the United States was willing to be more welcoming to Taiwanese presidents.
In a first, Taiwanese journalists were permitted to follow Ms Tsai and report from the sites of events she attended. She visited Taiwan's de facto consulate in Los Angeles – another first – and she addressed American media at the Ronald Reagan Presidential Library near Los Angeles.
"There were pictures of her meeting crowds of local Taiwanese, accompanied by police escort, and giving a speech at the Reagan library," said Julian Ku, professor at Hofstra Law School. "All of that significantly raised her public profile and made her seem more like a normal leader making a normal visit to a foreign country."
She met with Republican and Democratic members of Congress, underscoring the strong bipartisan support for Taiwan.
Donald Trump breaks US policy stance with Taiwan call
In China, however, Ms Tsai elicits hateful commentary on a level that perhaps only the Dalai Lama can match. Shortly after she visited a Los Angeles location of the Taiwanese coffee chain 85C, the Chinese internet erupted with anger, calling for a boycott of the chain's several hundred locations in China, its largest market.
That day, 85C's parent company, Gourmet Master, whose stock trades on Taiwan's exchange, lost $120 million in share value. The company promptly apologised and expressed support for peaceful unification.
Many Taiwanese were upset by the company caving in to Chinese pressure, with some also calling for a boycott of the chain. Polls consistently show that the overwhelming majority of people in Taiwan, a multiparty democracy, oppose being absorbed into China's one-party, authoritarian rule.
The episode is the latest example of the Chinese government using its grip on the country's enormous market to pressure corporations into serving its political agenda. In recent months, companies including international airlines, hotels and other brands have begun referring to Taiwan as a province of China in response to threats from Beijing. The White House called China's tactics "Orwellian nonsense," but did little else to back up American corporations.
If China fines US companies or restricts their access to Chinese markets for refusing to call Taiwan a province, then the Trump administration should retaliate in kind against Chinese companies, said William Stanton, a former director of the American Institute in Taiwan, the unofficial US diplomatic presence there.
"China's trying to make both Taiwan and the government of Tsai Ing-wen persona non grata throughout the world," he said. "There's just no end to it."
Bonnie Glaser, senior Asia adviser at the Centre for Strategic and International Studies, said the Trump administration's approval for Ms Tsai's visits to the Reagan library and the Johnson Space Centre in Houston showed that "they trusted she would not say or do anything that would increase cross-strait tensions."
Congress, which has been a staunch supporter of Taiwan since the United States broke formal ties almost four decades ago, has become increasingly open to taking a new approach toward Taiwan.
"I think at some point we're going to have to recognise the independence of Taiwan," Rep. Michael McCaul of Texas, chairman of the Homeland Security Committee, said in a July speech at the American Enterprise Institute.
Earlier this year, Mr Ku of Hofstra Law School was one of several experts who testified at a House hearing on strengthening relations with Taiwan.
"I think there is an appetite in Congress to do more for Taiwan, and that the opposition to China in Congress is allowing pro-Taiwan congressmen to think bigger about how to help Taiwan," he said.
Congress has limited direct powers over US foreign policy, but inviting foreign leaders to address it is one authority it has exercised, with or without presidential approval.
Mr Ku said he thought that if Congress were to invite Ms Tsai to address a joint session, it would be "something they would work up to."
"Congress is eager to do things to help Taiwan," he said, "so nothing, not even a Tsai address to Congress, can be ruled out in the current environment."
The New York Times
Join our new commenting forum
Join thought-provoking conversations, follow other Independent readers and see their replies