return of the taliban
Taliban creep closer to capturing former heartland as lack of pay undermines Afghan forces
The security situation in Kandahar is rapidly deteriorating amid on-going peace talks. Charlie Faulkner speaks to those desperately trying to push back the militants' advances despite low morale
Friday 29 January 2021 13:55 GMT
Comments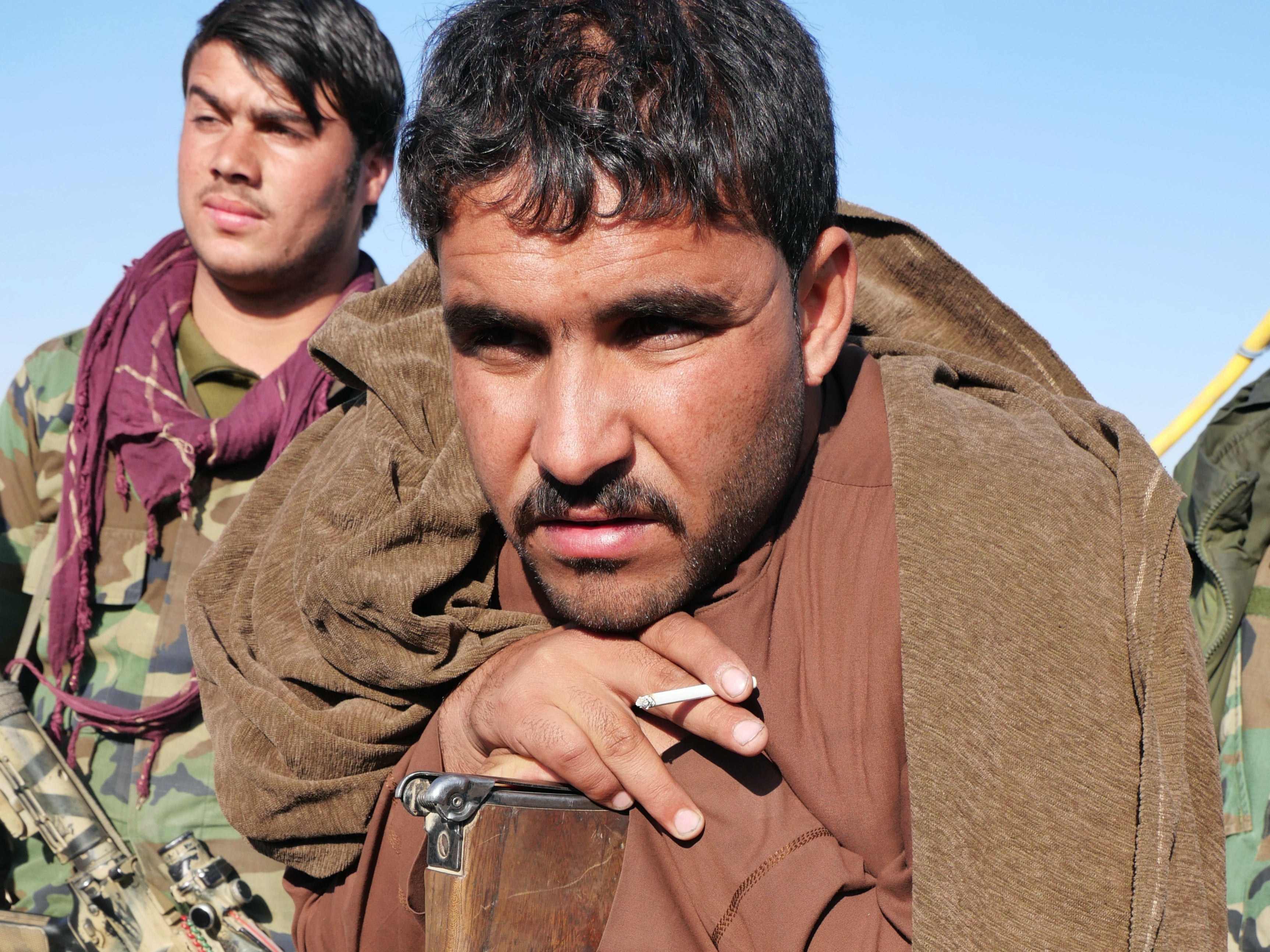 When Bilal, 24, joined the Afghan security forces six years ago, his motivation went beyond receiving a monthly paycheck – he wanted to serve his country. Ironically, that commitment has been severely put to the test lately with a months-long delay to his salary despite a surge in violence across Kandahar.
"I haven't been paid in eight months but if I don't fight, who will do it, who will fight for my country?" he says from the roof of a police station in the Zhari district of Kandahar now acting as a front line following the capture of several police checkpoints further ahead. That morning, fifteen 950mm mortars were fired from the same rooftop into Taliban territory beyond the now-deserted homes directly in front of the building.
Both police and Afghan National Army soldiers are stationed here – currently on a month-long deployment fighting the Taliban, despite stints normally lasting for a maximum of 72 hours before men head back to base. Almost 40 men in this unit alone have been killed in the recent escalation of fighting, despite ongoing Doha power-sharing negotiations between the Taliban and the Afghan government that began in September.
Bilal, who gives only his first name, is engaged and needs to earn money to fund his wedding, in addition to having a family that already relies on his financial support. He is among thousands of police officers putting their lives on the line in the Kandahar province who have been deprived of their salaries for extended periods of time. Many have fled their positions as a result – something the Taliban have been able to exploit.
The officers are sitting together eating lunch, when a report of an explosion 5km away at an army base in neighbouring district Panjwai crackles over the radio. The Taliban had dug a tunnel and detonated explosives within the parameters of the base, killing four members of the security forces.
Arghandab, Zhari, and Panjwai districts have been the focal point of the conflict across the province, with the Afghan forces struggling to hold ground. US air support has been crucial to the government's fight.
"Several hundred of my men have not been paid for months – some as long as six months," police chief Major Masoom Khan tells The Independent from his Zhari headquarters.
"My officers are from these villages and they have fought here for years. They are obligated to keep on fighting otherwise they will be killed but that's not to say we haven't lost men who are fed up of not being paid."
He blames the failure to pay salaries on corruption of the administration at the top level.
"This is our country, our province, our village, we must protect it. If we don't, no one else will. We don't mind doing it but we expect the government to equip us with adequate weapons, for there to be enough troops being deployed and for those troops to be paid and to be supported," says Major Khan.
"Before the establishment of the new government [following the US-led invasion in 2001] we remember there were no human rights. Women could not go out, for example. We now see women working in the police, in the security forces, parliament – all this will be lost if we don't fight."
He says he has witnessed a significant deterioration in the security situation across the region in recent months and believes the withdrawal of US troops will only add to that further.
"The situation is not stable enough for US troops to leave the country. When the peace negotiations are over and the problem is solved then they can leave Afghanistan," he says.
At the time of speaking to Major Khan, approximately half of Zhari was under government control. A few days later, by mid-January, the Taliban had gained ground within a kilometre of the district centre.
Kandahar's newly appointed deputy general Farid Ahmad Mashal admits the failure to pay police officers' salaries has undermined security forces' efforts in the province.
"A reduction in police numbers due to this issue is certainly a weakness that has been exploited by the Taliban," he says.
"Unfortunately, there was an issue with the administrative process here but we are working to resolve this problem as soon as possible."
Over at a police headquarters in Panjwai, the police officers say many of their colleagues have fled their jobs as a direct result of not being paid. They also admit the departure of US troops has led to low morale, yet many still say they are confident in their fighting ability. Approximately 60 per cent of Panjwai is in the hands of the Taliban.
A number the men there have been maimed in the fighting. One man shows off a swollen hand that has been badly burned in an IED explosion; another – 22-year-old Hayatullah – explains his right arm was seriously injured three months ago.
"I was in the observation tower when the Taliban attacked our checkpoint. I was shot in my arm. I was aware I'd been hit but I continued fighting for over an hour. The same arm was hit again with another bullet," he says, as his arm hangs awkwardly in his lap, his jacket placed over his shoulder as a result of the metal fixator holding his protruding bone in place.
Hayatullah's brother was among the three men who were killed in the same attack.
"Four members of my family have been killed over the last three years. I'm not able to return to my village in case I'm targeted," says Hayatullah, who only gives his first name.
Lying in a hospital bed, struggling to breathe, Azizullah is recovering from a gunshot wound at the Mirwais Regional Hospital.
The 41-year-old was a member of the Special Forces for 13 years, working alongside foreign troops, until taking a break 10 months ago. It is for this reason he believes he was targeted by the Taliban.
"I was sitting outside a shop in Arghandab, drinking tea with friends in the afternoon when I heard a gunshot. I stood up and it felt as though I was being electrocuted. The moment I stood up, I immediately collapsed to the ground," says the father-of-five.
"I have no choice but to return to the security forces; there are no jobs and I can't be a shop keeper or a taxi driver anyway, my work means I will always be a target."
The Taliban's spokesman did not respond to The Independent's request for comment.
An increase in the number of targeted attacks is a major concern, says Mashal, who also highlights the time-consuming challenge to remove IEDs laid by the Taliban once they have captured an area. He says the group uses civilians' homes in the hope of reducing the likelihood of their positions being targeted.
"We also know the group is utilising the US troops drawdown as part of a propaganda campaign stating that it has defeated US forces in Afghanistan which has led to an increase in recruitment for the Taliban."
He accuses the Taliban of failing to uphold their end of the agreement with the US signed in February last year.
"They have increased their level of fighting. We are involved in fighting across 10 out of 17 districts every night with the Taliban," he says, emphasising the importance of US airstrikes for Afghanistan's security forces.
"Without US air support, the Taliban would gain power here."
Additional reporting by Abdul Matin Amiri
Join our commenting forum
Join thought-provoking conversations, follow other Independent readers and see their replies