Taliban school attack: Lists of dead children at hospital reveal full horror of massacre
The Army Public School in Peshawar, Pakistan, is still under siege
Lizzie Dearden
Tuesday 16 December 2014 13:10 Comments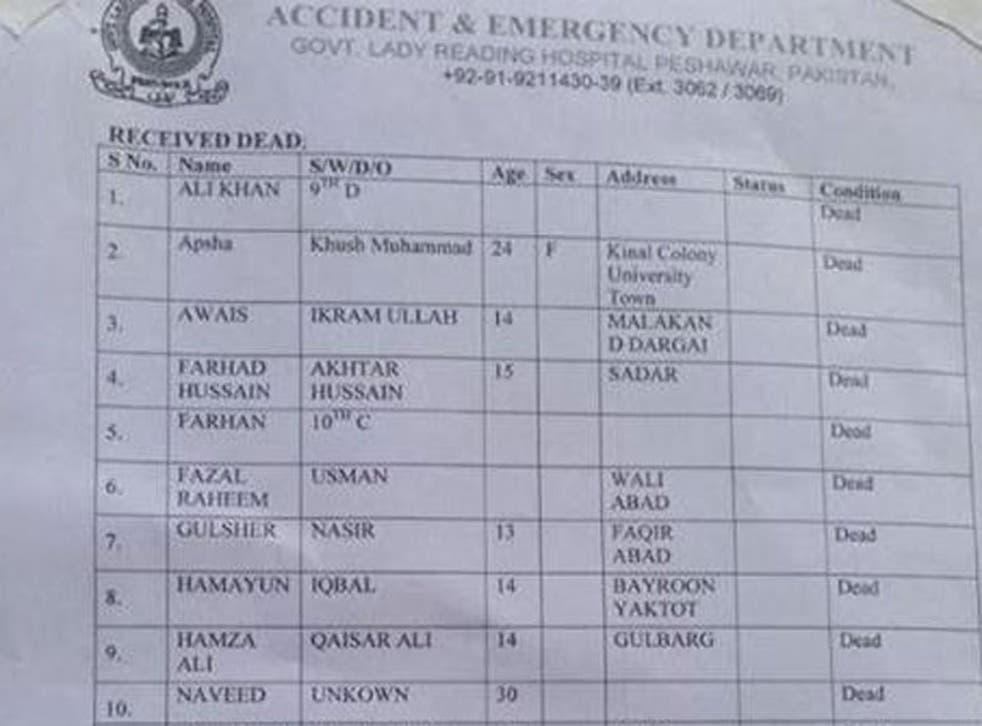 Hamza Ali, 14 years old. Dead. Farhad Hussain, 15. Dead. Hamayun Iqbal, 14. Dead.
An image showing the names and ages of some of the victims of the brutal Taliban massacre at a school in Peshawar that has left at least 84 children dead has emerged.
At least 130 people are confirmed dead, and authorities fear the number may rise as more bodies are recovered from inside the Army Public School.
The lists, appearing to be from Peshawar's Lady Reading Hospital, are one of the few sources of information for those trying to find out parents waiting to hear news of their children.
Many were believed to be killed in a suicide blast after the attack started at 10am local time and further explosions were heard later in the day.
Soldiers had swept the school as the siege started, evacuating the "bulk" of students and teachers from classrooms and rescuing small groups as the operation continued.
A spokesperson for the Taliban told international media that suicide bombers had been sent into the school to target army personnel and were on orders not to harm young children.
Eyewitnesses said the attackers were dressed in army uniforms and set fire to a vehicle before entering the school and opening fire.
One of the wounded students, Abdullah Jamal, said that he was with a group of teenagers who were getting first aid training with a team of Pakistani army medics when the violence began.
In pictures: Taliban attack on army school in Pakistan

Show all 30
He said no one realised what was happening until they "saw children falling down who were crying and screaming" as they were shot.
"I also fell down. I learned later that I have got a bullet," he said from his hospital bed, where he was being treated for a gunshot wound to his leg.
"All the children had bullet wounds. All the children were bleeding."
The rescue operation continues, according to military sources, who said six attackers have been killed so far.

Register for free to continue reading
Registration is a free and easy way to support our truly independent journalism
By registering, you will also enjoy limited access to Premium articles, exclusive newsletters, commenting, and virtual events with our leading journalists
Already have an account? sign in
Join our new commenting forum
Join thought-provoking conversations, follow other Independent readers and see their replies