Tamil TV presenter begs: 'Don't send me to Sri Lanka'
Refugee detained in Dubai tells Jerome Taylor she faces torture and death if she is deported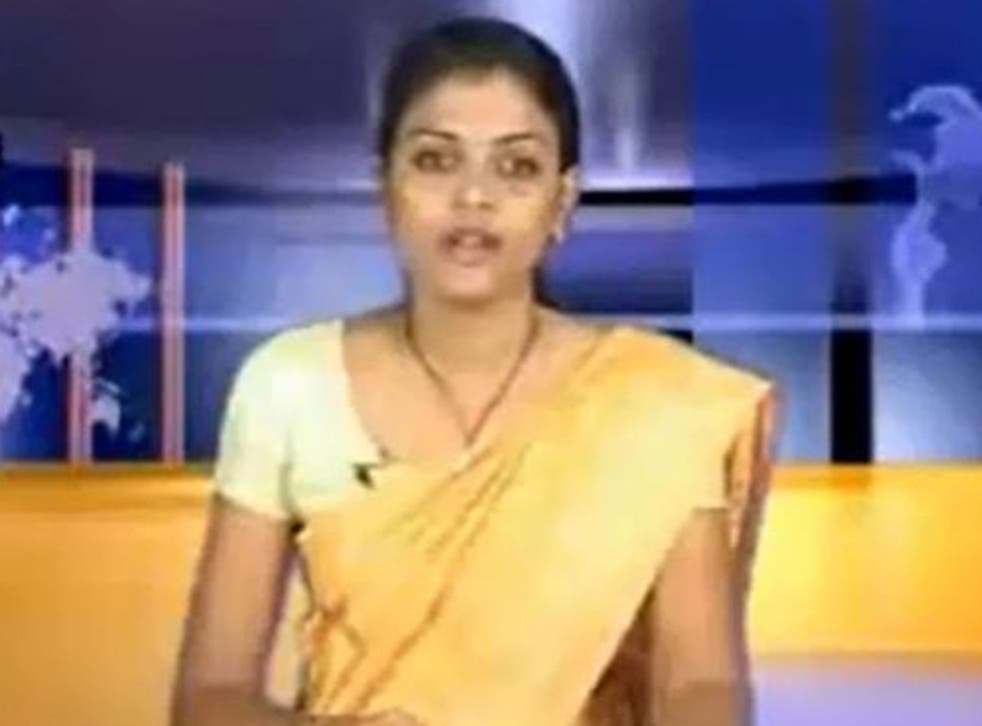 A former high-profile newsreader on a Tamil Tiger television channel has pleaded with the international community to save her from being sent back to Sri Lanka where she fears she could be tortured or killed.
Rathimohan Lokini is one of 19 Tamil refugees languishing in an aluminium factory in Dubai and facing the threat of imminent deportation to a country with a known track record of persecuting those with a perceived or real link to the Tamil Tigers.
Speaking exclusively to The Independent by telephone she described her horror of being returned to Colombo. "I am terrified," she said. "I am in a situation where I could be sent back and killed. My colleagues who worked with me have been persecuted and one person, Isaipriya, was raped and killed during the war."
Isaipriya was the nom de guerre used by one of Ms Lokini's colleagues at National Television of Tamil Eelam (NTT), the main broadcaster in the areas that were once controlled by the Liberation Tigers of Tamil Eelam (LTTE) before their military destruction in early 2009.
The exact circumstances of her death are not known but evidence has emerged indicating that the 27-year-old was probably executed by Sri Lankan troops on 18 or 19 May 2009.
Multiple photographs emerged after the war of Isaipriya's naked body with her hands tied behind her back and significant trauma to her face and head. Her body was also identified at the end of a separate video shot by Sri Lankan troops showing the summary execution of naked, blindfolded and bound Tamil men and women.
Ms Lokini, who used the noms de guerre Harini and Kani during her broadcasts for NTT, fears she would suffer a similar fate if she returned because she was such a visible face of the Tamil Tigers' propaganda wing.
"I was mainly a newsreader on NTT," she told The Independent. "When the programme was finished they would include my voice and face. But I had no direct relationship with LTTE commanders. My responsibility was to communicate with my direct managers who co-ordinated with others."
Reporters Without Borders and Journalists for Democracy in Sri Lanka have called on the international community to protect the 28-year-old. "Her visibility exposed her to a considerable risk of reprisals by government security forces and pro- government militia," they said in a joint statement.
The LTTE was a popular but brutal separatist movement which fought a 30-year campaign for a Tamil homeland in the north and east of Sri Lanka. The fight was sparked by decades of discrimination against Tamils by the country's Buddhist Sinhalese majority, but the Tigers became increasingly discredited through their use of suicide bombings, child soldiers, extortion and attacks against rival Tamil nationalist groups.
Proscribed as a terrorist organisation by Europe and the United States in its latter years, it presided over a functioning civil state in the areas it held until its comprehensive defeat at the hands of the Sri Lankan military. In the final stages of the war, tens of thousands of stranded civilians were killed in a three-month onslaught, in which allegations emerged of war crimes being committed by both sides. The Sri Lankan government, which denies war crimes were committed, has refused any international investigation of those allegations.
Ms Lokini escaped Isaipriya's fate only because she made a daring flight into the government controlled area of Sri Lanka just weeks before the remaining Tamil Tigers were surrounded by government troops.
She told how, in December 2008, she was smuggled from the Tiger-held city of Kilinochchi to Vavuniya to seek medical attention after discovering a lump in her breast. She changed her appearance but lived in constant fear of being discovered. "I knew the consequence of being arrested," she said. "I was a beautician originally, so I changed my face, hairstyle, my eyebrows."
After staying in a relative's house for a further month she was able to fly to India using her own passport. She was later joined by her husband and they decided to seek sanctuary in Australia. "After surviving the war, we were scared to go back to Sri Lanka," she said, "Anything could have happened."
She became one of 46 Tamil refugees picked up by a Singaporean vessel in October 2012. They had been trying to reach Australia when the boat they were travelling in was stricken following a storm and started taking on water. The Tamils were eventually dropped off in Dubai where they have remained incarcerated inside an aluminium factory within the country's Jebel Ali port complex.
The UN's refugee agency, the UNHCR, believes all but seven of the Tamils had legitimate refugee claims and has been working to find them sanctuary in third-party nations. The Independent understands that Sweden has accepted eight of them, and the United States is considering the applications of a further 12. However, 19 Tamils – including Ms Lokini – have yet to find any country willing to take them in, despite their refugee status.
Ms Lokini claims that the remaining refugees have been told by the authorities in the United Arab Emirates that they are at risk of deportation. However, the UNHCR told The Independent that it did not believe there was an imminent danger. Such assurances have done little to calm the fears of Ms Lokini and her fellow refugees. "I love my country, I want to return to my country," she said. "But the risk is too great at the moment. We don't have any choice other than trying to find safety elsewhere."
Shan Sutha, from the British Tamil Forum, called on the authorities in Dubai to lift the threat of deportation: "If the United Arab Emirates authorities return the 19 Tamil refugees held in detention in Dubai, they are not only failing to protect these refugees from torture and other inhumane treatment, but also showing utter disregard to the UNHCR which, after assessing each individual case, granted refugee status to them."
Register for free to continue reading
Registration is a free and easy way to support our truly independent journalism
By registering, you will also enjoy limited access to Premium articles, exclusive newsletters, commenting, and virtual events with our leading journalists
Already have an account? sign in
Register for free to continue reading
Registration is a free and easy way to support our truly independent journalism
By registering, you will also enjoy limited access to Premium articles, exclusive newsletters, commenting, and virtual events with our leading journalists
Already have an account? sign in
Join our new commenting forum
Join thought-provoking conversations, follow other Independent readers and see their replies