Thailand anti-government protests: 31 people injured in Bangkok blast
The explosion in the Thai capital city left the protest leader Suthep Thaugsuban unharmed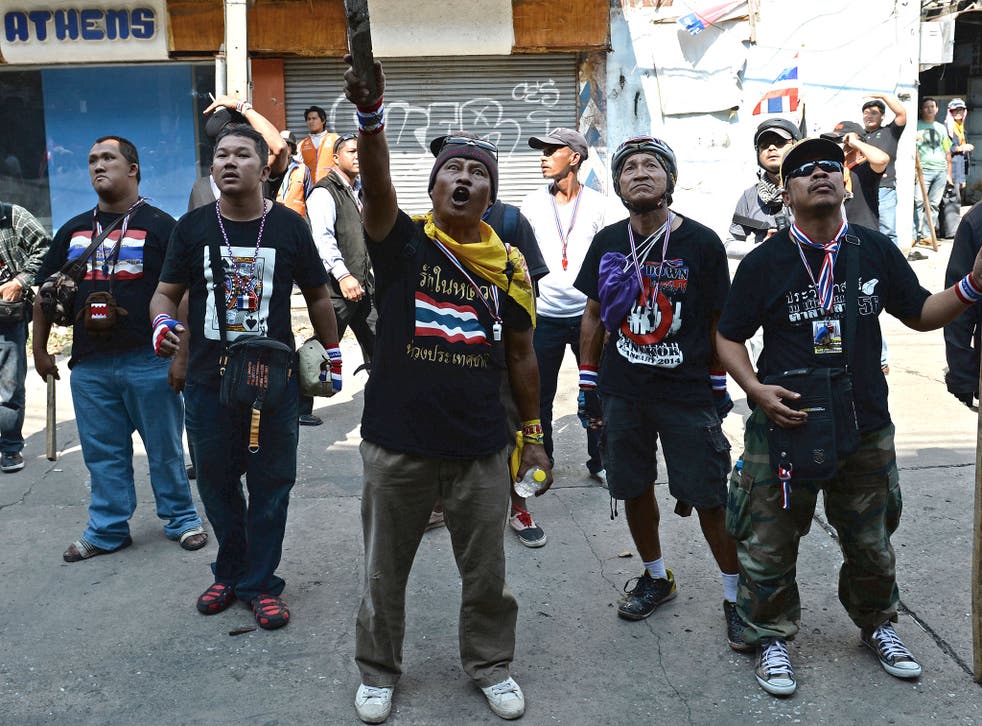 A grenade hurled at anti-government protesters in Bangkok at midday on Friday injured 31 people amid new violence in the Thai capital.
The blast comes after several days of relative calm.
Police said the grenade was thrown into a truck driven by protesters marching with their leader, former opposition politician Suthep Thaugsuban, near Chulalongkorn University in the city centre.
Suthep, who was in the procession, was unharmed and none of the injuries are thought to be life-threatening, after the device was thrown from a nearby building.
Akanat Promphan, a spokesman for the movement, said:  "When the incident happened and perpetrators threw the explosive, Suthep was 30 metres away."
It was not immediately clear who was responsible for the blast. 
The political unrest began in November last year, but escalated on Monday.
Demonstrators calling for the Prime Minister Yingluck Shinawatra to resign brought areas of Bangkok to a standstill, and forced a number of Government ministries to close their offices.
Foreign Minister Surapong Tovichakchaikul said on Friday it was "about time" to take back control of the capital from the protesters, who have rejected the election that has been called for 2 February.
Surapong was speaking at a news conference as a delegation of officials, escorted by police and the military, set out for a government office that issues passports in an attempt to persuade protesters there to leave and allow work to resume.
Hundreds of people angry at the activists, arrived at the passport office on motorbikes and in other vehicles and confronted protesters, National Security Council Secretary-General Paradorn Pattanatabut told reporters.
"If successful, this can be an example for other ministries to follow," Surapong said of the attempt to halt unrest at the passport office.
When asked if the Government would end blockades of ministries and key intersections in the city, he said: "Soon. It's about time. We have to start to do something."
The violence is part of an eight-year conflict between Bangkok's middle class, and royalist establishment and the mostly poorer, rural supporters of Yingluck and her brother, former premier Thaksin Shinawatra.
Thaksin's working-class support has seen him or his allies win every election since 2001. Yingluck's Puea Thai Party is certain they will win again on 2 February.
The anti-government protesters want to suspend what they say is a fragile democracy destabilised by Thaksin, whom they accuse of nepotism and corruption.
Additional reporting by Reuters/AP
Register for free to continue reading
Registration is a free and easy way to support our truly independent journalism
By registering, you will also enjoy limited access to Premium articles, exclusive newsletters, commenting, and virtual events with our leading journalists
Already have an account? sign in
Register for free to continue reading
Registration is a free and easy way to support our truly independent journalism
By registering, you will also enjoy limited access to Premium articles, exclusive newsletters, commenting, and virtual events with our leading journalists
Already have an account? sign in
Join our new commenting forum
Join thought-provoking conversations, follow other Independent readers and see their replies