Thailand beach murders: Police on the lookout for an 'Asian-looking' male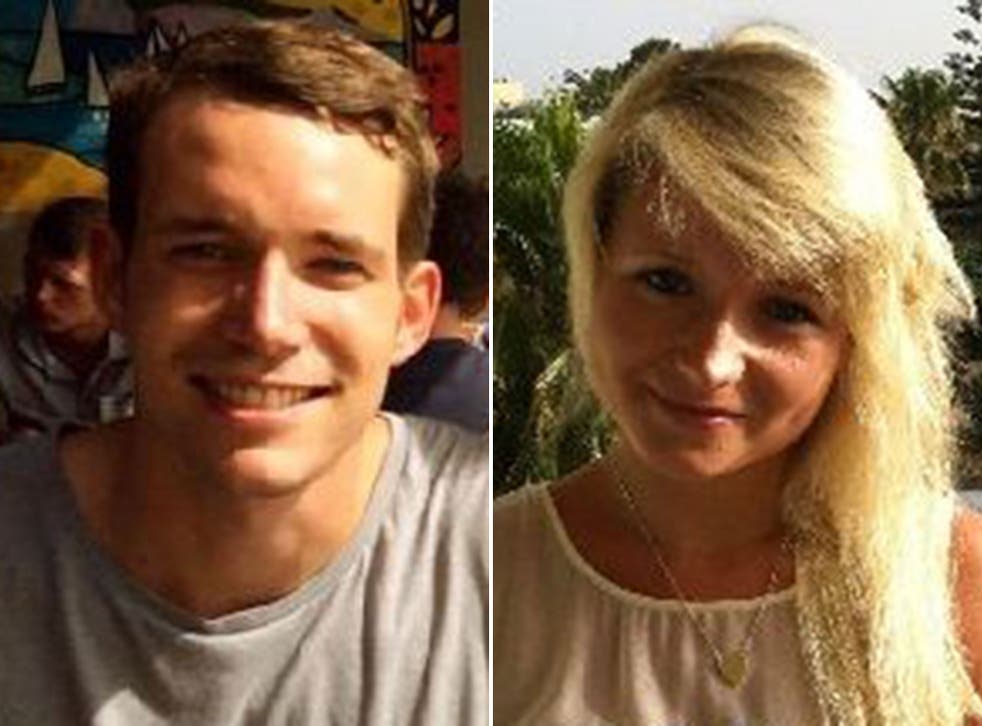 The families of two British tourists killed in Thailand have paid tribute to their loved ones as police continued to attempt to identify an Asian man now reportedly considered a prime suspect in the killings.
As the bodies of Hannah Witheridge, 23, and David Miller, 24, were flown to Bangkok for forensic tests that were due to take place last night, more than 70 officers scoured Koh Tao, the southern island where the bodies of the tourists were found in the early hours of Monday. Both had severe head injuries.
Officers questioned tourists, locals and foreign workers as part of their inquiry and collected DNA samples. Police were reportedly examining CCTV footage from the AC bar where the victims are thought to have left hand-in-hand. Witnesses have said the two tourists later joined around 50 people for a party on the beach. The Associated Press reported that senior police official Maj Gen Kiattipong Khawsamang said a man was seen walking in the same direction as Ms Witheridge and Mr Miller who appeared to be Asian and was considered a "prime suspect", though he did not offer any specific evidence.
"We are focusing on migrant workers because of the surrounding witnesses and evidence, including the video footage," he said. "We are sweeping hotels, bars, businesses and residences of migrant workers on the beach to find the suspect."
The AFP later reported that three Burmese workers had been detained by police and were being questioned by officers. Other reports said six people had been detained and that police had released images of 10 people they wanted to question.
The partly naked bodies of the victims were found less than 100m from the location of the beach party held on Sunday night. Police said a blood-stained hoe was found near the bodies. It is thought to be the murder weapon.
Mr Miller, from Jersey, and Ms Witheridge, from Great Yarmouth, had travelled to the island separately. Ms Witheridge, who was doing post-graduate work at the the University of Essex in Colchester, was travelling with three female friends and had only arrived on Koh Tao, or Turtle Island, three days ago. Both she and Mr Miller were staying at the Ocean View Bungalows.
The families of the Britons paid tribute in statements issued through the British government. The family of Ms Witheridge, whose Facebook page suggested she had a keen interest in horses, described her as a "a beautiful, intelligent, loving young woman who poured joy into the lives of all who knew her".
They added: "She was selfless and caring and made each and every day that little bit more wonderful."
Mr Miller, from Jersey, was studying civil and structural engineering at Leeds University. He had completed an internship in Australia and was spending some weeks traveling in South East Asia. He had been due to leave Thailand on Tuesday.
"David was an artist by temperament, so talented," said his family. "He had a creative eye that he carried with him through life and in his degree."
The bodies of the tourists were discovered at around 6.30am on Sai Ree beach by migrant workers from neighbouring Burma, who were employed to clean the sands.
There is widespread discrimination against the Burmese people living and working in Thailand. There are around 1m legally registered Burmese workers in the country and perhaps as many as 1.5m unregistered Burmese.
Police had earlier said they also wanted to speak to a man, possibly a friend of Mr Miller, who had left the island on Monday morning but it later appeared the matter was not a priority. Another police official, Col Prachum Ruangthong, said investigators were also looking for a group of bar employees and had questioned a group of foreigners as well.
"This morning we surrounded three locations, including the residences of migrant workers, to search and collect DNA," he said.
Meanwhile the Thai general who seized power in a coup earlier this year called for the crime to be solved quickly. Gen Prayuth Chan-ocha, who now styles himself Prime Minister after he was appointed by a hand-picked parliament, said he was concerned that Thailand's image could be damaged.
"This should not have happened in Thailand," said Mr Prayuth. "It will affect our image in the eyes of international countries."
Tourism accounts for at least a tenth of the country's GDP but it has seen the number of visitors tumble by as many as ten per cent following months of political uncertainty, followed by the coup in May.
An official from the British Embassy in Bangkok has travelled to Koh Tao and is working with local authorities.
A spokesman for the embassy said: "We are aware of reports that the Thai police wish to speak to a British national in connection with the case. We are not aware of any information to suggest that any British national is currently a suspect in the case. The investigation is a matter for the Thai authorities."
Register for free to continue reading
Registration is a free and easy way to support our truly independent journalism
By registering, you will also enjoy limited access to Premium articles, exclusive newsletters, commenting, and virtual events with our leading journalists
Already have an account? sign in
Register for free to continue reading
Registration is a free and easy way to support our truly independent journalism
By registering, you will also enjoy limited access to Premium articles, exclusive newsletters, commenting, and virtual events with our leading journalists
Already have an account? sign in
Join our new commenting forum
Join thought-provoking conversations, follow other Independent readers and see their replies