Thailand coup: Ex-PM Yingluck Shinawatra among more than 150 that military is stopping leaving country
Head of armed forces summons dozens of leaders to a meeting at a military facility in the centre of Bangkok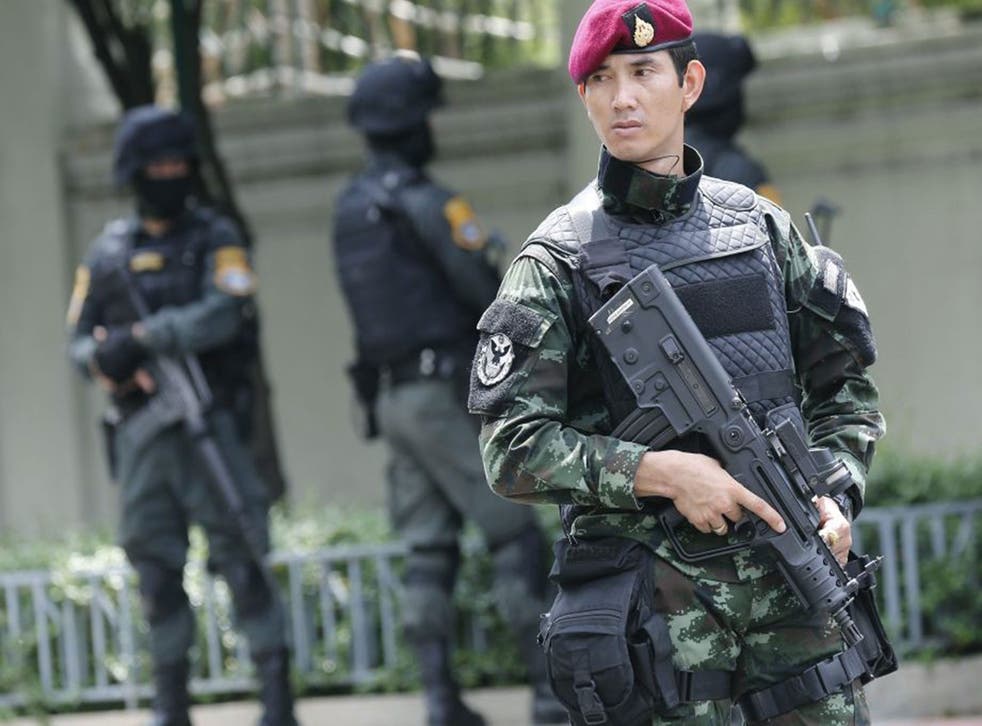 Thailand's newly imposed military junta today announced that it was preventing more than 150 people – including former prime minister Yingluck Shinawatra – from leaving the country.
The head of the armed forces, Gen Prayuth Chan-ocha, who on Thursday enforced a coup and established the so-called National Peace and Order Maintaining Council to run the government, summoned dozens of leaders to a meeting at a military facility in the centre of Bangkok. A black van, believed to be Ms Yingluck's, was reportedly seen to arrive and leave shortly later.
Among the ministers and leaders seen arriving at the Army Research and Development office in the Tewes area of the city were another ex-premier, Niwatthamrong Boonsongphaisan, former foreign minister Surapong Tovichakchaikul and Chumphon Jumsai, a leader of the anti-government protesters who have been demonstrating in Bangkok for months.
Thailand protests: Thai army declares martial law

Show all 25
The junta also announced that 155 people were not permitted to leave Thailand. Among them were reportedly dozens of ministers and politicians who had served with Ms Yingluck's government and members of the Phua Thai party, headed by her brother, former prime minister Thaksin Shinawatra.
If the reports of Ms Yingluck's attendance at today's meeting are confirmed it would be her first public appearance in a number of days. She was forced from office by a controversial court two weeks ago and had been maintaining a low profile, possibly in the north of Thailand.
On Friday, as the various leaders attended the meeting at the army facility, the Reuters news agency reported that Gen Prayuth was expected to meet King Bhumibol Adulyadej at a royal palace in Hua Hin, south of Bangkok, to explain the army's move.

Gen Prayuth, 60, said the coup had been launched to "maintain peace and resolve the conflict". It came two days after he had imposed martial law. After the coup, soldiers dispersed rival groups of protesters who had set up camp in and around the capital, Bangkok.
The coup has halted most domestic and international broadcasting, blocked meetings of more than five people and told internet providers they have to remove any content the coup leadership disapproves of.
The coup leadership has also summoned foreign diplomats and international organisations to a meeting on Friday afternoon.
Thailand is sharply divided and since the ousting of Mr Thaksin in a coup in 2006 has been the location of a struggle between pro-democracy groups that largely support him and those who want to limit the role of elections. Mr Thaksin has a stronghold of support in the north of the country, where is he from.
Those opposed to him include middle-class residents of of Bangkok and parts of the establishment that surrounds the monarchy.
Join our new commenting forum
Join thought-provoking conversations, follow other Independent readers and see their replies