Thailand coup: Ex-PM Yingluck Shinawatra and her ministers held as junta tightens grip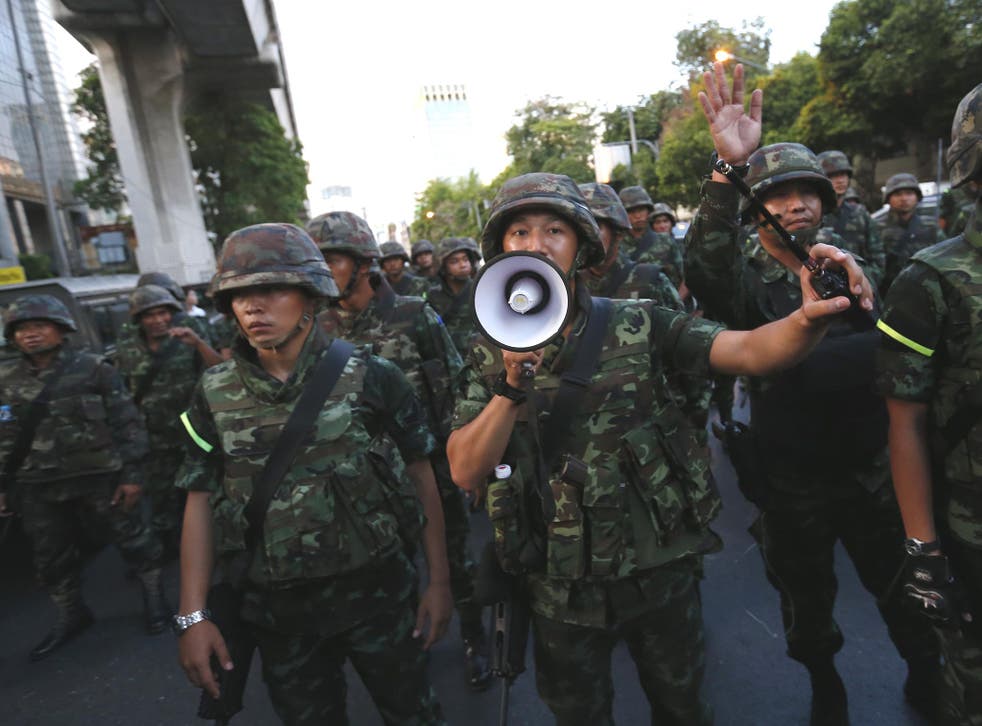 Thailand's military junta has revealed that it is holding former prime minister Yingluck Shinawatra and more than 100 other people as it tightens its grip on the country. The announcement came as the first protests against the coup were held in the centre of Bangkok and in the north of Thailand.
Ms Yingluck, brother of former premier Thaksin Shinawatra, was among scores of politicians and activists summoned to a military facility in Bangkok on Friday morning, a day after the army launched the coup and ousted the civilian administration. More than 150 people – Ms Yingluck among them – have been prevented from leaving the country.
Army spokesman Col Werachon Sukhondhadhpatipak told The Independent that Ms Yingluck, who herself was forced out as prime minister two weeks ago by a controversial judicial body, was among those being detained.
"She has been invited to stay for a few days. We want to be impartial," said the spokesman, who said the former prime minister would be detained for two or three days and would receive "VIP treatment".
The spokesman said that in addition to politicians and cabinet members of the ousted government, several bankers who had supported the administration were also being held. "We want just to keep them away from the situation, where they can only get involved," he said.
It is understood that among those detained with Ms Yingluck are Somchai Wongsawat, another former prime minister, who led a government associated with Ms Yingluck's brother and who was also forced out by a court. One source said it was believed Ms Yingluck was being held at a base in the Saraburi province, while the Reuters news agency quoted a military official who said Ms Yingluck's sister and brother-in-law were also being detained.
In the north of Thailand, around a dozen Red Shirts, the movement which has largely supported the Thaksin governments, have reportedly been held. In Bangkok, the brother of a Red Shirt volunteer medic, Kamolket Akahad, who was shot dead by troops during a crackdown in 2010, has also been detained, according to his mother.
By contrast, politicians from the opposition Democrat party, closely associated with the anti-government protesters who have rocked Bangkok in recent months, have now been set free after being initially detained on Thursday afternoon.
The junta's actions came less than 24 hours after army chief Gen Prayuth Chan-ocha announced that he was declaring a coup and seizing power. He did so after having called a meeting of the various factions involved in Thailand's longrunning political stand-off.
Reports in the local media suggested Gen Prayuth had acted after becoming frustrated with the unwillingness of the participants to compromise. Yet others believe his decision to call the meeting was noting more than a ploy to get them together. Apparently, the participants were told not to bring their mobile phones.
Either way, the 60-year-old general, who has appointed himself acting prime minister, on Friday set about issuing a series of further orders. His so-called National Peace and Order Maintaining Council, the name the junta is calling itself, announced that six senior officers had been appointed to run the country, each with a specific area of responsibility.
On Friday, the junta also summoned foreign diplomats for a meeting at an army social facility, the Army Club, where the coup had been announced. The EU nations, Britain among them, sent junior diplomats rather than ambassadors, in an indication of the concern over the army's actions.
One Western diplomat said they believed Gen Prayuth was attempting to find people to form a "neutral and technocratic" caretaker government and may be having some problems in doing so. There has been widespread speculation that former senior army officers are the most likely candidates for the role.
The developments came as hundreds of protesters took to the centre of Bangkok to demonstrate against the military's decision to launch a coup. A small number also protested in the city of Chiang Mai. In Bangkok. many of them held up signs and shouted "go home" to a group of around 50-60 troops who were standing outside the Bangkok Art and Culture Centre
Several of those taking part said they were neither supporters of Ms Yingluck's government or the Red Shirt movement, but were angry about what they considered was an attack on Thailand's democracy. At least two protesters were reportedly temporarily detained by the soldiers.
"The coup is illegal. I don't want a coup in Thailand," said Angkana Tarntarathong, a 52-year-old government employee. "There is no government now and the country needs an election."
Wararat Krasaw, a young woman carrying a sign that read "I never lick dictatorships' boots", said that when Thailand last experienced a coup, in 2006, she had been in high school. She said that at the time she had supported the military take-over but since then had changed her mind. "I found out that the coup did not do any good," she said.
Many in Thailand are watching and waiting. While the country is no stranger to coups, many people are concerned about what turn Thailand may next take. There is concern about the impact on jobs, investment, the tourism industry and the nation's currency.
Meanwhile, Robert Amsterdam, a lawyer for the Red Shirt movement, formally known as the United Front for Democracy Against Dictatorship (UDD) said the movement was actively looking at establishing a government-in-exile.
The turmoil that has gripped Thailand with varying degrees of intensity since Mr Thaksin was ousted in a coup in 2006 has complicated roots. Part of it focuses on a struggle by traditionally powerful elites who do not want to give political power up to a newly assertive poor and lower middle class, many of whom have benefited from Mr Thaksin's populist policies.
Attendant to that, many believe that a behind the scenes jockeying for position and the pulling of strings ahead of a royal succession when 86-year-old King Bhumibol Adulyadej passes away, is another factor.
In 2006, King Bhumibol endorsed the coup, carried out when Mr Thaksin was in the US. There has been speculation that Gen Prayuth was planning to travel to the resort city of Hua Hin, where the king spends much of his time, to obtain his signature on documents proclaiming the coup.
However, Col Werachon, the military spokesman, said Gen Prayuth had decided not to visit him in person and had instead sent the relevant documents to the king. He added: "He does not need to make the journey to see the king. He has already sent a letter to the palace. He does not want to bother him."
Register for free to continue reading
Registration is a free and easy way to support our truly independent journalism
By registering, you will also enjoy limited access to Premium articles, exclusive newsletters, commenting, and virtual events with our leading journalists
Already have an account? sign in
Register for free to continue reading
Registration is a free and easy way to support our truly independent journalism
By registering, you will also enjoy limited access to Premium articles, exclusive newsletters, commenting, and virtual events with our leading journalists
Already have an account? sign in
Join our new commenting forum
Join thought-provoking conversations, follow other Independent readers and see their replies