Thailand frees former magazine editor previously imprisoned for insulting monarchy
'Being in prison is a form of unhappiness and torture'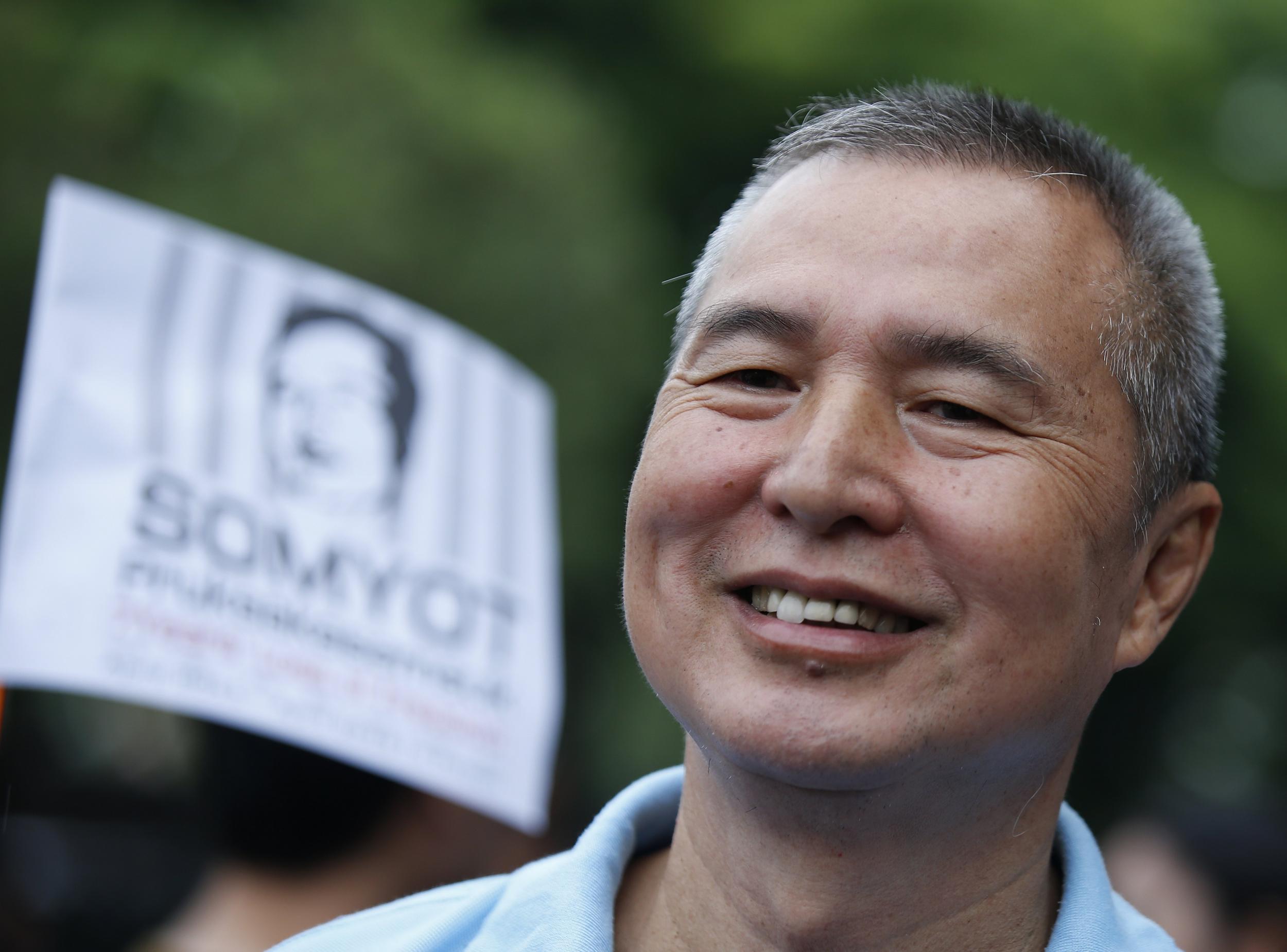 A high profile Thai activist and former magazine editor imprisoned for insulting the country's monarchy vowed on Monday to keep pressing his call for democracy after he was released from prison.
Thailand's military government, led by former army chief Prayuth Chan-ocha, has repeatedly delayed a general election, with the latest date set for February 2019.
"Calling for democracy, especially elections, is good," Somyot Prueksakasemsuk, 56, told reporters outside the prison, where about 100 supporters greeted him on his release.
"I will use my rights as a Thai citizen to join this movement and I invite people to support calls for an election as soon as possible."
Since the start of the year, there have been sporadic, student-led street protests calling for an election and for the military government to step down.
"I ask the government not to use trickery to postpone the election again, because this will not be good for the economy and other sectors of the country," Mr Somyot added.
Mr Somyot, who was the editor of a political magazine, Voice of Taksin, had been imprisoned in 2013 for 10 years under Thailand's lese-majeste law, but the Supreme Court reduced his sentence in 2017.
"Being in prison is a form of unhappiness and torture," Mr Somyot said.
The junta's top legal adviser warned Mr Somyot not to break the law.
"If he gets involved in political activities and violates the law ... then we have to proceed with legal action against him," colonel Burin Tongprapai told Reuters.
Since its 2014 coup, the junta, known officially as the National Council for Peace and order, has vowed to take a hard line against those critical of the monarchy and the courts have handed down record sentences for royal insults.
Thailand's lese-majeste law is the world's strictest.
It criminalises all perceived insults of the monarchy and prescribes prison terms of up to 15 years for each count of offending the king, queen, heir or regent, although it has also been interpreted to extend to dead kings.
World news in pictures
Show all 50
Known as section 112 of the criminal code, it has drawn condemnation from the United Nations and rights groups who say accusers often abuse it for political gain.
At least 94 people have been prosecuted for lese-majeste since the coup. As many as 43 people have been sentenced, according to data from the iLaw group, which monitors royal insult cases.
The law limits what all news organisations, including Reuters, can report from Thailand.
Reuters