Thailand is running out of black clothes after the death of King Bhumibol
Traders have been warned they will be fined or jailed if they take advantage of the mourning period by inflating prices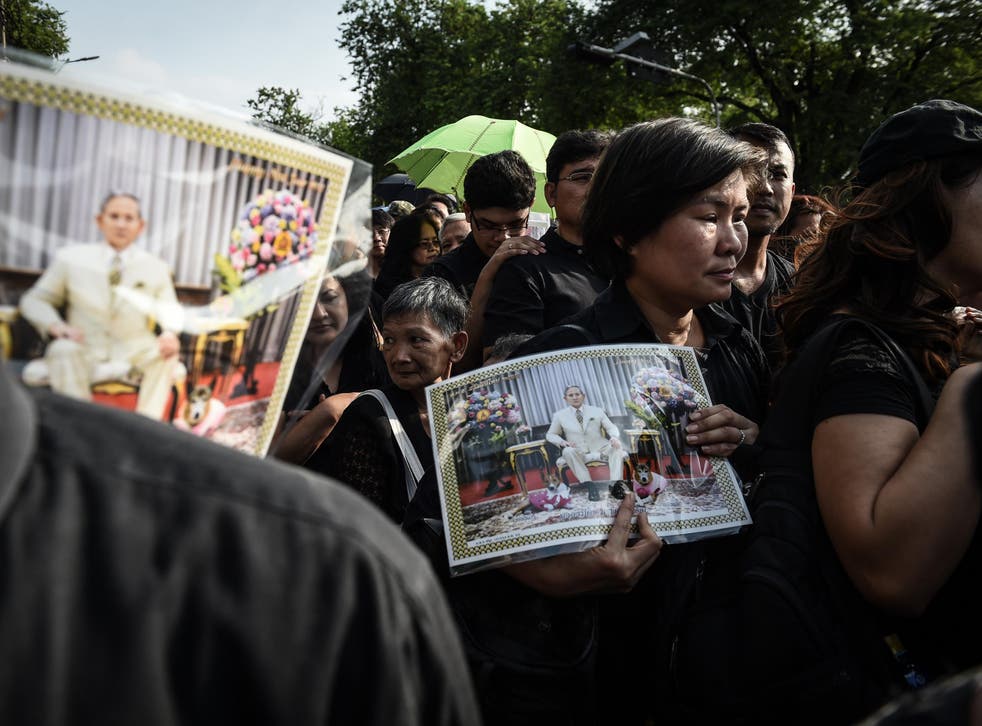 Clothes dyeing stations have popped up across the Thai capital Bangkok as the south-east Asian nation continues to mourn the death of King Bhumibol Adulyadej.
Some retailers have run out of black clothing entirely, and others are allegedly selling dark coloured items at inflated prices, despite authorities having threatened fines or jail time for retailers who take advantage of the revered monarch's death.
The Thai government has declared a year of mourning for the royal, who died on Thursday at the age of 88. For the first month people have been asked to wear only black and white.
Vats of black dye were boiling non-stop on Monday at a free dyeing station set up in central Bangkok by a tractor importing company.
Volunteers rushed to write down names and contact information from a stream of visitors bringing in clothes to dye black, Associated Press reported.
"Some people don't have black clothes or don't have enough to wear," Kanokporn Tantranont, a Krung Thai Tractor employee helping out at the centre, told the news agency.
"If you go out to buy more clothes, the prices are so high," he said.
The dyeing station will stay open until the end of the October and people can also donate old clothes to be dyed black and donated to others, the owners said.
King Bhumibol's death after a 70-year reign has triggered a huge surge of public grief in Thailand, where most people grew up paying respect to the King and have known no other monarch.
On Monday, finance secretary Somchai Sujjapongse said state-run banks will distribute free black T-shirts to about eight million people who have registered as low income, so they can wear black throughout the year if they want to.
He said 400 million baht, the equivalent of over nine million pounds, had been allocated for the scheme.
"Although the government has said it is not necessary for all people to wear black, the Finance Ministry is of the opinion that it would be good if the low-income people can wear black to mourn for the late King," Mr Somchai told the Bangkok Post.
Black is the colour of mourning in Thailand but white, a colour that symbolises purity, is also sometimes worn.
Deputy Prime Minister Somkid Jatusripitak said he had asked manufacturers and retailers of black clothing and fabrics to increase production.
In the meantime, Thai authorities are attempting to stop price rises.
The Prime Minister's spokesman said: "Regarding black shirts which have become more expensive, the commerce ministry has sent teams to inspect white and black clothing vendors.
"This is to make sure the shirts are not being sold at prices that are too expensive."
Traders in Bangkok told Reuters business was brisk, but they denied pushing up prices.
"Most people are buying black shirts," said Songkhan Tansonan.
She said she had sold 200 black shirts by midday on Saturday and 400 the previous day.
"I buy them for 90 baht (£2) from the wholesaler and sell them for 120 or 130 baht (£2.70 to £3)," she said.
Nongrak Bantaotuk, a nurse, said she was buying black shirts for herself and her family. She said prices had risen a bit, but that did not worry her.
"If you compare, the price is higher than before, but this isn't about prices," she said.
The masses mourn for Thai King

Show all 40
Deputy prime minister Wissanu Krea-ngam said people should not be criticised for not wearing black or white because feelings of grief come from the heart, not from what clothes are worn.
But government workers are required to wear black mourning attire for one year.
State events are also under a 30-day moratorium, and all public offices and schools will fly flags at half-mast for 30 days.
Register for free to continue reading
Registration is a free and easy way to support our truly independent journalism
By registering, you will also enjoy limited access to Premium articles, exclusive newsletters, commenting, and virtual events with our leading journalists
Already have an account? sign in
Register for free to continue reading
Registration is a free and easy way to support our truly independent journalism
By registering, you will also enjoy limited access to Premium articles, exclusive newsletters, commenting, and virtual events with our leading journalists
Already have an account? sign in
Join our new commenting forum
Join thought-provoking conversations, follow other Independent readers and see their replies