Thailand's military junta raids university seminar on democracy arresting seven
The authorities put a halt to the event at Bangkok's Thammasat University due the martial law restrictions on political criticism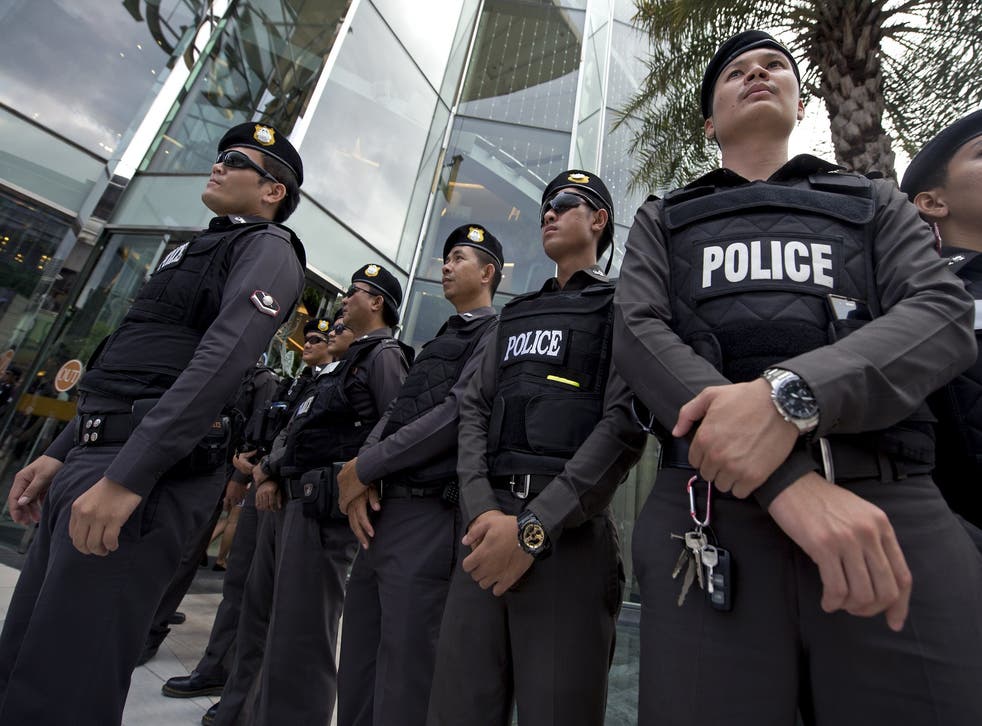 Thailand's military junta stormed a university seminar on democracy, arresting the four academics and three students who had organised it in a move condemned by human rights groups as an "intolerance for any dissenting voices".
The scholars had been attending an event entitled Democracy Classroom: Fall of Foreign Dictator at Bangkok's Thammasat University on Thursday when the military brought it to a halt.
Martial law is now in place in Thailand, after the military – the National Council for Peace and Order (NCPO) – came to power on 22 May, which made it illegal to criticise the coup and also blocked some websites.
According to Human Rights Watch, the authorities had previously ordered the group to suspend the seminar for fear that it could "affect the attempts to solve conflicts in the country".
Thailand protests: Thai army declares martial law

Show all 25
In the demand, Colonel Noppadon Tawrit, Commander of the Kings Guard's 1st Field Artillery Regiment, called for its cancellation in order "to prevent the resurgence of differences in political attitude".
After they staged the discussion regardless, academics Nidhi Eoseewong, Prajak Kongkirati, Chaowarit Chaowsangrat, and Janjira Sombutpoonsiri, alongside students Worrawut Wongsamart, Rattapon Supasopon, and Sorrawit Serivivat, were reportedly held and interrogated for a number of hours at a police station. They were later released without charge.
"While telling the world that they are not dictators, the Thai military authorities are extending their grip into universities and banning discussions about democracy and human rights," Brad Adams, Asia Director at Human Rights Watch, said.
"Prime Minister Prayuth [Chan-ocha] should immediately end this crackdown on academic freedom and free speech."
The International Federation for Human Rights (FIDH) also demanded for the NCPO to "immediately top harassing and arbitrarily detaining students and academics who exercise their right to freedom of expression."
"Yesterday's arrest of students and academics is yet another ominous reminder of the military junta's intolerance for any dissenting voices," FIDH President Karim Lahidji said.
"In light of the ongoing arbitrary arrests and severe restrictions on freedom of expression, the junta's claim that it respects human rights is a poorly-disguised pretense."
Thailand's martial law also forbids politically-motivated gatherings of more than five people, while the police reportedly censured the lecturers and students for not seeking permission to hold the talk beforehand.
Prime Minister Prayuth Chan-ocha has since commented on the arrests: "Please understand that I don't come from an election. I'm well aware of that. So please put on hold all political criticism and forums on politics," the Bangkok Post reports.
"They had been invited in several times to be asked for their cooperation in refraining from speaking out at this time, because the country is moving forward. We are in the process of introducing reforms and building reconciliation."
The swoop happened just 10 minutes after eminent intellectual Professor Nidhi, 74, began speaking to the congregated audience. They group were then taken to the police station for "attitude adjustment", the Bangkok Post said, while Mr Prajak defended the seminar and said it was discussing the politics of other countries, not Thailand.
Join our new commenting forum
Join thought-provoking conversations, follow other Independent readers and see their replies