Beheaded tiger found at private zoo raided by authorities in Thailand
Five live tigers, suspected to be illegally smuggled, have been discovered in the raid
Shweta Sharma
Wednesday 02 December 2020 10:18 Comments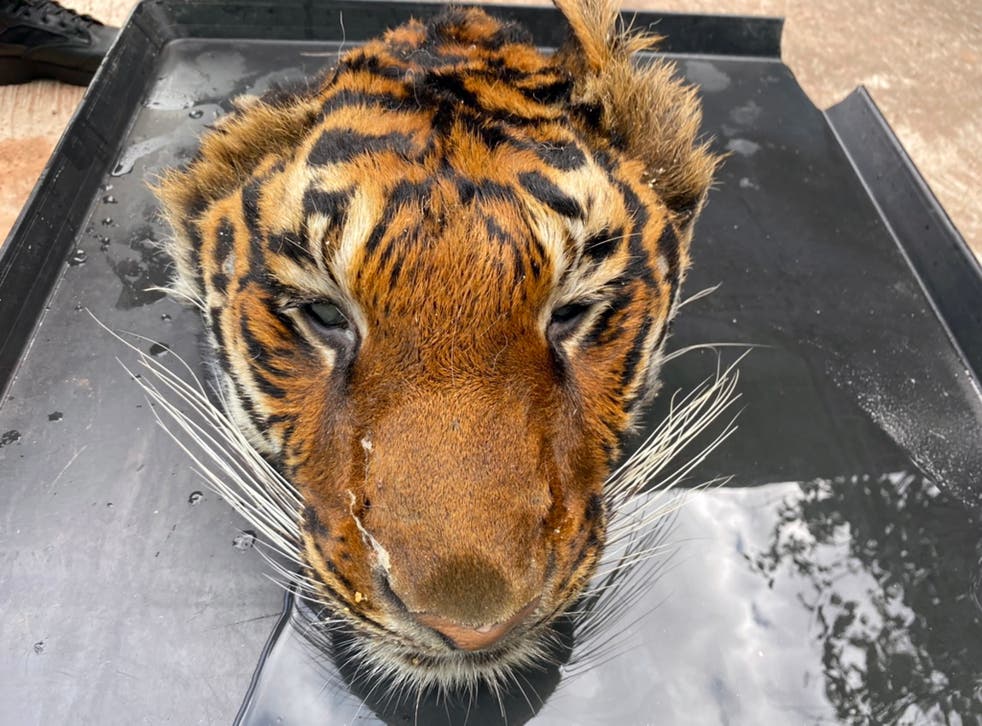 A beheaded tiger and five live tigers, suspected to be illegally smuggled, were recovered along with several other animal corpses during a wildlife trafficking raid at a private zoo in Thailand.
The Thai authorities raided Mukda Tiger Park Farm in Mukdahan in northeast Thailand's Isaan province.
A severed head and the body of the tiger, along with dismembered corpses of other animals were seized during the raid by the conservation authorities.
Contrary to the claims of the zoo, three of the five live tigers seized were found to be unrelated to the tigers of the zoo as per the DNA tests conducted by the officials. The officials suspected the wild cats were smuggled into the zoo.
The tigers have been relocated Chulaphorn Wildlife Captive Breeding Centre and the forensics testing would be done on the other two tigers.
The zoo has remained on the watch of the Thai authorities after a number of locally protected animals, including red pandas, grey-shanked doucs (monkeys) and elongated tortoises, were recovered from the zoo in a crackdown in 2018.
"The authorities have done a great job looking into the legality of this tiger ownership," said a researcher at animal rights NGO Traffic, Maethinee Phassaraudomsak.
"We hope investigations reveal the true provenance of the tigers and spurs checks on all animals held at this facility".
The owner of the Mukda Tiger Park Farm will face five years of jail if convicted in illegal smuggling of wildlife and additional three years if proved guilty of giving false information.  The license of the zoo will be suspended for 90 days.  
The condition of captive animals and alleged animal abuse, owing to surging animal tourism, has remained a matter of concern for animal activists.
According to Traffic, almost 58 percent of tigers, including both dead and surviving animals, have been seized from captive breeding facilities between 2000 and 2018 in Thailand.
Register for free to continue reading
Registration is a free and easy way to support our truly independent journalism
By registering, you will also enjoy limited access to Premium articles, exclusive newsletters, commenting, and virtual events with our leading journalists
Already have an account? sign in
Join our new commenting forum
Join thought-provoking conversations, follow other Independent readers and see their replies