The Kim Jong-il that Clinton met was a fake, says academic
Japanese professor claims communist dictator has been replaced after dying in 2003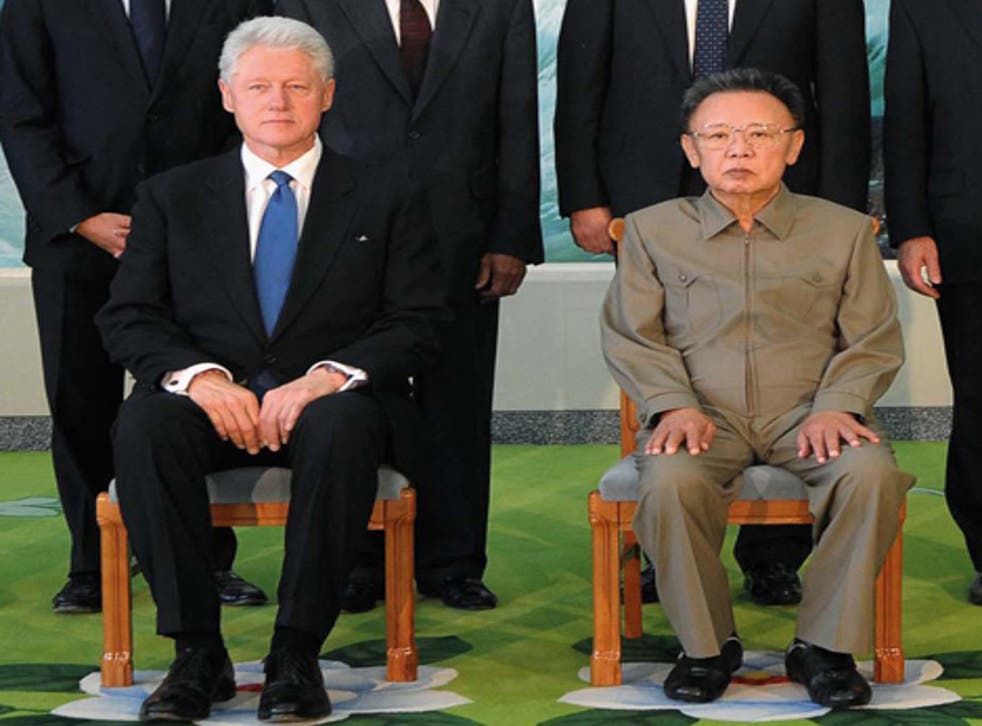 Was it Kim Jong-il? Or was it a fake North Korean leader that entertained Bill Clinton on that mission to Pyongyang to retrieve the two imprisoned American journalists?
In the absence of fact, the Hermit Kingdom has long been a free-fire zone for outlandish rumour. And they got more outlandish than ever after Mr Kim reputedly suffered a stroke in August 2008. Mr Kim was variously said to be close to death, about to be toppled by a coup, or desperately fixing the succession for his youngest son. Or was he really someone else?
The mainstay of the Kim-is-fake cottage industry is a Japanese university professor called Toshimitsu Shigemura, who once claimed that the real Mr Kim died in 2003, and that everything since has been make-believe. One Mr Kim, he maintains, even flatly confessed to a Japanese visitor, "I am a double."
The Clinton visit in August had Mr Shigemura's alarm bells ringing again, when the former President was pictured alongside a far healthier looking Mr Kim than the wan and feeble Great Leader seen after North Korea test-fired a long range missile on April 5 2009. "They were totally different people," Mr Shigemura asserted to the Christian Science Monitor this week.
Most experts can't quite believe the North would have sent out a bogus Kim to spend more than three hours in Mr Clinton's company, including what the North's official media called 75 minutes of "exhaustive" private talks.
But evidence that he sometimes uses doubles is strong. Did the man who reportedly had a stroke 14 months ago really make 122 visits this year to factories, state-run farms, military bases and the rest, as logged by the media – to prove, presumably, that Mr Kim was alive, well and very much in charge?
A double, or doubles, are "possible", Choi Jin-Wook, a specialist at the Korea Institute of National Reunification told the Monitor. "These dictators always need lookalikes for national security reasons. Kim Jong-il is giving 'on the spot guidance' too often for his health."
Fakery moreover is nothing new for totalitarian regimes. The Soviet Union was doctoring photos from its very earliest days. Saddam Hussein is known to have made much use of doubles; so too, it is said (albeit on somewhat flimsier evidence), did Hitler and Stalin. And was it not once rumoured that Paul McCartney has been played by an impersonator ever since he "died" in 1986?
In fiction, even the US is not immune. In the 1993 hit movie Dave a temp agency manager who happens to be a doppelganger of the US President is drafted into the job by a scheming White House aide when the real president has a stroke. So might Bill Clinton not really have been Bill Clinton?
And what ruler would not use doubles on occasion if he or she had the chance? Who wants to attend the boring factory ribbon-cuttings and dreary conferences a democratically elected leader must endure? How nice to be able to send a lookalike and focus on things that really matter, like grooming one's son as successor.
Register for free to continue reading
Registration is a free and easy way to support our truly independent journalism
By registering, you will also enjoy limited access to Premium articles, exclusive newsletters, commenting, and virtual events with our leading journalists
Already have an account? sign in
Register for free to continue reading
Registration is a free and easy way to support our truly independent journalism
By registering, you will also enjoy limited access to Premium articles, exclusive newsletters, commenting, and virtual events with our leading journalists
Already have an account? sign in
Join our new commenting forum
Join thought-provoking conversations, follow other Independent readers and see their replies