The man who wants to become India's new executioner
An acute shortage of hangmen is forcing Indian prisons to consider novices for the sombre job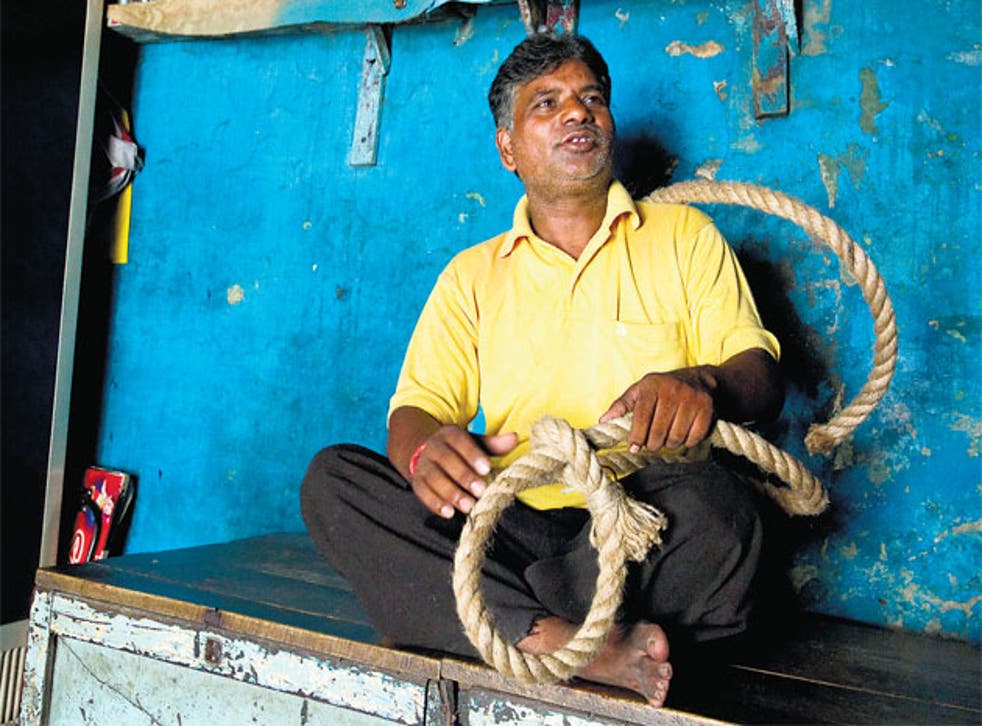 With an ease and fluidity that suggested considerable practice, Pawan Kumar picked up a rope and demonstrated how to tie a hangman's noose. He showed precisely where the loop should be fitted to ensure things went quickly and smoothly. And finally he showed how, with a silent nod from the jailer, either he or his grandfather would ease back the lever controlling the trap-door and dispatch the condemned prisoner to his death.
"There is a lot of process that goes into getting the noose correct so that the person does not suffer," he said. "I know, because of my grandfather. He explained to me the science behind it."
India is in search of an executioner and Mr Kumar may be in the frame. The nation has long been in two minds about the death penalty, reserved only for "the rarest of rare" cases, and has not executed anyone for seven years. There are presently an estimated 350 prisoners on death row, each uncertain of his fate.
But amid growing pressure on the government to show it is being "tough" on security and following the recent rejection of mercy petitions of several death row inmates, there is the potential for half-a-dozen or so executions within a matter of months.
A pressing problem is the shortage of hangmen. When President Pratibha Patil announced in May she was rejecting the appeals of Devinder Pal Singh Bhullar and Mahendra Nath Das, the prison authorities in Assam, where Das is held, admitted they retained no hangman and asked other jails across the country to lend them one. At Tihar jail in Delhi, where Bhullar is held, officials have also said they have no executioner and will have to borrow one.
"The last execution here was 22 years ago and for us to keep an executioner on the payroll" makes no sense, said the jail's legal officer, Sunil Gupta.
Mr Kumar is adamant he should be the man to fill the void. His grandfather and later his father were both retained by the authorities at Meerut jail as its official hangman. Indeed, his grandfather was a celebrated executioner, he said; in 1989 it was he who hanged Satwant Singh, one of the two bodyguards who assassinated prime minister Indira Gandhi five years earlier. Following his father's death this spring, Mr Kumar applied for the position. So far, the 48-year-old has undergone two trial demonstrations.
Seated on a bench at his neat home two hours north-east of Delhi, Mr Kumar, who has seven children, said he had assisted his grandfather on a number of occasions and claimed to have even carried out one hanging by himself when his grandfather was unable to attend. The first time he helped was the execution in 1992 of two brothers convicted of murder. "I tied the feet of the two men. My grandfather fitted the noose," he said. "After that first execution there was no emotional feeling. I was not frightened because I had wanted to do it since childhood."
Not everyone feels that way. The man who carried out India's most recent execution was Nata Mullick, who also hailed from a family of hangmen and who in 2004 put to death a man convicted of the rape and murder of a schoolgirl. Before he died last year, he said that he was haunted by the faces of the 25 people he had hanged.
After that last execution several people in West Bengal were reportedly strangled to death by accident, after Mr Mullick demonstrated for TV cameras how to tie a noose and triggered a wave of "pretend hangings". Mr Mullick's nephew was to have inherited the position but, having assisted at the 2004 hanging, found himself ill-suited. Now the opportunity has fallen to his son, Mahadeb Mullick, who has said he is unenthusiastic about taking on the role given the way "hangmen are used and discarded".
Others worry about bad karma and its possible impact on a future reincarnation. Some fear social exclusion. Another veteran hangman or "jallad", Amhadullah Khan, 58, from Lucknow, also doubts he will ever again work the gallows' lever. Speaking by phone, Mr Khan said somewhat angrily: "I don't want to speak to the media about the barbaric profession. I don't support capital punishment. I don't remember how many people I have hanged."
The first of a flurry of executions may take place in Tamil Nadu, where three men convicted of plotting the 1991 assassination of former prime minister Rajiv Gandhi, the son of Indira Gandhi, were scheduled to have been hanged on September 9 until a court ordered a two-month stay. Jail officials have said a member of the prison staff will carry out the executions if they proceed.
Finding a hangman is not the only issue. In Tamil Nadu local politicians have passed a resolution calling for clemency for the men, Murugan, Chinna Santhan and Perarivalan, who have spent years on death row. The move has put considerable pressure on the ruling Congress Party.
There are similar issues surrounding the possible execution of Devinder Pal Singh Bhullar, who has always denied his role in a deadly 1993 bomb attack for which he was sentenced to death and whose supporters have fought a vociferous campaign for his freedom.
And in Kashmir, officials have warned that if the authorities proceed with the hanging of Afzal Guru, who was convicted of a 2001 attack on the Indian parliament but who maintains his innocence, there will be a serious backlash. "Kashmir will erupt if he is hanged," the moderate separatist leader, Mirwaiz Umar Farooq, told reporters. Yet there is also pressure on the government to show a strong hand on matters of security.
Amid allegations it has not done enough to prevent terror attacks, such as the bomb set off outside the Delhi high court last week killing more than a dozen people, the government seeks to project itself as being firm.
Following the conviction of Ajmal Kasab, the lone surviving member of the group of militants that attacked Mumbai in 2008, there was talk of a fast-track execution process but nothing has come of it so far.
As it is, the fear of further attacks has created a mood for revenge, admit campaigners against the death penalty. "There has been increasing criticism from the opposition that the government is soft on terror, often citing the failure to hang those convicted for terrorism. Unfortunately, a series of recent violent attacks have also led to public outrage and rather bloodthirsty demands for retribution," said Meenakshi Ganguly, of Human Rights Watch.
Pavan Kumar is happy to share the tricks of the trade. While some hangmen are said to have used clarified butter or crushed bananas to help work the noose, Mr Kumar says his family never did, and instead placed the loop inside an empty pitcher to help it retain its shape.
But if he is to follow in the footsteps of his grandfather and father and secure the monthly retainer of 3,000 Indian rupees (£40) it is the officials at Meerut jail he must impress.
Things have not gone entirely smoothly. Mr SK Kesarwani, superintendent of the white-washed prison that was at the centre of the 1857 uprising against British forces by Indian troops, declined a request to visit the prison's gallows where Mr Kumar recently tried to show his prowess by "executing" a 150lb sack of sand. But he played a video of Mr Kumar's performance on his mobile phone
The footage showed Mr Kumar standing atop of a gallows set over a trap-door and checking the noose before releasing the lever. The sack of sand thudded to the floor with the rope still slightly loose, indicating that had it been a real execution the prisoner would most likely not have been killed. He had misjudged the length of rope required, said Mr Kesarwarni. "The technicalities are [not correct]."
The superintendent has earned himself something of a reputation for progressive thinking at the prison, where there are two inmates on death row, and he said he was personally opposed to capital punishment.
However, he recognised it was something he had to prepare for. He admitted too, that given the scarcity of candidates for the position of hangman, he would be obliged to persist, at least for now, with Mr Kumar. "We don't have any options," he sighed. "That is why we are willing to give him another trial."
Register for free to continue reading
Registration is a free and easy way to support our truly independent journalism
By registering, you will also enjoy limited access to Premium articles, exclusive newsletters, commenting, and virtual events with our leading journalists
Already have an account? sign in
Register for free to continue reading
Registration is a free and easy way to support our truly independent journalism
By registering, you will also enjoy limited access to Premium articles, exclusive newsletters, commenting, and virtual events with our leading journalists
Already have an account? sign in
Join our new commenting forum
Join thought-provoking conversations, follow other Independent readers and see their replies