'The most desolate city on earth': Google Street View captures eerie images of Japan's abandoned Battleship Island
Hashima Island is a former industrial town that was abandoned the last remaining coal mine closed in 1974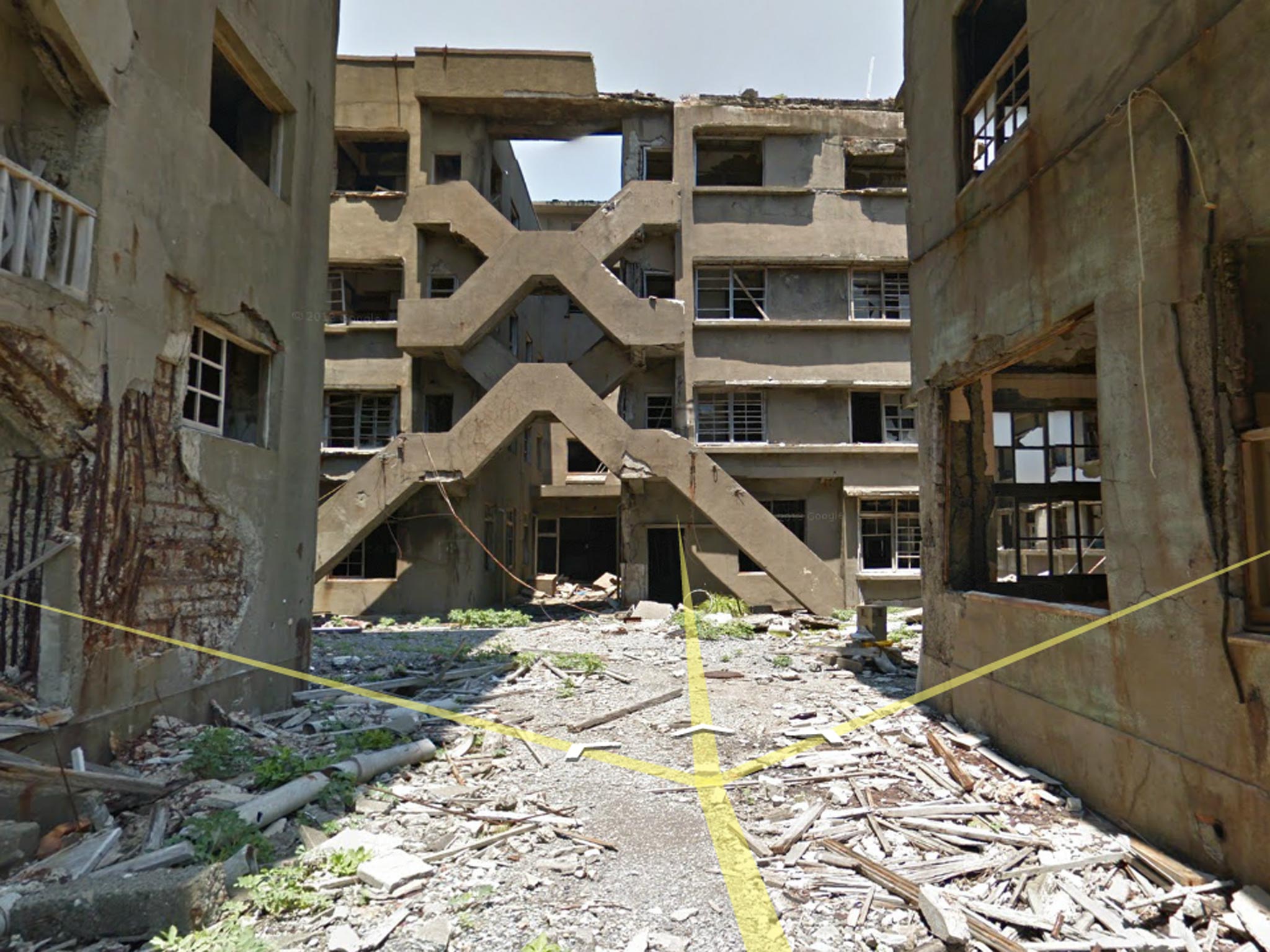 Google's Street View team have been to some pretty extraordinary places in their time; Death Valley, Botswana's bush, the Calabrian mafia stronghold of San Luca – but rarely have they been anywhere as desolate as Japan's Battleship Island.
But now a member of the search engine's digital cartography department has visited the abandoned city to share images of its crumbling coalmines, deserted streets and eerily overgrown homes.
Once described as "the most desolate place on earth", Hashima Island - which is known to locals as Gunkanjima (Battleship Island) thanks to its resemblance to a floating war vessel – is a former industrial town that was abandoned after Mitsubishi closed the final remaining coal mine in 1974.
Since then the island has been left to decay; the depressing grey concrete buildings smashed and disintegrating as the corroding sea air and high winds batter the remaining structures.
The island is, in fact, so rundown that experts predict the buildings that are still standing may well disappear altogether over the next few years, leaving Hashima little more than a pile of rubble nine miles off the coast of Nagasaki.
Those predictions are what led to Google visiting the island, in order to create a digital portrait of exactly what he island looked like nearly 40 years after its inhabitants fled.
In a blog post referring to the project, Google said: "Hashima has transformed into an eerie tourist destination where you can see a once-thriving town decaying and totally devoid of life… Apparently, Hashima's buildings are deteriorating so rapidly that you can hear parts of the concrete collapse as the wind blows from the ocean

Hashima: Google StreetView captures eerie images of Japan's abandoned Battleship island
Show all 9
They added: "Winds have been very unkind to Hashima over the last several decades, and with the buildings falling apart we hope this imagery can serve as a digital archive of its current state before further collapse".
The island was populated between 1887 and 1974 as a large 16-acre coal mining facility and quickly made history with the building of Japan's first ever building made from concrete in 1916.
Over the next few decades the island became a working city, with over 5,000 full-time inhabitants and innovative architecture designed to resist the numerous typhoons that lash the area.
In the 1970s, petroleum began to replace coal as Japan's principal fuel, and one by one the mines closed until, in 1974, Hashima's last remaining coal mine was shut down and the island's final inhabitants left.
Travel to the island was banned not long after it was deserted as concerns over safety and illegal trespassing grew.
In 2005, however, journalists were allowed to enter to island, but only with permission from authorities, and in 2008 the area became a designated World Heritage site.
In 2009 interest in this relic of Japan's industrial past grew to such an extent that it was reopened for tourism, and just last year the James Bond film Skyfall used Hashima as the inspiration for the lair of villain Raoul Silva.
Join our commenting forum
Join thought-provoking conversations, follow other Independent readers and see their replies