The political bruiser exposing Thailand's fragile fault lines
As deputy PM, Suthep Thaugsuban ordered crackdowns on protesters. Now he is leading them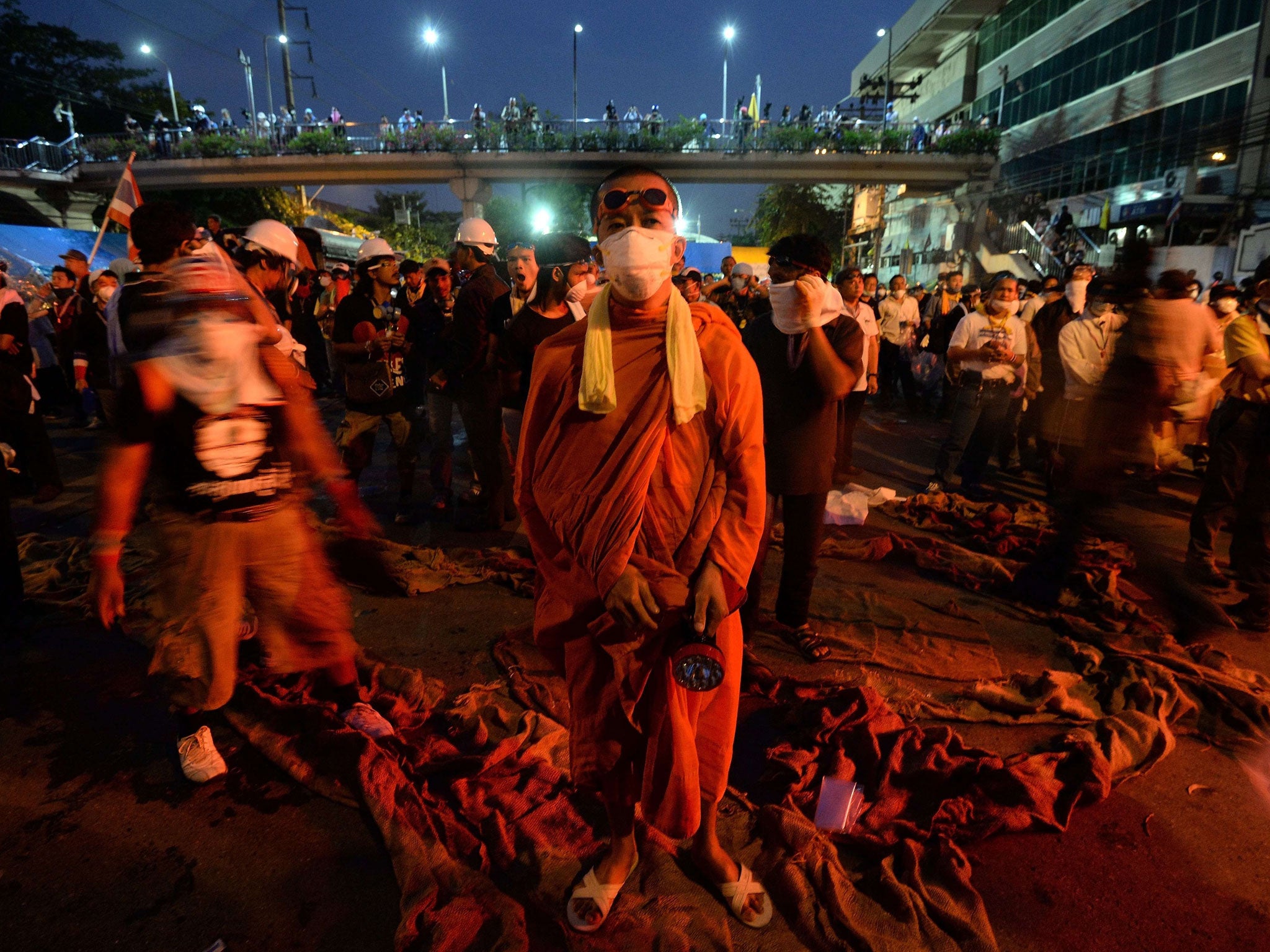 He was notoriously described as a "back-room deal-maker" - a politician with contacts in all the various camps who worked in the shadows to get his way.
But as Bangkok has in recent days been gripped by large, increasingly aggressive anti-government protests, Suthep Thaugsuban has been front and centre of everything that has taken place. Despite two arrest warrants being issued for him, the one-time deputy prime minister has set about demanding the resignation of Thailand's elected premier and urging on his supporters.
On Monday night, with police having used tear-gas, rubber bullets and perhaps even live ammunition to disperse thousands of protesters trying to occupy government buildings, Mr Suthep vowed the demonstrations would continue on Tuesday when he would try to seize the city's police head-quarters.
"If I'm arrested, it is no worry. Others will take my place," he said, adding that he would continue his protests even if Ms Yingluck dissolved parliament and stood down. "I've been just about everything in my 64 years, except a prison inmate."
The 64-year-old former shrimp-farm and palm-oil tycoon resigned in October from his position as a member of parliament and a senior figure within the opposition Democrat Party in order to lead the protests that have seen up to 100,000 people take to the streets of Thailand's capital.
The focus of his anger was Yingluck Shinawatra, who became prime minister in 2011 following a convincing electoral victory, but whom Mr Mr Suthep and others accuse of being nothing more than a front for her brother, Thaksin Shinawatra, a former prime minister and telecommunications billionaire who was ousted by a military coup in 2006.
Ms Shinawatra sparked trouble by trying to pass an amnesty bill that could have permitted the return of her brother from exile. The legislation was controversial even within her own Pheu Thai Party, as many believed it would pardon opposition politicians accused of various crimes, and the bill failed to pass the upper house of the parliament.
The move appeared to embolden Mr Suthep and his so-called Civil Movement for Democracy (CMD). According to the Associated Press, a rally in Bangkok on November 24 attracted up to 100,000 people and in the days that followed his supporters took control of the Finance ministry and other government buildings. Ms Yingluck was forced to flee from her office.
The scenes in Bangkok have again exposed the frail political faultlines within Thai society and the on again-off again turmoil that has repeatedly resurfaced since Mr Thaksin was forced from office.
So-called Red Shirt supporters of Mr Thaksin, largely but not exclusively working class and often rural, have supported his return to the country, crediting him with a series of reforms and government initiatives that helped them. Opponents of Mr Thaksin, often professionals or members of the middle-classes and who are particularly strong in Bangkok, say he and his family are guilty of corruption and determined to do anything to try keep him out of power.
In September 2008, Yellow Shirts closed down Bangkok's two airports for several days, ultimately forcing the resignation of two pro-Thaksin politicians from the prime minister's post. In turn, in the spring of 2010, thousands of Red Shirts seized control of a Bangkok shopping district for several weeks, unsuccessfully trying to force fresh elections.
On that last occasion, it was Mr Suthep as deputy prime minister, who signed off on the security operation that left more than 90 people dead, several thousand injured and cost the country many millions of dollars. Murder charges have been filed against him and the former premier, the British-educated Abhisit Vejjajiva.
Yet the main problem for Mr Suthep and his supporters, which include members of the Yellow Shirt movement, the Democrat Party and several student groups, is that electoral mathematics is not on their side. Indeed, the Democrat Party has not won a contested election for two decades. By contrast, Mr Thaksin, or his supporters, keep on winning.
As a result, while they claim they are acting in the interests of "true democracy", Mr Suthep and the eight Democrat Party politicians who resigned along with him in October, propose abolishing the current parliament and replacing it with something most observers say would be less democratic - a "public committee" of appointed citizens.
"Suthep is aligned with the establishment and with the anti-Thaksin sentiments strongly held by much of the Bangkok middle-classes. For all his talk of morality, he has a reputation as a political bruiser," said Duncan McCargo, a professor of Southeast Asian politics at the University of Leeds. "The sentiments he is articulating are deeply anti-democratic: whatever the shortcomings of the Yingluck government, there is no legitimate basis for ousting it by force."
In 2008, the business leaders, army officers and establishment figures backing the Yellow Shirts protests used similar language to that being used by Mr Suthep, suggesting many of Mr Thaksin's rural supporters were not sufficiently educated or responsible to be given the vote.
"There is nothing new here," said Sean Boonpracong, a national security adviser to the government. "They are just trying to seize control of the country."
On Monday night, it was reported that while the number of protesters on the streets may be falling, those remaining were becoming increasingly aggressive. At least three people have been killed and more than 200 injured in the last three days.
Demonstrators used heavy machinery to try and break past police lines and officers used tears-gas and water cannons to try and disperse them. One hospital in Bangkok said it was treating two protesters who had suffered injuries from live bullets.
Ms Yingluck, meanwhile, rejected calls for her resignation. Speaking at a news conference broadcast from the heavily-fortified police headquarters, she said was prepared to continue to continue to talk to Mr Suthep
"If there's anything I can do to bring peace back to the Thai people I am happy to do it," she said. "The government is more than willing to have talks, but I myself cannot see a way out of this problem that is within the law and in the constitution."
Alessio Fratticcioli, a Bangkok-based writer and analyst, said the situation appeared to be in a stalemate. "Suthep may be able to grab the power only through chaos - for example if serious violence erupts and the government isn't able to deal with it - or with an extra-democratic intervention of some sort," he said.
The eventual outcome of the stand-off may depend on what Thailand's army does, or does not do.
Thailand has experienced at least 18 couples or attempted coups since the 1930s and in 2006 anti-Thaksin activists were able to persuade the armed forced to seize control while he was out of the country. In 2010, it was troops from the Royal Thai Army who were sent into clear-out Red Shirt protesters from their stronghold in the centre of Bangkok.
At the weekend, the supporters of Mr Suthep burst through the gates of the army's headquarters and urged troops to "take a stand". So far, however, the army has crucially chosen not to get involved.
Join our commenting forum
Join thought-provoking conversations, follow other Independent readers and see their replies