Sangin siege: Taliban aims to show overwhelming impotence of Afghan army
As Britain admits that it, again, has boots on the ground in Helmand province, the Taliban is preparing an overwhelming demonstration of the impotence of President Ashraf Ghani's army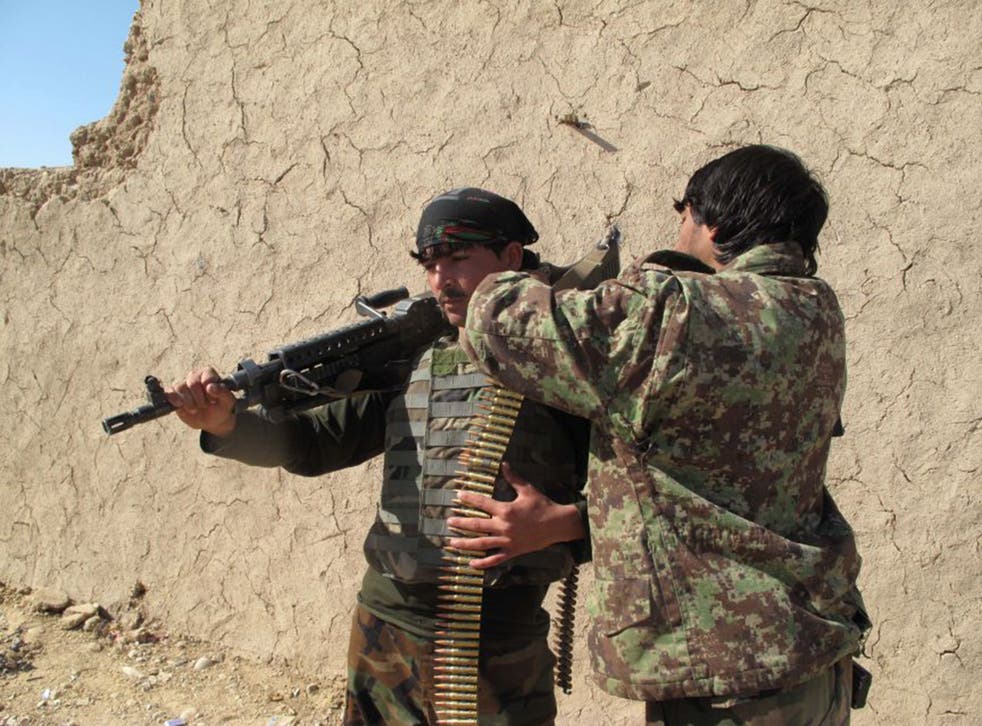 During a brief halt to the bloody battle for the Afghan town of Sangin, the Taliban appeared confident that its advantage was insurmountable, even if British boots were again on the ground in Helmand province.
Blaring out through loudspeakers in the besieged town came a single word: "Surrender." In the same province where hundreds of British lives were lost during the "war on terror", another option was later offered to the people of Sangin. "Those who choose to fight will die."
Inside the town, which hundreds of British soldiers fought to liberate from the Taliban during Britain's decade-long engagement in Afghanistan, fear is everywhere. Dead bodies are found in the surrounding poppy fields, and the resurgent Taliban has executed captured Afghan officials.
Beleaguered, outgunned and outnumbered, local police have fought to retain control of Sangin, a strategic foothold in the province where the Taliban makes vast amounts of money from harvesting opium crops. Today the government was urgently dispatching reinforcements. British advisers and American special forces are also reported in Helmand. But their presence may, however, prove too little, too late.
A tribal elder from the town, speaking on the condition of anonymity, told The Independent: "They have shot dead a police commander, two members of the intelligence service and a local government employee."
He added: "The Taliban went to their homes and executed them. They have burnt homes of police commanders. We have a number of dead bodies of military, Taliban and civilians. Most of the women and children died because we couldn't take them to hospital."
Calls for reinforcements have been, according to those still in Sangin, ignored by the government of President Ashraf Ghani. Kabul has been accused of failing to tackle the Taliban. With bases in Pakistan, and claimed institutional support in that country, the Taliban has regrouped since Britain's last involvement in Helmand.
Many were quick to question the wisdom of sending British troops back to Helmand. Clifford Warren, whose son Paul Warren was killed in Sangin in 2010, said: "The Taliban don't follow any rules and we follow all of them – and that puts the soldiers in danger every time."
Afghan security forces have few resources: there are no fighter jets, not enough transport helicopters and no attack helicopters. Soldiers bemoan the lack of accountability, transparency and leadership within their ranks.
A member of the local government in Sangin said that the Taliban was well equipped to combat special forces. The fighters had, he said, night-vision goggles and seemingly unlimited ammunition for both heavy and small arms. "We need more special forces raids and more air support," he said. "We need them right now. We are asking for reinforcements and haven't got the help."
India has gifted three Mi-25 attack helicopters to Afghanistan - which arrived a few days ago - while another is expected to arrive in the next day or so. Afghan commanders hope the helicopters will "change the balance of the fight forces" in Sangin. There have been claims that the British SAS and American special forces are involved in the fighting in Helmand. Villagers in Girishk, a town in the province, said that "Western special forces were in the area" on Monday morning.
Helmand province's deputy governor, Mohammad Jan Rasoolyar, has resorted to attempting to contact President Ghani on Facebook to beg for help. "The command and control system is a mess," he wrote. He later told the Associated Press: "I can't hold my tongue any more."
In London, the Ministry of Defence has confirmed that a small number of personnel are in Helmand in an "advisory" capacity. The Afghan interior ministry confirmed that British troops had arrived at Camp Shorabak, formally the US Marine Camp Leatherneck.
According to the head of Helmand's provincial council, Muhammad Kareem Atal, around 65 per cent of Helmand is now under Taliban control. Last week, the Pentagon said the "invigorated Taliban" had increased its attacks. Meanwhile, the "unity" government of Mr Ghani appears increasingly weak. Security posts such as defence and intelligence are both run by acting ministers.
A police commander in Sangin told The Independent: "There are many fatalities and casualties. We are short on water and bread and food. Last night, aircraft dropped some food, ammunition and water for the Afghan national army. But they are at least several miles away from us. We need urgent help. Our soldiers are fighting for their lives."
The commander of US and Nato forces in Afghanistan, General John Campbell, said recently that the Afghan forces were still challenged by practical issues such as logistics. "There are some places in Helmand they do think the Taliban are 10ft tall, that they are better trained, they got better weapons … It is a confidence thing," he said.
Register for free to continue reading
Registration is a free and easy way to support our truly independent journalism
By registering, you will also enjoy limited access to Premium articles, exclusive newsletters, commenting, and virtual events with our leading journalists
Already have an account? sign in
Register for free to continue reading
Registration is a free and easy way to support our truly independent journalism
By registering, you will also enjoy limited access to Premium articles, exclusive newsletters, commenting, and virtual events with our leading journalists
Already have an account? sign in
Join our new commenting forum
Join thought-provoking conversations, follow other Independent readers and see their replies