The suicide that exposed a tycoon's empire in crisis
Wife of engineer at Kingfisher Airline's killed herself after husband wasn't paid
Andrew Buncombe
Saturday 06 October 2012 03:02 Comments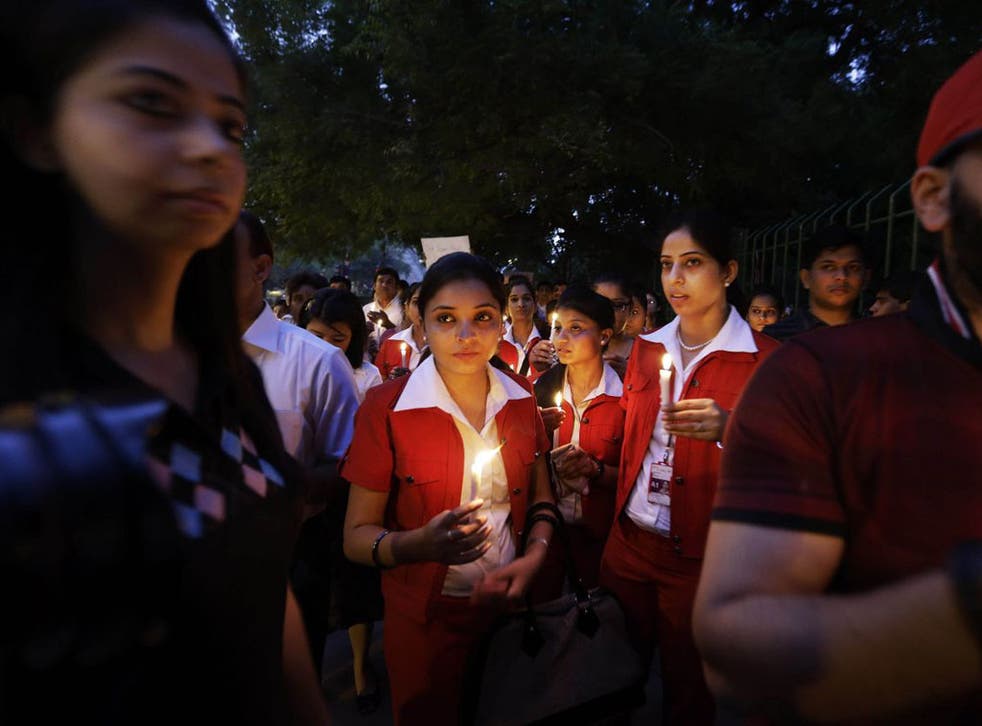 For the family and friends of Sushmita Chakraborty it was a private tragedy played out in their yellow-painted apartment on the southern edge of Delhi.
For the rest of India it was insight into how enduring financial troubles at a once-soaring company can have the most devastating consequences for its employees and their loved ones.
Sometime on Thursday afternoon, the 45-year-old bolted the door of their first floor flat and hanged herself from the ceiling fan in her bedroom with a piece of material torn from her sari. When her husband - a technician with Kingfisher Airlines - found her and called the police, they discovered a note in which she said she could not bear that her husband had not been paid for five months.
"This is what was written in the suicide note, that they had been waiting four or five months," the senior investigating officer, AK Ojha, told The Independent. "They were facing a financial crunch."
Kingfisher Airlines - part of the UB group owned by the swaggering liquor tycoon Vijay Mallya - was once the toast of India's flyers and occupied the second slot in terms of industry share. The man who liked to model himself as the 'King of Good Times' and who also owns a cricket team and a Formula 1 racing stable is said to have personally interviewed the young women who would serve as stewardesses.
But confronted by rising fuel costs and a series of questionable business decisions, the airline has for more than a year been at the centre of a mounting crisis. There are debts of an estimated $2.5bn, fuel bills have not been settled, accounts have been frozen, flights have been repeatedly cancelled and efforts to find potential buyers have failed.
But for the hundreds of Kingfisher employees - people such as Mrs Chakraborty's husband, Manas - the most debilitating impact has been that wages have not been paid for up to seven months. Yesterday, the company said it would be forced to ground the fleet for another week after talks with striking pilots - a strike the company claims is illegal - broke down.
"We regret that the illegal strike has still not been withdrawn and normalcy has not been restored in the company, thereby continuing to cripple and paralyse the working of the entire airline," the company said in a statement.
Yet there was no statement from the company or from Mr Mallya about the death of Mrs Chakraborty and the role the non-payment of her husband's salary may have had in her death. Calls and emails to the company's spokesman were not answered.
Yesterday, Mr Chakraborty accompanied his wife's body to the Deen Dayal Upadhyay hospital in the Dwarka neighbourhood of Delhi where a post-mortem examination was carried out. The former Air Force employee declined to speak to waiting reporters and pushed his way past the television cameras. The hospital's head of forensic science Komal Singh declined to provide the full details of his investigation but confirmed that Mrs Chakraborty had committed suicide.
Neighbours of Mrs Chakraborty said she was a pleasant, friendly woman who was quietly spoken and who had been part of group that had been making collections for the upcoming Durga Puja, a religious festival that is particularly popular among Bengalis. She had an 18-year-old son, who is studying in the north-east state of Assam. A report in one Indian newspaper claimed the family had recently been unable to pay the teenager's college fees and that she had been depressed for some time.
The Chabrabortys' neighbour, K Paul, who works for Indian Airlines, said he rushed home from work after his wife called him sometime after midnight and discovered a number of police officers with Mr Chakraborty.
"There is no clue as to the cause. We are shocked," said Mr Paul.
Yesterday, around 150 Kingfisher employees marched from Mumbai airport to the company's nearby officers to protest about Mrs Chakraborty's death. A similar event was due to take place last night in Delhi. "How can the management realistically expect us to work," Krishna Kumar, a 35-year-old engineer who was wearing a black arm-band, told Reuters. "We have borne this for seven months."
Register for free to continue reading
Registration is a free and easy way to support our truly independent journalism
By registering, you will also enjoy limited access to Premium articles, exclusive newsletters, commenting, and virtual events with our leading journalists
Already have an account? sign in
Join our new commenting forum
Join thought-provoking conversations, follow other Independent readers and see their replies