The 'Tampon King' who sparked a period of change for India's women
He was cast out by his fellow villagers, who believed he had gone mad, but now, Arunachalam Muruganantham is pioneering a positive change in women's health.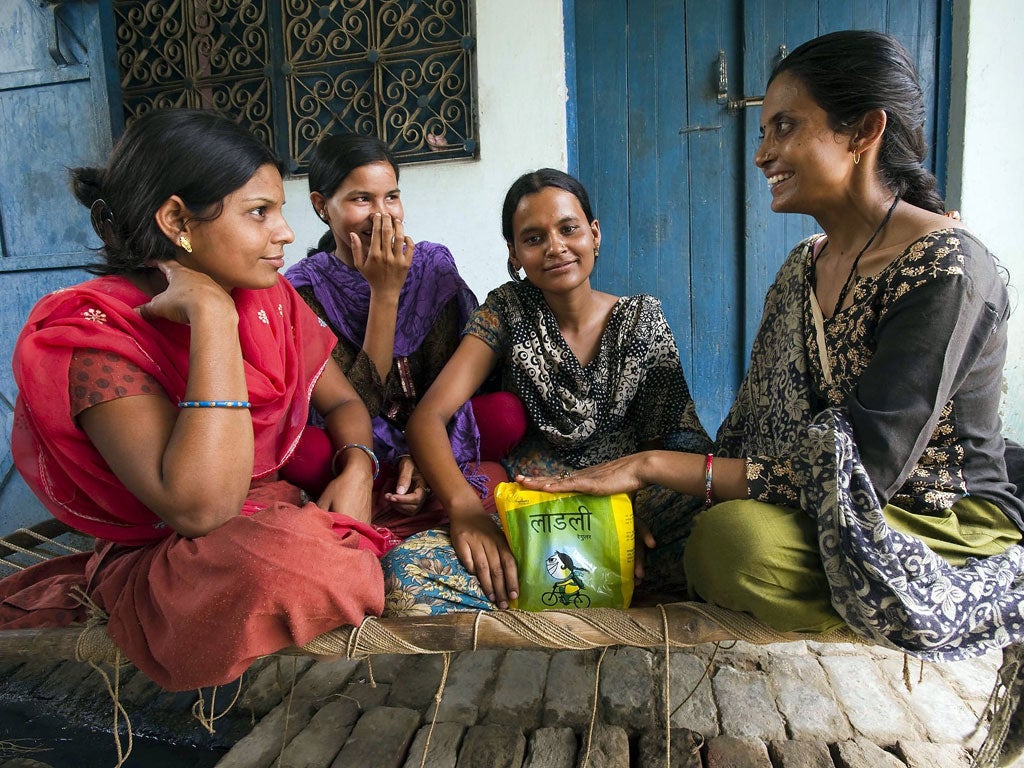 When Arunachalam Muruganantham spotted his wife gathering dirty rags in their home one day he asked her what they were for. If he was shocked by her reluctant response – that she was using them for her monthly period – he was even more taken back by her reply when he asked why she was not buying sanitary napkins in the shop. "If I buy sanitary napkins," she had told him. "It means I cannot afford to buy milk for the family."
The conversation spurred Mr Muruganantham into a frenzy of invention to try and produce an affordable napkin for women such as his wife. Such was his dedication, bordering on obsession, that he once wore a football bladder of animal blood to trial a prototype. He was forced from his home by villagers who thought his methods had become too perverse after he started collecting used napkins from medical students and storing them in his home. He was even abandoned – albeit temporarily – by his wife and mother, who believed he had gone mad.
But 14 years later, the 49-year-old, who never finished school, has few regrets. His award-winning napkins are being produced on simple machines by groups across rural India and helping to revolutionise women's health.
And now, the man who has been dubbed the "Tampon King" says he is in discussion with several African countries about replicating his model.
"Rwanda, Nigeria, South Africa – I am talking with these countries," said Mr Muruganantham, speaking from Coimbatore in the southern Indian state of Tamil Nadu Kerala. "Nepal, Bangladesh, Afghanistan, Pakistan… They want to know about it."
One workshop in India is operated in a shed in the Pardada Pardadi Inter-College, a forward-thinking girls' school run by an NGO in the town of Anupshahr, next to the Ganges river in the state of Uttar Pradesh.
Here, Rama Devi, spends the first week of every month with six local women in the top-floor workshop, using simple hand-operated machines and following the five-step system that produces the sanitary napkins sold and distributed under the label Laadli, or "Beloved Daughter".
The remainder of the month she travels to villages, meeting young women, educating them about basic health issues and selling the products.
On a recent morning, The Independent accompanied Ms Devi, a single mother with four daughters, and the family's sole earner, to the village of Dungra Jogi.
Shaded from the sun beneath a large archway, one of them, 25-year-old Umar Parthak, said of the napkins: "We feel a lot more freedom. It gives us a lot more freedom to go out. Also, the rags that we previously used were not hygienic."
Her cousin, Sapna Sharma, who is studying sociology at a nearby college and who wishes to eventually train as a teacher, said women's education was improving, slowly. "As a result people are becoming aware of these products," she added.
In some parts of rural India, as in many places in the developing world, the issue of women's menstruation is a matter still associated with taboo and discrimination. In some communities, women are still considered "unclean" during menstruation and are forbidden from entering the kitchen.
Professor Ritu Priya Mehrotra, of the social medicine department of Delhi's Jawaharlal Nehru University, said women had traditionally used old cotton for menstrual hygiene. But a shift from cotton to synthetic saris meant many were now using man-made fibre, which was unhealthy and could not be sanitised in the same way. Previously women used sand or even mud.
The development of the napkin had involved huge amounts of trial and error, and one of the biggest challenges was discovering the raw material. Mr Muruganantham had assumed they were based on cotton but an early prototype by his tolerant wife was unsuccessful.
Eventually, having taught himself English, he simply rang up the switchboard of a US-based multinational and asked to know what raw materials he would need. The crucial ingredient was wood pulp.
In 2005, his seven years of effort was recognised when he was handed a National Innovation Foundation award by President Pratibha Patil. He then quickly patented his machine, which costs between £850 and £3,400 and is capable of producing 120 pads an hour. While companies such as Procter & Gamble produce napkins that sell for up to 30 rupees (33p) a packet, his are sold for as little as 10 rupees.
The model is deliberately low-tech and decentralised, providing employment opportunities for women in remote parts of India. "The benefit of the local production model means that women can form co-operatives and generate some income as well. It is circular," Prof Mehrotra said.
As part of a broader programme to try to educate women about health issues, the Indian authorities announced last year they would start distributing subsidised napkins. The move, which is part of the so-called National Rural Health Mission, emphasised that use of such napkins could reduce reproductive tract infections that posed a grave threat to women.
Making them available in schools and colleges, such as the Pardada Pardadi Inter-College, also encourages young girls to keep up their attendance. Ms Devi, who started working in the school kitchen before graduating to the napkin production unit, said: "I am trying to change the way the women think."
Mr Muruganantham was disappointed the Indian government did not decide to support his low-cost machine as part of its national programme, but is pleased that foreign countries may soon benefit from it. He said: "What I am trying to do is develop a low-cost model across the globe."
Join our commenting forum
Join thought-provoking conversations, follow other Independent readers and see their replies